AECOM Names New CEO
Originally published June 16, 2020 at 5:36 p.m., updated June 22, 2020 at 12:05 a.m.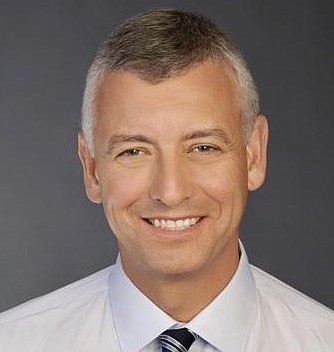 Century City-based engineering and infrastructure giant AECOM last week named Troy Rudd, its current chief financial officer, as its new chief executive, effective Oct. 1.
It's the latest move in a series of tumultuous events over the past year at the company, and it came despite continuing opposition from an activist investor hedge fund.
Rudd, 55, joined AECOM in 2009 and rose through the financial side of the company to become CFO in 2015.
He will replace Michael Burke, who announced in November that he would be leaving in March. Burke stayed on to deal with the impact of the Covid-19 pandemic.
AECOM also said in its June 15 announcement that Lara Poloni, currently chief executive of its Europe, Middle East and Africa division, will be promoted to president, effective Oct. 1, which is the start of the company's fiscal year. Poloni has been with AECOM for 25 years.
Over the last two years, Burke and the rest of AECOM's management had come under increasing pressure from activist New York hedge fund Starboard Value to take major steps to improve margins and boost shareholder value.
That included an October 2019 agreement to sell the company's management services unit for $2.4 billion to affiliates of two New York private equity firms.
Any thought that Burke's departure and Rudd's appointment as chief executive would end Starboard Value's pressure vanished immediately. The board's decision to name Rudd came over the objections of the three board members Starboard had brought onto the board last fall.
One of those members, Peter Feld — the managing member and head of research at Starboard — resigned on the spot.
In his resignation letter, Feld offered a blistering critique of the board's decision process, alleging that several board members met in secret and agreed to put Rudd's name up to a vote before fully considering at least three other candidates. He warned that Starboard would continue to exert pressure to force change at the company.
"By no measure is AECOM the market leader today that it can and should be," Feld wrote. "Starboard remains a large shareholder of AECOM, and we reserve our rights to take any action we deem necessary to continue to represent the best interests of all shareholders. We fully intend to … hold the Board accountable for its actions." 
AECOM did not release the resignation letter in its initial June 15 announcement of Rudd's appointment.
Instead, the letter came to light through the company's required 8-K filing with the Securities and Exchange Commission later that day. The company said through a spokesman that it had no comment on Feld's allegations or his threat that Starboard would take future action to force changes.
Boosting margins
AECOM is a global engineering, consulting and infrastructure services company that last year reported $20 billion in revenue and a global workforce of 86,000.
But that was before the management service unit sale closed in January. That unit had roughly $3.7 billion in revenue and 25,000 employees.
AECOM says it now has 56,000 employees and is projecting revenue of about $13 billion for its fiscal year ending Sept. 30.
The management services unit sale, which came as Starboard was ramping up pressure on AECOM, was designed to improve margins and release cash that could be used to pay down debt.
The company had previously exited certain types of high-risk and low-margin construction work in an effort to boost margins.
AECOM's stock price had responded by rising more than 50%, from a three-year low of $26.50 in December 2018 to $40 a share in mid-October of last year.
That was not enough for Starboard Value, which wanted even more focus on boosting operating margins to "unlock value for shareholders," as Feld said in a June 2019 letter he sent on behalf of Starboard to AECOM's board and then-Chief Executive Burke.
That's when Starboard reached agreement with AECOM management on a board shakeup. Two longtime members retired, and three new members, including Feld, were appointed.
The other two new members were engineering and infrastructure industry veterans: Robert Card, former chief executive of SNC-Lavalin Group Inc., a Montreal-based engineering and construction company with 40,000 employees worldwide; and Jacqueline Hinman, former chief executive of CH2M Hill Cos., a Denver- based environmental and engineering firm purchased in December 2017 for $3.3 billion by Dallas-based Jacobs Engineering Group.
Search twists
This newly constituted board took up the search for a new chief executive in November after Burke announced he would step down no later than March 2020. Feld was appointed chairman of the search committee.
In his resignation letter, Feld said the board and search committee initially agreed that the next chief executive should come from the operational side of the business. Both Rudd and Burke came from the financial side, with each holding the post of chief financial officer before being named chief executive.
Prior to joining AECOM, Rudd spent 10 years as a partner at accounting giant KPMG.
Starboard, in particular, was seeking someone from outside to take over as chief executive, according to Andrew Wittman, senior analyst with Milwaukee-based Robert W. Baird & Co. Inc. Starboard's campaign, he said, "was underpinned by having fresh blood help move the company forward."
According to Feld's resignation letter, Rudd was initially queried by the board, even though he did not fit the agreed-upon specifications. Rudd then withdrew his name from consideration.
Over the next several months, the search process continued, with some interruptions in March and April as the Covid-19 pandemic hit.
Feld said the search committee interviewed what he termed a "strong external candidate" who had to withdraw because of an unspecified conflict. He also said there were three other candidates in the queue.
In recent weeks, according to Feld, there was an abrupt shift in the board's approach, with Rudd reentering the picture.
"It appears that Board leadership arranged a special meeting of the Board without a previously disclosed agenda to surprise certain members of the Board with a formal vote for CEO and without notifying the CEO Search Committee that it intended to take a formal vote on the CEO role," Feld said in his letter.
"In doing so without unanimous support, the Board chose to rush through a decision to name Mr. Rudd as CEO despite certain members of the CEO Search Committee believing that they were continuing to work with highly qualified candidates who had expressed significant interest in the role and who had agreed to expeditiously engage with the Board regarding the CEO opportunity," Feld added.
When Rudd's name was presented to the board for a vote earlier this month, Feld voted against him, as did Card and Hinman.
Substantial pay package
The company did not respond to Feld's allegations, pointing instead to the chief executive announcement, in which Steven Kandarian, the board's lead independent director, praised the board's decision for providing greater certainty for the company's clients, vendors, shareholders and other stakeholders.
"Following a comprehensive six-month search process that considered internal and external candidates, the board concluded that Troy is best suited to lead AECOM at this pivotal time," Kandarian said in the announcement. "We enter this new chapter providing greater certainty to all our stakeholders that AECOM is moving decisively to sustain its solid momentum, driven by its ongoing transformation into a professional services business."
Rudd also made a brief statement in the announcement.
"I am honored to be appointed CEO and look forward to leading AECOM with support from Lara (Poloni), our executive leadership team, and our Board, as our great company shapes the future of our industry," he said.
"We have the talent, capabilities and reach to deliver exceptional service to our clients, build on our strong financial performance, and create value for all our stakeholders," Rudd added.
In its SEC filing, the company laid out the compensation package that Rudd will receive as chief executive, including a base salary of $1 million, eligibility for $1.25 million in incentive bonuses, a long-term equity incentive up to an equivalent of $4.75 million and $3 million in stock options.
Analyst Wittman said Rudd's appointment was unexpected.
"At first glance, we were surprised that AECOM's board decided to stay with an internal candidate," Wittmann said in his June 15 research note.
He said Starboard is bound by terms of its November agreement with AECOM not to make any moves in overt opposition to AECOM management for a year.
"But nominating season occurs in the November time frame," Wittman said. "At which point Starboard's restrictions will end, and its next move could become known." 
Health care/biomed, energy, engineering/construction and infrastructure reporter Howard Fine can be reached at hfine@labusinessjournal.com. Follow him on Twitter @howardafine.
For reprint and licensing requests for this article, CLICK HERE.