Purple Line Is on Track
Metro taking advantage of Wilshire Blvd. lockdown
Monday, June 1, 2020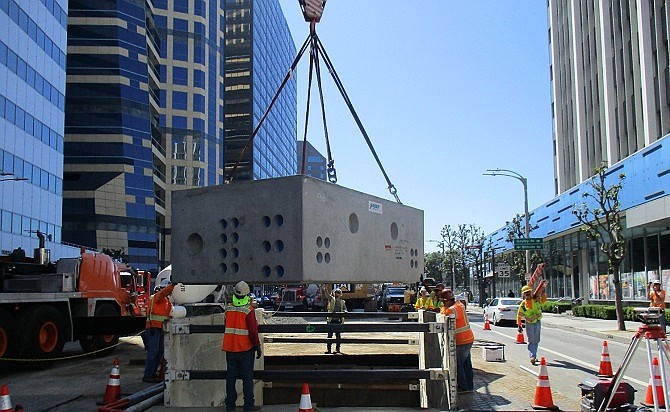 Call it an unanticipated silver lining of the Covid-19 pandemic: Construction of the Metro Purple Line extension's station in the heart of Beverly Hills is now running about seven months ahead of schedule.
Back in late March, as the business lockdown took hold, the Los Angeles County Metropolitan Transportation Authority saw an opportunity.
The transit agency reached agreement with the city of Beverly Hills to indefinitely close a half-mile stretch of the Wilshire Boulevard corridor through the famed Golden Triangle.
The move helped fast-track work on the $1.4 billion second phase of the Purple Line subway extension to Century City.
That work, consisting of 2.4 miles of subway and two stations, is being overseen by Sylmar-based prime contractor Tutor Perini Corp. and its project partner, Torrington, Conn.-based O&G Industries Inc.
The fast-tracked portion of the project includes the planned Wilshire Boulevard/Rodeo Drive station and will speed placement of decking on the street.
The decking allows for construction of the station underneath while traffic flows unimpeded above; similar decking has been in place for more than a year at the Wilshire Boulevard/Fairfax Avenue station, also under construction.
According to Metro spokesman Dave Sotero, prior to the Covid-19 pandemic, that decking work was expected during weekend closures from August through January.
But as of May 20, thanks to an uninterrupted construction window, the decking task was almost complete with work expected to wrap up "in early June," according to Sotero.
"This accelerated decking operation has been one of the few bright spots that we can point to during the Covid-19 outbreak here in L.A.," he said.
There's an added benefit for businesses near the construction zone, most notably Wolfgang Puck's Spago restaurant on Canon Drive. All this work has taken place when in-store access is still banned, so it's minimally disruptive to business operations.
And it means less weekend construction impact for the remainder of the year. With work moving underground in late June, surface traffic disruption should be minimal, Sotero said.
As for when the closure of Wilshire will end, Sotero said no definite date has been set.
"We will continue the full closure until the Safer At Home order ends or the Beverly Hills City Council provides a five-day notice to Metro," he said.
With new reopening allowances being made each week and increasing pressure from Beverly Hills companies to end business closure mandates citywide, that could happen later this month or in July. But by that time, the most disruptive decking work should be complete.
For reprint and licensing requests for this article, CLICK HERE.