Atlas Capital Buys Pasadena Office Site
Company pays $72 million, latest big deal in low-risk market
Monday, June 1, 2020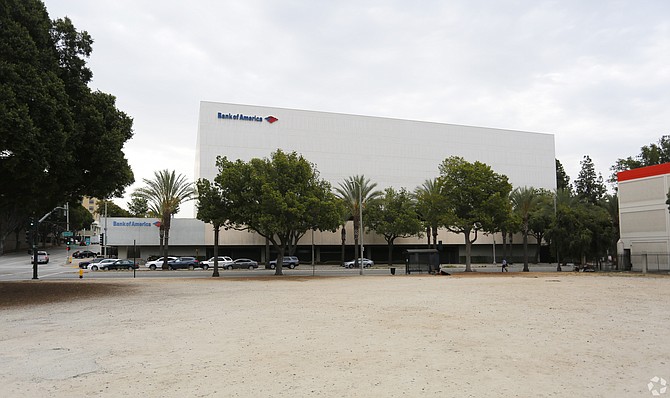 The Pasadena marketplace has already seen a handful of big investments this year, and Atlas Capital Group is the latest buyer.
The real estate investment company has acquired 101 S. Marengo Ave. in Pasadena from Woodbridge Capital Partners for $72 million.
The five-story, 315,000-square-foot building is the former home of Bank of America's offices.
Built in 1974, the building sits on 2.9 acres of land and is located one block from the Metro Gold line.
Atlas Capital reportedly plans to renovate the site, creating a multitenant office building before leasing it.
Until last year, the building was occupied by a single tenant, according to Jones Lang LaSalle Inc.
JLL's Michael Leggett, Andrew Harper, William Poulsen and Patrick Church represented the seller in the transaction. The buyer was self-represented.
The property was developed by McCaslin-Lloyd Investment Co. and designed by architect Edward Durell Stone.
It isn't the only notable Pasadena sale in recent months.
The three-building, 260,000-square-foot Pasadena Corporate Park was purchased by a family trust for $78 million in April.
Pasadena Corporate Park is at 3454-3455, 3465 and 3475 E. Foothill Blvd. Two of the three buildings were 100% leased at the time of the sale, and the third was 87% leased, according to data from CoStar Group Inc.
Also, in April, the Pottery Barn building at the corner of Colorado Boulevard and Fair Oaks Avenue sold for $16.1 million.
A private investor purchased the building from Federal Realty Investment Trust.
It has roughly 31,000 square feet of retail space. The basement and two levels are leased to Pottery Barn. It also has two floors of residential units and one floor of office space.
In February, GWP Real Estate and Parviz Galdjie purchased a 168,000-square-foot office building at 199 S. Los Robles Ave. from Laurus Corp. for $55 million.
The buyer is expected to make some improvements to the building.
In October, Swift Real Estate Partners purchased the Pasadena Collection from an investment manager for $193 million. It has more than 517,000 square feet of office space.
The asking rate for Class A office space in Pasadena in the first quarter was $3.89 a square foot, up 48 cents in a year, according to JLL data.
Bill Boyd, an executive vice president at Kidder Mathews and Tri-Cities market expert, said the area has thrived because it's a lower-risk area.
"The market has a very stable history of consistent growth and has not gone through great swings in vacancy, which has made it very attractive to the institutional market," he said.
New investors, he said, have driven up asking rental rates from $3.41 a square foot this time last year to $3.89 a square foot now.
"The reason for that increase has been the increased quoted rents of those buildings that have been purchased over the last 12 to 18 months," Boyd said. "There is activity in Pasadena. It is because of its historic stability and proven track record, as far as investment is concerned, and the spike in quoted rents has been from these recently purchased buildings."
Pasadena had 215,000 square feet of office space under construction in the first quarter.
For reprint and licensing requests for this article, CLICK HERE.