Work on Delayed Metro-LAX Connector Project to Begin Soon
Monday, July 27, 2020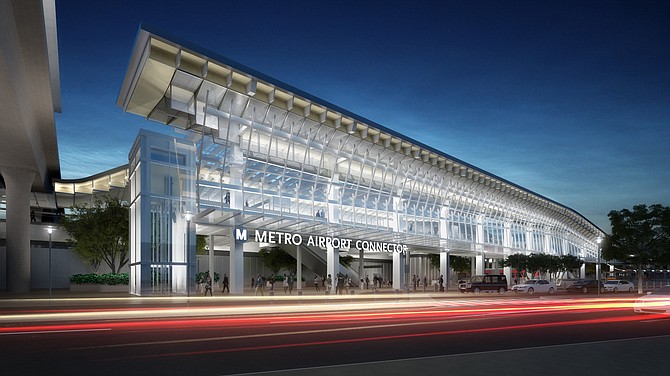 After a wait of decades, work is about to begin on connecting Los Angeles International Airport to L.A.'s rail system.
The board of the Los Angeles County Metropolitan Transportation Authority in June approved a $21 million two-year contract with a joint venture of Greeley, Colo.-based Hensel Phelps Construction Co. and St. Joseph, Mo.-based Herzog Contracting Corp.
The companies will conduct early demolition and site preparation for the Airport Metro Connector project.
This project, located where the nearly complete Crenshaw-LAX rail line meets the LAX automated people mover project now under construction, will build a rail and bus station about 1.5 miles east of the LAX terminal loop.
When complete in 2023 for an estimated cost of $500 million, the line's riders will be able to transfer between Metro, other municipal bus services and the future LAX people mover that will serve airport terminals.
It's the long-awaited LAX-to-rail connection that was first discussed in the early 1980s when plans initially called for the Metro Green Line to run to the LAX terminals instead of the El Segundo business/industrial district where it now ends. Since that time, Los Angeles has often been criticized for lacking a direct rail connection to its major airport.
The Hensel Phelps Herzog joint venture team will be demolishing existing roadways and other structures on the site and performing engineering services for the rail line entry and exit from the station area while station construction proceeds.
The Crenshaw-LAX rail line is expected to begin operations next year, two years before the station is complete, so extra rail turnout tracks must be built.
According to a briefing paper prepared for Metro board members prior to the June 25 vote, the Hensel Phelps Herzog joint venture was recommended through a no-bid process.
The same joint venture has been engaged in work for Metro on an adjacent rail yard project for the Airport Metro Connector.
"Having HPH perform the project will avoid conflicts, the need for rework, unnecessary delays, damages and even voided warranty claims," the report stated.
Funding for the project will come from the Measure R and Measure M countywide sales taxes, as well as state funds from the Cap-and-Trade carbon emissions program.
For reprint and licensing requests for this article, CLICK HERE.