8minute Solar Starts Texas Project With Duke Energy
Monday, July 27, 2020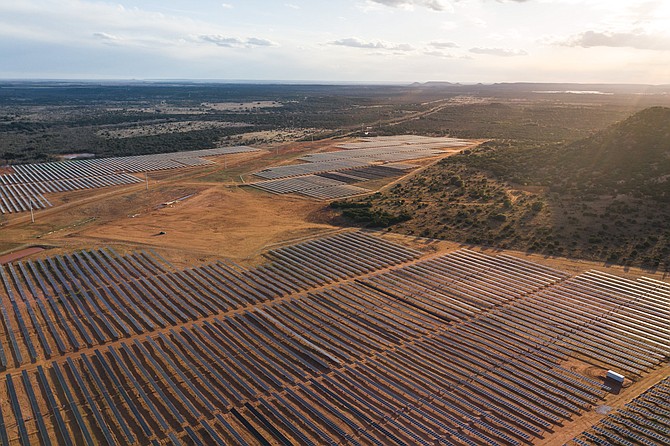 Mid-Wilshire-based 8minute Solar Energy and Charlotte, N.C.-based Duke Energy Renewables have begun commercial operations on their 280-megawatt Holstein Solar Project in Texas.
The companies on July 7 announced that operations had begun on the project, which contains more than 700,000 solar panels and is expected to power more than 40,000 homes in Nolan County, Texas.
Spanning more than 1,300 acres, Holstein is the first project by 8minute Solar Energy to operate in Texas and is the largest solar project undertaken by Duke Energy.
Both companies are leading providers of renewable energy in the United States.
8minute Solar Energy operates more than 18 gigawatts of solar power and 24 gigawatt hours of energy storage in the Western United States. (A gigawatt is 1 billion watts, or enough power for nearly 200,000 homes.)
Duke Energy owns, operates and contracts more than 8 gigawatts of renewable energy across the country, with plans to double that amount by 2025.
Duke Energy acquired the Holstein Solar Project from 8minute in July 2019, which raised the company's renewable energy portfolio to 514 megawatts in Texas alone.
"Texas is one of the fastest growing solar energy markets in the country, and Holstein Solar supports the state's growth," Chris Fallon, vice president of Duke Energy Renewables, said in a statement. "We're pleased to work with 8minute to add this project to our growing Texas solar energy portfolio (and) support the state's renewable energy industry," Fallon added.
8minute Solar supervised development of the Holstein Solar Project and is overseeing its commercial operations.
The company said Holstein was a "significant milestone" in its mission to expand operations outside of California.
"Texas is a valuable growth market for 8minute, with four other (solar) projects in late stages of development," the company said in a statement. "In a state with no solar mandate, and where competition is purely on price, our success with Holstein and our other Texas projects are proof positive that solar will power the future."
The company's Texas projects are expected to provide a total of nearly 1 gigawatt of clean energy and generate $1 billion in capital investment.
The projects are also expected to bring in $60 million in land payments, $120 million in local tax revenues, and contribute roughly 3,000 construction and indirect jobs to the Texas economy.
According to 8minute, most of the energy generated from Holstein will be sold to J. Aron & Co., a subsidiary of Goldman Sachs Group Inc. The deal will be structured through a 12-year term hedge agreement.
For reprint and licensing requests for this article, CLICK HERE.