South LA Development Site Sells for $35 Million
Monday, July 20, 2020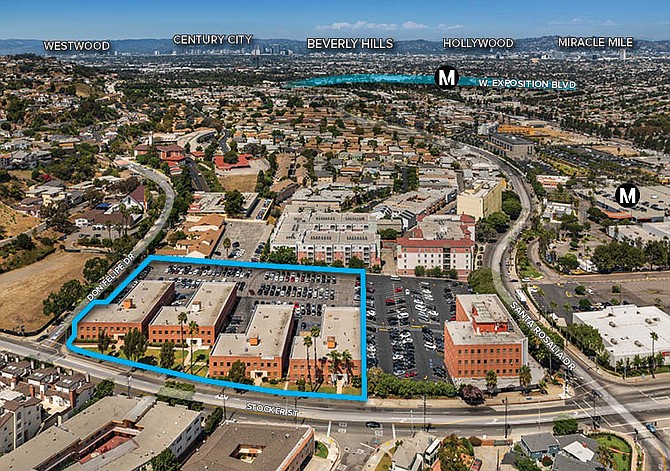 A development site in South Los Angeles has sold for $35 million.
4S Bay Partners purchased the 3.27-acre property from David Shophet of Sharp Capital and David Shaaya of One Cole Group.
CBRE Group Inc.'s Laurie Lustig-Bower and Kamran Paydar represented the sellers. Daughrity Real Estate's James Daughrity represented the buyer.
The property, at 3731-3761 W. Stocker St., is located in an opportunity zone. The zones were created as part of a federal program aimed at increasing development in distressed areas by letting investors defer capital gains taxes.
The site, which was built in 1954, has four two-story office buildings, totaling roughly 80,000 square feet.
The four buildings are more than 90% occupied by county and city community services tenants.
The property is located near Metro's upcoming Crenshaw/LAX line, making it a valuable area for redevelopment.
"The buyer intends to occupy a portion of the existing office space to accommodate their growth requirements related to their social impact and economic development initiatives and to support their commitment to the community," Lustig-Bower said in a statement.
"Part of the site is being considered for potential redevelopment projects such as a film studio, entertainment campus, and community business incubator to support the buyer's economic development focus within the Baldwin Hills/Crenshaw community," she added.
4S Bay said the site would help the company support its community-focused efforts.
"As social impact investors, we are excited about this opportunity to support our primary mission to invest in communities of color and to drive new economic investment into the Baldwin Hills/Crenshaw community," Jim Casselberry, chief investment officer at 4S Bay Partners, said in a statement.
4S Bay, Daughrity said, had been looking for a site in the area for more than a year.
The seller bought the property in 2017 for $13.3 million, CoStar Group Inc. records show.
"Our plans were to sell a portion of the site and keep the remainder for redevelopment," Shaaya said in a statement. "Ultimately, strong buyer interest led us to a new business plan for selling the entire property."
Shophet added that the area was in demand and the buyer had an "economic vision for the property and community."
For reprint and licensing requests for this article, CLICK HERE.