Levine Leichtman Sets New Leadership
Monday, July 20, 2020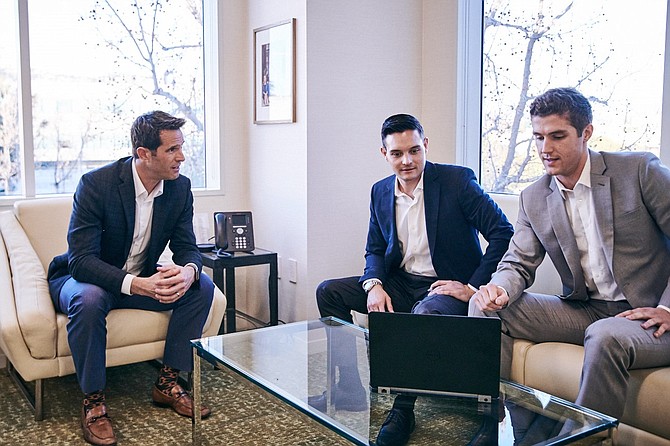 Beverly Hills-based Levine Leichtman Capital Partners has kicked off a succession plan for the private equity firm's top leadership.
Company veterans Matthew Frankel and Michael Weinberg have been named managing partners and will take active leadership of the business.
Co-founders Arthur Levine and Lauren Leichtman will remain involved with Levine Leichtman Capital Partners' operations and continue in their roles as co-chairpersons of their eponymous firm's executive and investment committees.
"This is the formalization of something that has been in the works for over two years," Weinberg said. "We have a very large and deep team of future leaders … this was about making sure the decision-making tracks with that."
Alongside Frankel and Weinberg's appointments, a host of other Levine Leichtman executives have been promoted as part of the succession plan.
Chief Financial Officer Stephen Hogan will now also serve as president and co-chief operating officer, while General Counsel and Chief Compliance Officer David Wolmer has added the titles of partner and co-chief operating officer.
Micah Levin and Matthew Rich were promoted to senior managing directors and will help oversee the firm's investment team, workflow delegation, due diligence and transaction execution.
The firm's new leadership will be divided between the East and West coasts.
Weinberg, his company's self-described "New York standard-bearer," will head deal sourcing and screening from the company's New York office.
Frankel, a native Angeleno, will lead Levine Leichtman's deal execution and portfolio management operations from the company's Beverly Hills headquarters, according to the managing partners.
The leadership presence in New York doesn't mean there will be a shift in focus away from the company's Los Angeles base, according to Weinberg. "A significant majority of our resources and people are in L.A.," he said. "That's not going to change."
He explained that the company's seven regional offices are used largely to source new deals in a "hub-and-spoke" model. The importance and size of the New York market, he added, was part of the reason for choosing to have part of the firm's leadership based there.
Both Weinberg and Frankel emphasized that ensuring continuity will be the most significant focus of the current leadership transition. The firm's strategy and investment approach will be basically unchanged under the new management, the partners said, and the founders will continue to provide guidance on major deals and initiatives.
"We've honed an investment style over a 36-year period, and we are very confident in that," said Frankel.
The L.A. lead added that his company's "structured equity" approach, which employs a mix of debt and equity investment, delivers more reliable returns with a lower risk profile than standard buyout shops.
Frankel said the lower levels of leverage involved in the approach give his firm greater leeway to work with portfolio company management on decisions that benefit their companies long term.
The Covid-19 pandemic has demonstrated the strategy's effectiveness, according to Weinberg. While some overleveraged shops are stuck fighting fires, Weinberg said Levine Leichtman has been able to continually deliver monthly capital distributions to its investors throughout the down markets.
"We have never missed a monthly distribution in 36 years," he said.
Weinberg added that his firm has also continued to actively invest throughout the pandemic. Levine Leichtman has added two new portfolio companies and assisted its existing businesses in making six acquisitions since March, according to the partner.
The firm expects to close another three add-on acquisitions for its portfolio companies in the next two to four weeks, he added.
Such portfolio company add-ons are key to the firm's strategy going forward, according to Frankel. "Today it is very hard to make a lot of money on the buy in private equity," he said. "You really need to be able to add value to the company."
For reprint and licensing requests for this article, CLICK HERE.