JetBlue Sees LAX as More Than Just a Hub Airport
Plans to triple flights out of the airport by 2025
Monday, July 20, 2020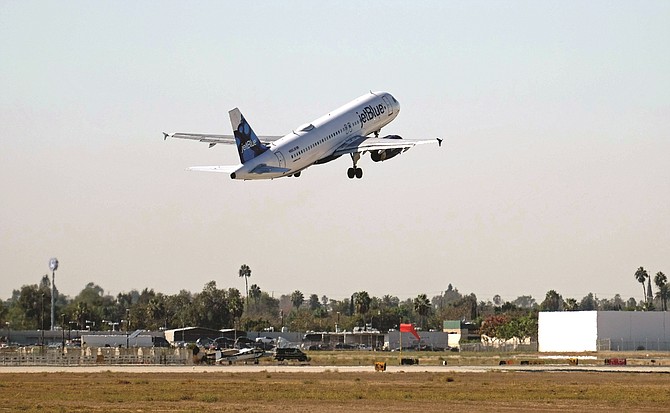 For JetBlue Airways Corp., the Covid-19 pandemic has brought its share of financial pain, but it also presented an unexpected opportunity to finally cut the cord at Long Beach Airport and move operations to a new focal center at Los Angeles International Airport.
The New York-based carrier said July 9 that its last flights out of Long Beach would take place Oct. 6, and its expanded roster of flights at LAX would begin the next day.
For JetBlue, the announcement marked a sudden end to nearly 20 years at Long Beach Airport. The carrier first landed at Long Beach in 2001 and grew into the facility's dominant airline, carrying up to 80% of all passengers using the municipal airport.
By 2015, JetBlue was ready to turn the airport into the center of its West Coast operations and, eventually, into the focal point of an international flight network.
But JetBlue's dreams were dashed in January 2017 when the city of Long Beach denied its request to build a U.S. Customs facility to enable international flights. JetBlue officials made no secret of their disappointment and immediately said they would begin reevaluating the airline's flight structure at Long Beach.
A year after the city's denial, JetBlue announced its first round of flight cutbacks, dropping 12 of its 35 daily flights. Then, in January, the airline announced it was cutting six more flights. The only question left was when the airline would leave Long Beach completely.
Then came the coronavirus and its devastating impact on the airline industry. The pandemic forced JetBlue to reevaluate its network.
"The impact of Covid-19 on our industry has forced us to take a hard look at our remaining Long Beach Airport operation, which continues to financially underperform our network," JetBlue spokesman Philip Stewart said in an email.
But the pandemic also opened another opportunity for JetBlue — at LAX. In recent years, right up to March when the Covid-19 pandemic hit, there had been a gate shortage at LAX due to rising demand and ongoing terminal renovations.
The shortage was at times so bad that some airlines had to use remote gates on the tarmac and bus passengers into the terminals, especially the Tom Bradley International Terminal.
But with passenger traffic down as much as 96% at LAX in May and the airport on track to have its fewest annual passengers since the 1950s, there are gates aplenty now — enough for JetBlue to double its flights at the airport this fall.
More gates coming
And 12 more gates will be opening in the next few months with the completion of the northern half of the midfield satellite concourse on the tarmac immediately behind the Tom Bradley International Terminal.
"Passenger traffic is currently down at historic levels, so gate availability is not a concern at this time, nor do we anticipate it to be a concern any time soon," said Heath Montgomery, spokesman for Los Angeles World Airports, the city agency that runs LAX.
These circumstances have made it easier for JetBlue to expand its flight roster at the airport. By 2025, the airline hopes to operate 75 flights per day out of the airport, more than three times its current level, including international routes and flights to locations that currently are not served out of LAX.
"With support from LAWA, we plan to embark on a meaningful expansion over the next five years and are confident necessary gate space will be available," airline spokesman Stewart said in an email.
In its July 9 announcement, JetBlue said it will launch flights in October to seven new markets out of LAX, including Austin, Texas; Las Vegas; Reno, Nev.; Salt Lake City; and San Francisco.
Stewart did not offer any more detail on the international markets JetBlue intends to serve out of LAX. When JetBlue was seeking international service out of Long Beach five years ago, the airline said it planned flights to Mexico.
While JetBlue's intent at LAX has been described as creating a West Coast hub, Denver aviation consultant Michael Boyd said a better way to look at it is that JetBlue is stepping up to be more of a major player at LAX.
Last year, just under 2 million passengers flew JetBlue into or out of LAX, placing the airline at No. 7 among carriers, with just 2.3% of all passenger traffic at the airport. That's well behind Dallas-based rival Southwest Airlines Co., which ranked No. 4 with 9.6 million passengers and an 11% market share.
"JetBlue is looking to increase its share of the LAX traffic," said Boyd, president of Boyd Group International. "They're calling it a focus airport, not a hub (with lots of connecting flights). They are settling in to be a major part of the LAX traffic landscape."
West Coast focus airport
In choosing to make LAX its West Coast focus airport, JetBlue passed up an opportunity to turn Ontario International Airport into a focus center. According to Steve Lambert, spokesman for the Ontario International Airport Authority, officials with the authority did broach the possibility with JetBlue. The Ontario airport has the U.S. Customs facilities that Long Beach Airport lacks and, until the Covid-19 pandemic, was a much less crowded option when compared to LAX.
JetBlue spokesman Stewart did not specifically address the focus airport option for Ontario, instead saying, "Ontario will continue to play a key role in our broader Los Angeles strategy, and we are interested in expanding service there in the future."
Boyd said it's not surprising JetBlue chose LAX over Ontario for its West Coast focus airport. "People in places like Boston and Ft. Lauderdale who want to fly to Los Angeles are difficult to capture via Ontario or (Hollywood) Burbank Airport," Boyd said. "While due to traffic and congestion, it can be argued that Ontario has easier access to much of the Los Angeles basin, the reality is that LAX represents access in people's minds to all of the basin."
For reprint and licensing requests for this article, CLICK HERE.