DxTerity Develops At-Home Covid-19 Testing
Monday, July 13, 2020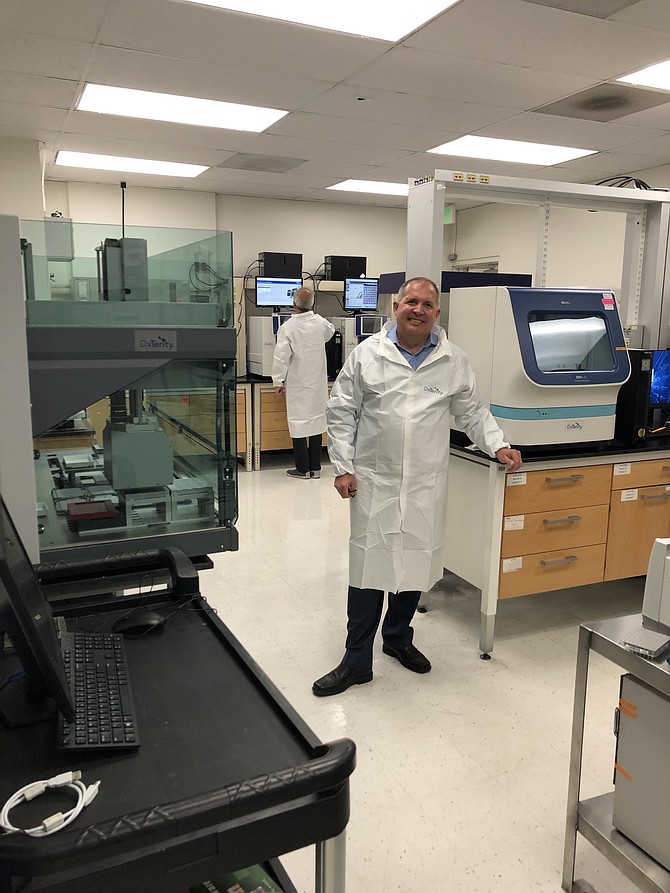 Like many genetic testing companies, Rancho Dominguez-based DxTerity Diagnostics Inc. has pivoted to Covid-19 testing, but with a special focus on testing employees before they return to the workplace.
DxTerity has developed a saliva test that can be taken at home and sent into the company's lab for analysis. The employer is notified within 48 hours about which workers have tested positive and must quarantine before returning to work.
The company also gives its employer customers access to a software system that allows for constant tracking of repeated employee Covid testing results.
"The best way to safely restart a company is to test people at home before they return to work, all the employees, whether they show symptoms or not," said Bob Terbrueggen, DxTerity's chief executive. "We are looking to be that one-stop shop for the employer to screen their employees to see who is able to return to work."
DxTerity is one of several companies racing into the employee return-to-work testing market as the economy has reopened over the last six weeks. Not only are employees initially tested before returning to work, but they must be retested weekly or biweekly to reduce the chances of spreading Covid in the workplace should they become infected with the coronavirus after taking a test.
"There is potentially a big opportunity in making money from testing that helps companies bring employees back to work — assuming that employers are willing to pay for employee testing — and because of the frequency of testing, particularly when we don't have a cure or a vaccine for Covid-19," said Ahmed Enany, chief executive of the Southern California Biomedical Council, a downtown-based industry group.
Terbrueggen said there are two keys to the employee testing market: using a home collection saliva test method that doesn't require a nurse to collect nasal swab samples, and being able to detect low levels of the virus in test samples.
Home-based saliva test results can be collected simultaneously — a faster method than nurses testing employees serially.
Also, because all employees have to be tested at least once every couple of weeks, repeated nasal swab testing means someone must constantly be on hand to collect the samples, which is not sustainable long term.
But saliva testing — so far, at least — has generally not been able to match the ability of nasal swab samples to detect low levels of coronavirus in asymptomatic or presymptomatic people. That ability is crucial for the type of mass testing required for the return-to-work market.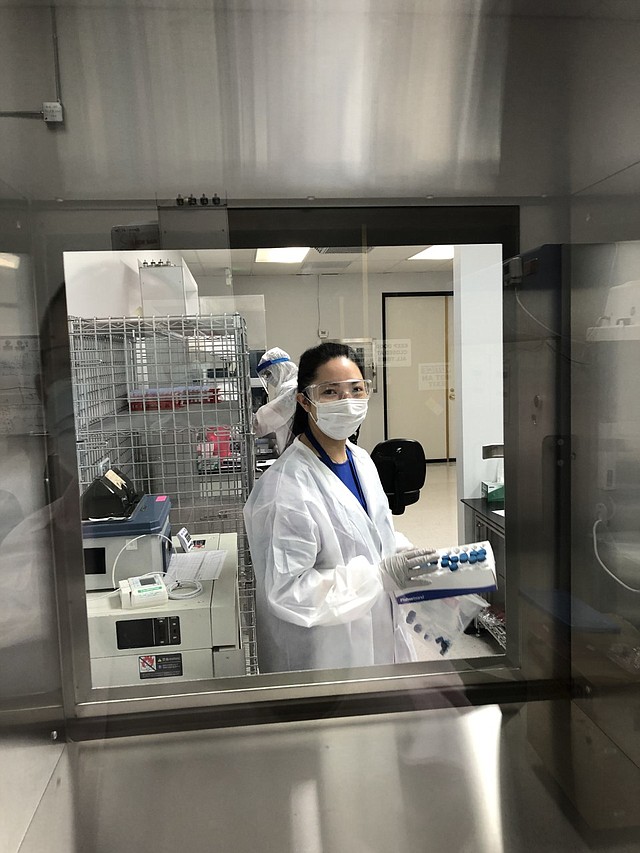 DxTerity is one of several testing companies hoping to change this. Terbrueggen said its RNA-based testing technology is able to detect coronavirus as low as 40 copies per sample milliliter, about one-tenth the level of the median of other testing companies that have submitted their tests to the Food and Drug Administration for emergency use authorization.
Terbrueggen said DxTerity planned to submit its testing technology to the FDA the week of July 6 for authorization.
RNA testing origins
DxTerity's technology stems from its years of experience honing its genetic testing ability, with a focus on detecting levels of ribonucleic acid, or RNA, molecules. Terbrueggen, who has a PhD in chemistry from Caltech and a degree in molecular biology, launched the company in 2006, mostly as an adjunct to laboratory research.
"DNA testing tells you what you might have while RNA molecule levels can be used to tell you what you do have," Terbrueggen said. "What matters in RNA is quantity and whether that quantity is enough to turn a particular gene up or down." But, he said, RNA detection is more difficult than DNA because it's a less stable molecule.
DxTerity got its first big break in 2009 when it received a $43 million contract from the federal Biological Advanced Research and Development Authority to create tests for radiation exposure. The test used detection of RNA levels to monitor how the body's immune system responds to radiation exposure.
"That contract jump-started our business, taking our technology from just me alone in a lab to an ongoing business with technology application," Terbrueggen said.
In 2016, DxTerity won a follow-up contract for $153 million to get the test approved by the FDA and then to stockpile the test for use in potential future radiation exposure cases.
More recently, Terbrueggen said, the company — armed with $15 million in equity and venture debt funding — has focused on using RNA levels to monitor autoimmune diseases such as lupus. This involves testing of up to 80 genes at a time to look for genetic markers of these complex diseases.
Up through this year, DxTerity's main customer base has been government agencies and pharmaceutical companies monitoring patients in clinical trials. One of those customers is Monrovia-based pharma company Xencor Inc.
Business reopenings
But with Covid-19, DxTerity has plunged into a whole new market: employers looking to reopen their workplaces after months of government-ordered shutdowns. As of the end of June, DxTerity had signed up about 40 businesses for its testing program.
One of those businesses is Pura Vita vegan wine bar and Pura Vita Pizzeria, located in adjoining spaces in West Hollywood.
Jay Spangler, a co-owner, said that one of the requirements for reopening after the Covid-induced shutdown was testing of all of the company's 45 employees before they could reenter the restaurants. He said a mutual friend turned him onto Terbrueggen and DxTerity.
"I called DxTerity, and they sent me 50 test kits and a scanner," Spangler said. "We did our testing over one day, and then 48 hours later, we got the results back and unfortunately found that one of our employees tested positive."
Even worse, he said, when that employee was told she should test immediate family members, one of those members was found to be Covid-19 positive as well. Both went into 14-day self-quarantine before the employee could return to work.
"Because this was all caught before our restaurant reopened, it did not impact our reopening schedule at all," he said.
But there has been one major drawback: Insurance doesn't cover the cost of testing, so Spangler said Pura Vita's owners have had to cover the cost themselves, which amounts to about $8,000 per month.
Spangler said funds from the federal Paycheck Protection Program have helped offset that cost, but once those funds run out, he said, Pura Vita must either get another loan or face closing its doors for good.
"This cost comes on top of all of our other operating costs, and it's a big cost," he said. "But we can't remain open without those tests, so it's an absolutely necessary cost."
The situation is less dire at Xencor, which has been giving its roughly 165 employees weekly Covid-19 tests, Chief Executive Bassil Dahiyat said in an email.
"Viral testing allows us to isolate positive cases before the onset of symptoms, if any, and it is a critical component of our safety procedures, which require employees to take their temperatures, wear masks, keep physical distance and work remotely for nonlaboratory personnel," Dahiyat said in the statement.
"Key considerations for the DxTerity test were its rapid turnaround time and ease of sample collection, and since it is intended for employer use and not medical use, we are not taking resources from the health system," he added.
Looking ahead, Terbrueggen is eyeing the testing landscape come fall and winter, when seasonal influenza cases tend to spike. Because many of the symptoms of flu are similar to Covid-19, the ability to identify which employees have the flu and which have Covid-19 will be crucial.
"We're going to have to distinguish between the flu virus and Covid," he said. "That's going to require testing multiple gene panels simultaneously, which is something our tests are capable of doing."
For reprint and licensing requests for this article, CLICK HERE.