Carmel Partners Delays Preleasing for Cumulus Tower
Monday, July 13, 2020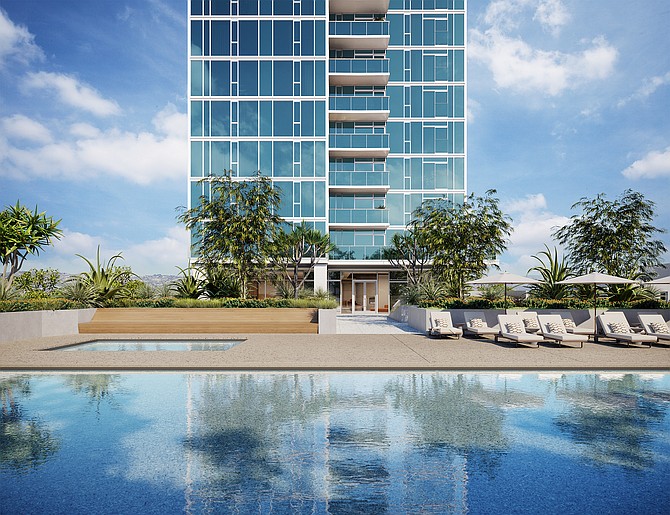 The Cumulus, one of the region's most anticipated projects, will start preleasing Sept. 1 for the ARQ, the project's 31-story multifamily building.
Carmel Partners, the project's developer, had originally planned to start preleasing on June 1. Move-ins are still expected to begin before year-end.
The Cumulus sits on the border of Culver City and West Adams.
Andy Sands, managing partner and head of asset management at project developer Carmel Partners, said the building's leasing office will be located in the space that was used as the project's design center and construction offices.
He said Carmel Partners was looking forward to "allowing the public hopefully to come visit us, and in that space there will be a sample kitchen, some sample materials, we'll have renderings, we'll have technology there with screens where you can get a glimpse of our amenities and our units throughout the properties."
For tenants who don't feel comfortable coming in, technology will be used to provide other ways of seeing the property.
"We've gotten very good at providing interactive content on our website and conducting virtual tours," Sands said. "For those that aren't comfortable coming to the property, we can do it online and by phone. We've had a lot of success doing that across our portfolio nationally. We'll have 360 (degree) videos, we'll have virtual tours of the property, it will be all kinds of content to allow our customer to really see the property."
Sands added that there has already been significant interest in ARQ, including an interest list on its website.
"We are in communication with some of the prospective tenants. We started signing a few leases then things got delayed a little bit," Sands said.
As for the design of ARQ and the larger Cumulus project, Sands said little has changed because of Covid-19.
"We haven't made any material changes," he said. "The way it was designed was very conducive to this environment. It's a big site. It's 11 acres. We have the central park called Zocalo, which is the heart of the project and allows people to come shop and eat and gather and play."
Seating, however, may be spaced out more than initially planned.
Retail in the Cumulus project will be anchored by Whole Foods. Even though retail leasing is slow nationally, Sands expects there to still be interest.
"We are seeing continued demand, but retailers are being cautious about making commitments right now," he said.
For reprint and licensing requests for this article, CLICK HERE.