JetBlue to End Service at Long Beach
Thursday, July 9, 2020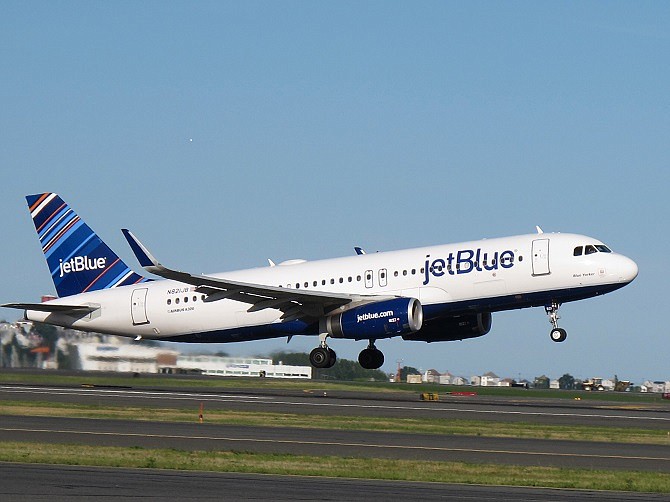 JetBlue Airways Corp. said it will end service at Long Beach Airport in October, transfer flights and crews to Los Angeles International Airport and turn LAX into its West Coast hub.
In a July 9 announcement, the carrier said it would eliminate all flights at Long Beach as of Oct. 7. JetBlue currently offers up to 15 flights per day at the airport.
It also said it plans to launch flights to seven new markets out of LAX, including Austin, Texas; Las Vegas; Reno, Nev.; Salt Lake City and San Francisco.
The moves will increase JetBlue flights at LAX to roughly 32 per day. The carrier will also be transferring crews stationed at Long Beach to LAX.
In its announcement, the New York-based air carrier cited greater customer demand for boosting service out of LAX.
"LAX is one of JetBlue's most successful markets and offers the valuable opportunity to grow significantly both domestically and internationally while introducing our low fares on more routes," said Scott Laurence, head of revenue and planning.
"The transition to LAX, serving as the anchor of our focus city strategy on the West Coast, sets JetBlue up for success in Southern California. We continue to seize on opportunities to emerge from this pandemic a stronger competitive force in the industry," Laurence added.
JetBlue spokesman Philip Stewart said customer demand at Long Beach lagged other airports.
"The impact of Covid-19 on our industry has forced us to take a hard look at our remaining Long Beach Airport operation, which continues to financially underperform our network," Stewart said in an email.
JetBlue began serving Long Beach Airport in 2001 and by 2017 was the dominant airline there, carrying more than three-fourths of all passengers.
The airline had hoped to turn Long Beach Airport into its West Coast hub, complete with international service. But in late 2017, the city of Long Beach rejected the airline's request to establish U.S. Customs facilities at the airport, which ended the prospect of international flights.
Since then, JetBlue has been steadily cutting flights at the airport, with two rounds of cutbacks this year alone.
Stewart said the lack of international service was a factor in the latest moves. He also said the carrier's Long Beach service struggled, "despite various efforts through the years – including seeking to bring international flights – in order to make our operation at the airport succeed."
In a statement released shortly after JetBlue's announcement, new Long Beach Airport Director Cynthia Guidry said, "We will always be grateful for the investment JetBlue made in our community and the tremendous service they offered our passengers. We understand that the aviation industry – now more than ever – is constantly changing and airlines nationwide are making difficult business decisions to stay competitive in light of the pandemic."
When its West Coast hub is fully established at LAX around 2025, JetBlue said it could offer as many as 75 flights per day, roughly four times its current level.
Justin Erbacci, the new chief executive of Los Angeles World Airports, the Los Angeles city agency that runs LAX, welcomed JetBlue's decision.
"Since it first touched down at LAX in 2009, JetBlue has continued to invest in and expand its presence at our airport, and we are excited that the airline has chosen to grow its LAX operation beginning in October," Erbacci said in the announcement.
"With seven new routes and more than 30 daily flights, JetBlue will be an important part of LAX's comeback from historic lows in passenger traffic, and our guests now will have even more choices," he added.
Health care/biomed, energy, engineering/construction and infrastructure reporter Howard Fine can be reached at hfine@labusinessjournal.com. Follow him on Twitter @howardafine.
For reprint and licensing requests for this article, CLICK HERE.