LA's Bioscience Sector Sees Continued Gains
Monday, July 6, 2020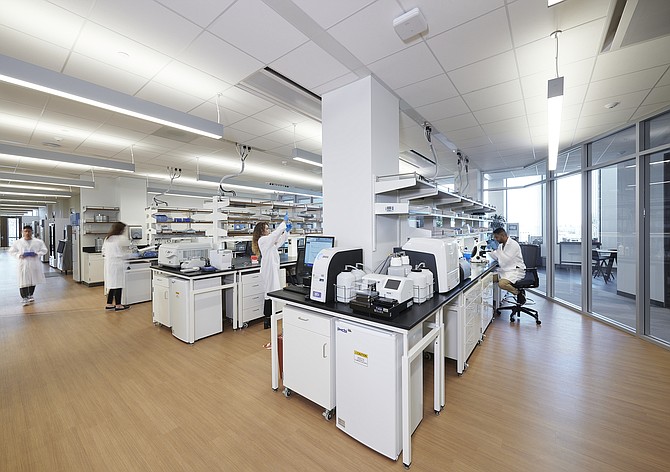 L.A.'s bioscience sector generated $44 billion in economic activity and nearly 196,000 jobs last year, increases of 4% and 2.5%, respectively, over 2018, according to an annual report released last month by an industry advocacy group.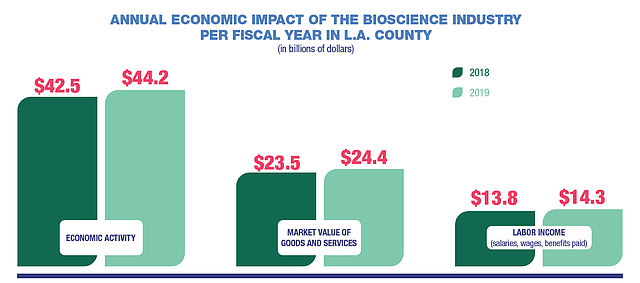 The report from San Diego-based Biocom showed that the 2,890 bioscience establishments in L.A. County last year had 195,820 jobs, up from 2,624 establishments and 190,974 jobs in 2018.
Establishments include companies located in the county; individual facilities of companies that are either headquartered here or outside of the county; and nonprofit entities, such as incubators or university research facilities.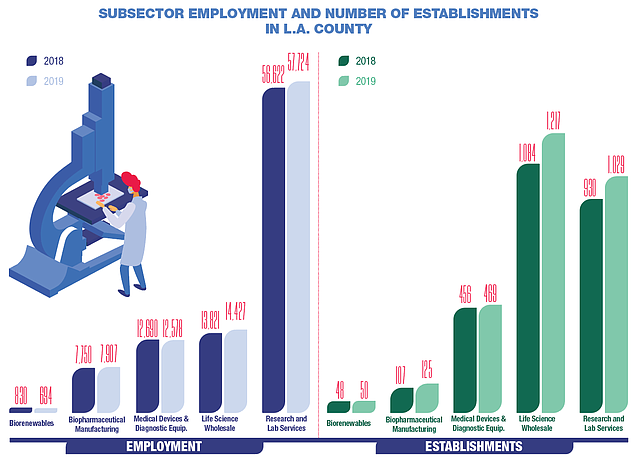 Together, these establishments generated $44.2 billion in economic activity in 2019, up from $42.5 billion in 2018.
Helping to boost this economic activity was roughly $4.6 billion in funding from the National Institutes of Health, with about a quarter of that going to local universities.
That's up 10% from $4.2 billion in 2018 and, according to the report, puts L.A. County on top in NIH funding dollars for all California counties, including long-established biotech clusters in the Bay Area and San Diego.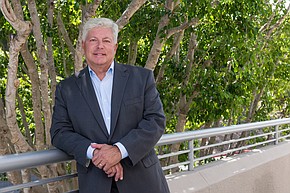 "NIH funding going to Los Angeles County is growing at a significantly faster pace than either the Bay Area or San Diego," said Joe Panetta, Biocom's chief executive.
The report breaks out five subsectors of L.A.'s bioscience industry, including biorenewables, biopharmaceutical manufacturing, medical devices/diagnostic equipment, bioscience wholesale/distribution and research/lab services.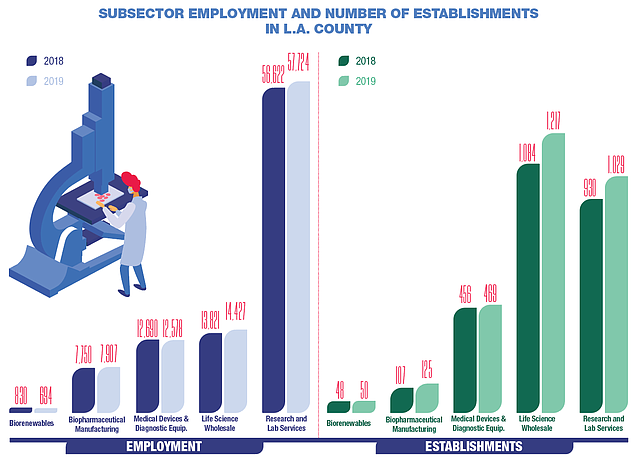 The wholesale/distribution subsector was the largest by number of establishments in 2019 with 1,217; among the companies with local facilities is Dublin, Ohio-based Cardinal Health Inc. and Valencia-based Shield HealthCare Inc.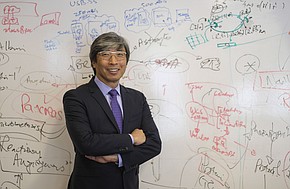 The research and lab services subsector last year had 57,724 employees, four times the number of any of the other subsectors that were broken out. Among the companies in this subsector: billionaire Patrick Soon-Shiong's Culver City-based NantWorks network of bioscience companies and Beverly Hills-based Capricor Therapeutics Inc.
Biocom also broke out bioscience industry data for the city of Los Angeles. It showed that in 2019, there were 499 bioscience establishments employing 34,270 people and generating $6.9 billion in economic activity. Those numbers are all down from 2018 when 519 establishments employed 58,778 people and generated $12 billion in economic activity.

Panetta said the drop is mostly due to companies moving out of L.A. city limits to newer incubators and bioscience clusters nearby, such as Torrance, Santa Monica and Pasadena.
For example, the BioLabs Incubator at the Lundquist Institute in unincorporated L.A. County between Torrance and Carson opened last year and drew at least one company from UCLA: Athos Therapeutics Inc.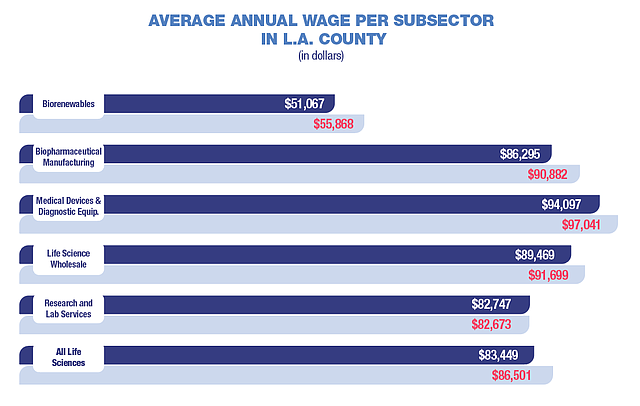 Looking to this year, Panetta said the bioscience industry in L.A. County is growing despite the economic downturn resulting from the Covid-19 pandemic.
"For this year, we've been fortunate that the biotech and biomed sectors have been considered essential, meaning people are allowed to continue to do work, especially in research and manufacturing," he said. "What's more, venture capital and other investors have told me it's important for them to continue to invest in biotech research and lab services companies."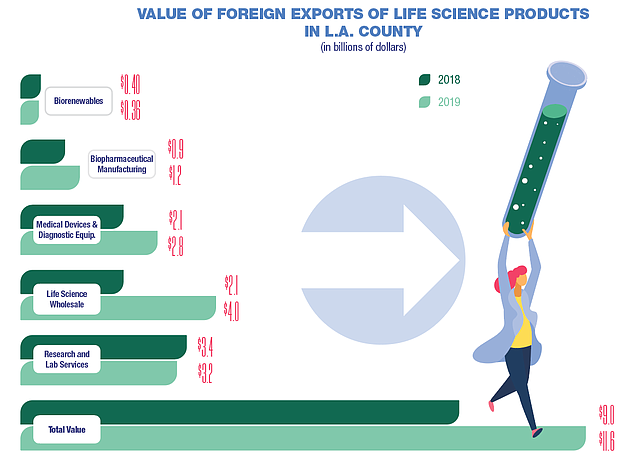 For reprint and licensing requests for this article, CLICK HERE.