Elementary Robotics Raises $13 Million
Startup also rolls out device for inspection, traceability
Monday, July 6, 2020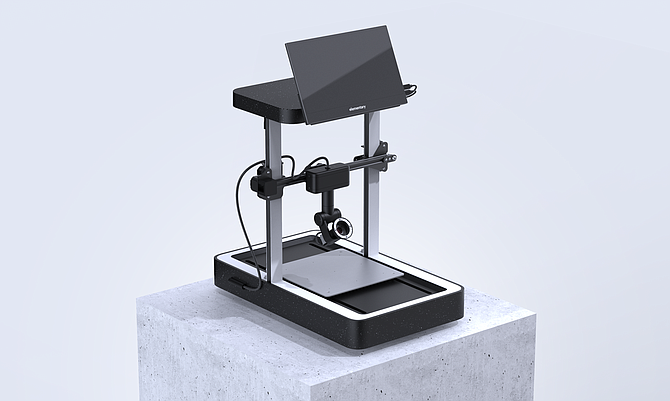 Elementary Robotics Inc., a downtown-based robotics startup, has raised $12.7 million in Series A funding. The raise announcement coincided with the launch of Elementary's inspection and traceability robot for sale on the open market as of June 30.
Elementary was founded in 2017 and has been developing, testing and refining its technology for the last three years. The company focuses on computer vision and machine learning for manufacturing processes.
"We think of the robot as just a body to enable the machine learning to be useful," said Arye Barnehama, Elementary Robotics founder and chief executive.
While many other aspects of manufacturing processes have become automated in recent decades, Barnehama said, quality control inspections and traceability processes have often been slower to change.
The company's flagship product, dubbed the IR1, uses advanced visual artificial intelligence, or AI, to examine and record key information about manufactured products and parts.
"Instead of a human picking up or walking around a part to make sure that it was assembled properly," Barnehama said, "our robots move around it."
In addition to flagging any defects, the IR1 helps provide a complete record of all products moving through a manufacturing facility for traceability purposes, according to Barnehama.
All inspection results are recorded and uploaded to the cloud, helping managers understand if and where things are going wrong in their factory's processes.
According to the Elementary founder, IR1 is designed to be simple to deploy, avoiding the lengthy installation process required with many traditional industrial robots.
"It's basically plug and play," Barnehama said.
Elementary's technology has already been put to use in limited test cases by Toyota Motor Corp., which is also a backer of the company through its subsidiary Toyota AI Ventures. The auto giant plans to implement the IR1 at its Indiana manufacturing facility.
Barnehama said the Covid-19 pandemic has only increased investor and business interest in the company's robots. With the difficulty of ensuring worker safety and containing viral outbreaks in factories, he said, companies are keen to automate as many processes as possible.
"It's definitely resonating with people right now," he said.
For reprint and licensing requests for this article, CLICK HERE.