AEG Plans 5G for Staples Center, LA Live by 2021
AEG planning high-speed service for venues in 2021
Monday, July 6, 2020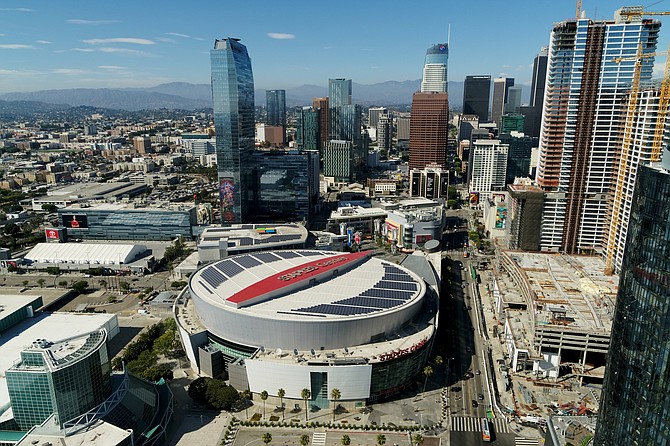 Instantaneous livestreaming and multi-angle replay might become a reality next year for music and sports fans at Staples Center and L.A. Live.
Anschutz Entertainment Group, the downtown-based live entertainment company, has signed a deal with Newport Beach-based telecommunications company Mobilitie to develop 5G network infrastructure for AEG's downtown venues.
Development of the infrastructure will begin with Staples Center and then expand to the L.A. Live entertainment district. The companies anticipate the 5G network services will be available by the end of 2021.
Sports and entertainment venues such as Staples Center and Microsoft Theater have seen a steady increase in data usage each year as fans engage in real-time social media sharing and video streaming. That has increased the need for high-speed connectivity solutions.
AEG's deal with Mobilitie, announced on June 22, is a "seven-figure partnership annually," according to Nick Baker, chief operating officer of AEG Global Partnerships, a division within AEG.
"This partnership in light of what has transpired with Covid becomes even more valuable for us because we are going to, and we've already begun to, institute health policies and procedures within the campus that won't be effective without connectivity," Baker said.
The 5G, or fifth-generation, mobile technology network has the ability to move large amounts of data more quickly. The speed is more than 10 times faster than that of 4G while latency is about only one-tenth of 4G networks, according to Christos Karmis, president and chief executive of Mobilitie.
The new technology will make it possible for the AEG venues to integrate augmented reality and virtual reality technologies at events, which will allow fans to interact in real time with performers, according to AEG.
Fans can also upload and download videos and stream the events on social media almost instantly, according to Karmis.
Event organizers and vendors, meanwhile, will find it more convenient to offer contactless digital transactions and electronic ticketing options, a trend that has been accelerated by Covid-19, Karmis said.
The 5G network also helps with venue management by enabling more efficient internal communications, which are key to venue security, indoor wayfinding and building maintenance, according to AEG.
The 5G network services are made possible by small cell antennas, which can make use of wireless transmission systems that cover limited geographical areas.
"(They) typically look like small attachments either to light post or utility poles," Karmis said.
Mobilitie has installed more than 10,000 outdoor small cell antennas in 2,000 U.S. cities since 2018, according to Karmis, including 1,000 in the city of Los Angeles.
Mobilitie plans to build about 100 indoor antennas in Staples Center and in each major venue in the L.A. Live district to cover the huge amount of bandwidth consumed during live events, Karmis added.
Once the infrastructure is complete, the venue networks in Staples Center and L.A. Live will merge with the 5G networks, according to Vince Saavedra, senior vice president and deputy chief information officer at AEG. "We are talking about levels of integration and capabilities that we have never seen before," he said. "And it is very exciting."
For reprint and licensing requests for this article, CLICK HERE.