SpaceX Launches Satellite for Space Force
Wednesday, July 1, 2020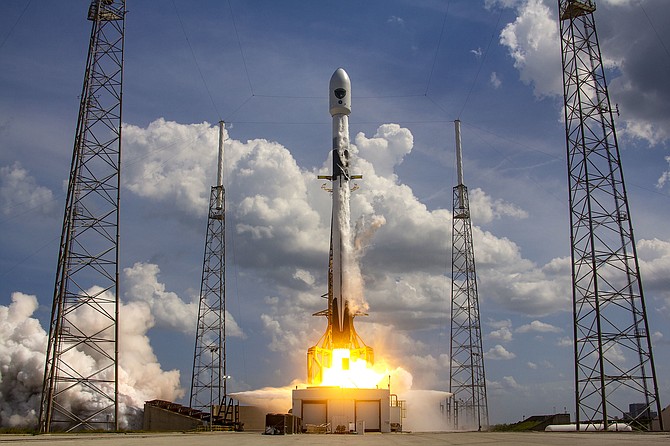 Space Exploration Technologies Corp. has successfully launched a Falcon 9 rocket carrying a new GPS III satellite into orbit for the U.S. Space Force.
The June 30 mission, which had been postponed from an April launch date due to the coronavirus pandemic, is the first Hawthorne-based SpaceX has completed on behalf of the Space Force.
The launch was part of an ongoing project by the Department of Defense to update existing GPS satellites to a more advanced model.
SpaceX is under contract with the Space Force to launch three more GPS III satellites over the next two years, a deal valued at $90 million.
The Falcon 9 rocket carrying the satellite lifted off from Cape Canaveral, Fla.
In coming weeks, the satellite will use its own propeller to reach a higher altitude and join the existing constellation of GPS satellites, the third GPS III model to do so.
The GPS III is the "most powerful (GPS) satellite ever designed," according to manufacturer Lockheed Martin.
Compared to previous models, Lockheed Martin said, the GPS III performs with three times the accuracy and eight times the "anti-jamming" power. It also has an 25% longer lifespan than earlier versions.
Lockheed Martin is under contract with the Space Force to produce up to 32 GPS III satellites.
Eight minutes after launching, the Falcon 9 rocket booster landed on SpaceX's "Just Read the Instructions" drone ship in the Atlantic Ocean. It marks the first time the company has recovered a booster for future use on a National Security Space launch.
SpaceX intends to launch another Falcon 9 rocket in August to carry the fourth satellite in the GPS III series. The August mission will also lift off from Cape Canaveral. SpaceX has yet to disclose the date of the launch.
For reprint and licensing requests for this article, CLICK HERE.