Optimus Adds to BH Portfolio
Company pays $15 million for Golden Triangle site
Friday, January 10, 2020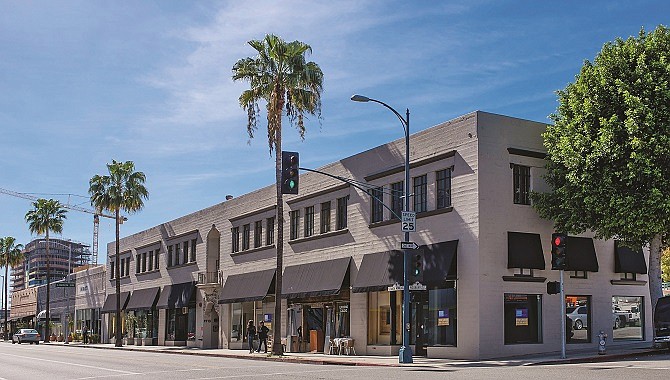 Optimus Properties is betting bigger on Beverly Hills' famed Golden Triangle with the purchase of another building.
The Century City-based company acquired a two-story retail and office building at 9701-9725 S. Santa Monica Blvd. for $15 million, the company announced Jan. 2.
The 18,000-square-foot property was built in the 1920s and designed by architect William Asa Hudson, best known for the Beverly Hills Hotel bungalows.
Ground-level retail tenants include a cigar club and salon, while the second-floor space is home to several offices.
Optimus said it will renovate the building. "We see a lot of potential for growth under Optimus' management approach," K. Joseph Shabani, a principal at Optimus, said in a statement.
The building was 44% leased at the time of the sale, according to CoStar Group Inc.
Financing for the acquisition was provided by First Republic Bank.
Optimus co-owns other properties in the area including a roughly 15,000-square-foot mixed-use property at 220-228 N. Canon Drive and two medical office buildings — the 60,000-square-foot Rox-San Medical Tower at 465 N. Roxbury Drive and the 104,000-square-foot medical office building at 450 N. Roxbury Drive.
The Golden Triangle, which is known for high-end retail, including the stores of Rodeo Drive, is bordered by Santa Monica Boulevard, Wilshire Boulevard and Canon Drive.
While some shopping areas around the country have suffered with the shift to ecommerce, high-end locales like Rodeo Drive have continued to perform well by attracting tourists as well as locals, experts say.
For reprint and licensing requests for this article, CLICK HERE.