PE Firm LS Power Group Buys EVgo
Maker of electric vehicle charging stations says deal will boost growth
Friday, January 3, 2020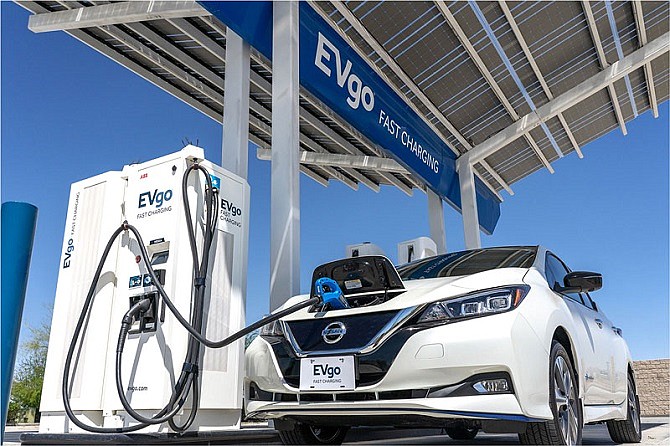 Private equity firm LS Power Group, which invests in clean power and alternative energy sources across the country, has acquired a majority stake in EVgo Services.
Terms of the deal, which was announced Dec. 20, were not disclosed.
EVgo, a maker of electric vehicle charging stations, said it will maintain offices and operations in Sawtelle.
The deal "means that we can accelerate access to fast charging as we grow our network as part of the LS Power platform," EVgo Chief Executive Cathy Zoi said in a statement.
New York-based LS Power Group purchased the EVgo interest from Boulder, Colo.-based Vision Ridge Partners.
Neither EVgo nor LS Power would confirm the sale price, but Vision Ridge Partners paid $120 million for the company in June 2016, according to investment database PitchBook Data Inc.
EVgo said LS Power Group will help the company deploy more fast-charging stations for electric vehicles. It currently operates roughly 750 stations in 66 metropolitan areas, including Los Angeles County.
Zoi said EVgo has "enabled 80% of Californians and more than 100 million Americans to live within a 15-minute drive of an EVgo fast charger, numbers that will increase as we continue to build across the country."
LS Power Group private equity investment Co-Head David Nanus said in a statement that "EVgo is a well-established leader in EV charging, with an exceptional team dedicated to building, owning and operating the most extensive public fast charging network in the United States."
Nanus added that the acquisition of EVgo "provides LS Power the opportunity to support the continued expansion of EVgo's unmatched charging infrastructure platform, already present in 66 metropolitan markets, and invest further in the company's growth as the market for EVs continues to expand."
In November, EVgo expanded its existing agreement with automaker Nissan Motor Co. Ltd., offering drivers of Nissan's electric vehicles free charges at any of EVgo's charging locations.
Drivers of Nissan's primary electric vehicle, the Leaf, had already been receiving free charging from EVgo as part of a business arrangement that ended in July.
Under the new Nissan deal, announced Nov. 25, Nissan Leaf and Leaf Plus drivers are eligible for up to $250 in prepaid charging credits at EVgo stations.
EVgo's DC fast chargers are designed to bring a car to a nearly full charge after 30 minutes and work with most types of electric vehicles.
The company's 180,000 customers are mainly subscribers to EVgo's monthly plan though it also offers charges for nonmembers.
For reprint and licensing requests for this article, CLICK HERE.