Coming Soon: What's Underway for Hollywood Park Complex
Friday, January 3, 2020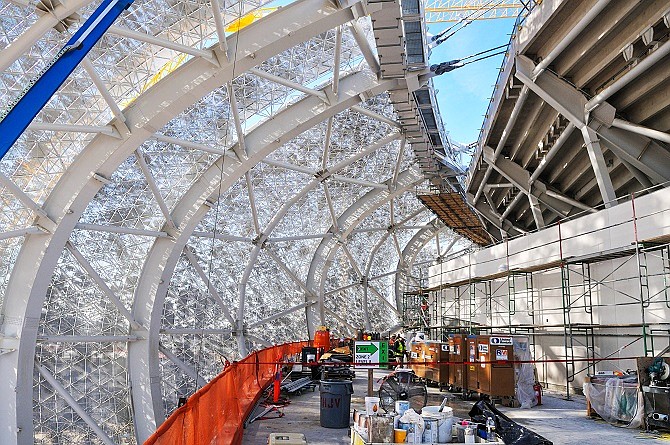 While eyes are focused on the giant stadium superstructure nearing completion in Inglewood, Los Angeles Rams owner Stan Kroenke's real estate development company is also hard at work on the surrounding 280-acre retail and entertainment complex.
The first phase of that development, according to SoFi Stadium and Hollywood Park managing director Jason Gannon, is scheduled to open prior to Super Bowl LVI, which will be held at the stadium in February 2022.
The initial build-out will include an office tower that will house the headquarters of NFL Media, more than 500,000 square feet of retail space, a 300-room hotel and 314 apartment units.
Other phases are planned for the complex, with a total build-out for the project reaching more than 13 million total square feet on the 298-acre parcel of Hollywood Park that Kroenke acquired starting in 2014.
Another 2,200 residential units and millions of square feet of additional office and retail space will follow.
Gannon did not lay out a timetable or provide any more detailed plans for these later-phase projects.
"The size of this project is unparalleled, and it is all part of Stan Kroenke's commitment to the Los Angeles area," Gannon said. "It will be a place where people can live, work, shop and play."
Right now, though, it's where a massive construction effort is underway. The project's team is led by the general contractor joint venture of New York-based Turner Construction Co. and Century City-based AECOM's Hunt Construction unit.
Gannon said there are a total of 12,000 construction jobs on the site.
Here's a look at key elements of the complex and where they stand:
SoFi Stadium at Hollywood Park
For the moment, the stadium that will be home to the Rams and Los Angeles Chargers is in the spotlight. San Francisco-based Social Finance Inc., known as SoFi, secured naming rights in September with a 20-year deal worth a reported $400 million.
At 3.1 million square feet, the stadium will be the largest in the National Football League, with seating for 70,000 and 100,000-plus when seating is reconfigured for mega-events such as the Super Bowl and Olympic ceremonies. It will also include about 260 luxury suites.
The stadium field sits 100 feet below ground level, while the upper deck is nearly 150 feet above ground; that total height of nearly 250 feet is the tallest of any NFL stadium.
The stadium's most unique feature is its roof, which is under construction. Consisting of a translucent polymer known as ETFE, it will cover the stadium but leave openings on the sides for outside air to circulate. As of mid-December, construction teams were lifting huge ETFE panels into place on the roof.
The stadium is set to open July 25 with the first of two concerts by Taylor Swift. The Rams and Chargers will then play preseason games at the stadium with their respective home openers to follow in September.
SoFi Stadium will host the Super Bowl in February 2022 and half of the opening ceremonies for the 2028 Summer Olympic Games (with the other half taking place at the Los Angeles Memorial Coliseum).
The Stadium complex
That translucent roof won't just cover the stadium. It will stretch nearly 2,000 feet (more than one-third of a mile) over an adjoining plaza. Fort Worth, Texas-based American Airlines Group Inc. secured naming rights to the area this past summer in a deal reportedly worth $90 million over 10 years. Gannon said the plaza will host community events and small-scale outdoor concerts.
The roof continues onto the other side of the plaza where a 6,000-seat indoor amphitheater is under construction.
That amphitheater has about the same seating capacity as the Greek Theatre in Griffith Park and is slightly smaller than the 7,100-seat Microsoft Theater at L.A. Live, next to Staples Center downtown. The Inglewood theater will likely compete with those two venues for concerts and other events.
The NFL Media Tower
Aside from the stadium, work at the complex is farthest along on a seven-story, 450,000-square-foot office tower and studio space located directly across from SoFi Stadium.
NFL Media in March 2018 announced it had signed on as the principal tenant for 200,000 square feet, and its headquarters will occupy several floors of the tower and adjoining studio space.
The space will house operations for hundreds of employees at NFL Network, NFL.com, the NFL app and NFL RedZone, which supplies simultaneous coverage of every NFL game.
In addition to office and studio space, the facility also will feature NFL Media's first outdoor studio and space to host studio audiences.
As of mid-December, the tower was about half-built, and the studio space was taking shape. The new campus is expected to open by summer 2021.
A spokeswoman for the league said last month that there have been no changes in NFL Media's plans for the building since its initial announcement.
Gannon and other Kroenke development company executives declined to give details on additional potential tenants for space in the tower.
Retail spaces
As of mid-December, underground utility preparation was taking place for the 500,000-plus square feet of retail space in the project's first phase, according to Gannon.
That retail block has a targeted opening date of late 2020 or early 2021. So far, though, the view from above ground remains just dirt on the southwest corner of the 298-acre parcel.
The retail space will be similar to L.A. Live next to Staples Center, according to Dario Svidler, executive vice president with Partners CRE/Compass Commercial in Beverly Hills, who has long covered the Inglewood market.
"It will have an experiential retail focus, not a place where you go to buy clothing or household goods," he said.
Along those lines, Kroenke's development company in September announced the retail district's first three tenants: a 20,000-square-foot gastropub and brewery run by Lynne Weaver, founder of Three Weavers Brewing Co.; a 21,000-square-foot gym facility operated by Long Beach-based Olympix Fitness; and a 12-screen theater complex operated by Cinépolis Luxury Cinemas, a theater chain headquartered in Morelia, Mexico.
Residential offerings
Utility work is underway for the 314 apartment units that are part of the first phase, right next to the retail district on the southwest corner of the parcel. These units are slated to open in late 2020 or early 2021, along with the first phase retail district.
Pricing for the units has not yet been determined. But apartment rents in the Inglewood area have risen sharply in recent years, in large part due to anticipation of the stadium complex's opening.
In response, Inglewood city officials enacted a rent control measure earlier this year limiting rent increases to 5% annually for existing tenants with units resetting to market rates when vacant.
Broker Svidler said these apartment units will likely appeal to young urbanites.
"I would expect to see a lot of young professionals and other people who want a curated lifestyle move into those units," he said.
In later phases, 2,000-plus residential units are planned for other portions of the parcel, primarily on the southeast side.
But Svidler sounded a cautious note about these future plans.
"Right now, there's a mayor in Inglewood (James Butts) who is all for development," he said. "But that could change in a future administration, and we could see more government interference as we have in other communities."
Planned hotel
A 300-room luxury hotel is currently in the design phase, with an operator and exact opening date to be determined.
Gannon did say the hotel is still expected to open prior to the February 2022 Super Bowl, which will be the first mega-event at SoFi Stadium at Hollywood Park. He added that the hotel will be next to an artificial lake that is part of 25 acres of planned open space.
Svidler said that right now, there is little demand for an upscale hotel in this part of Inglewood. But he expects that to change once the stadium opens.
"They are banking on the fact that the stadium will not just be for football but will also host concerts, other events and, of course, the Olympics," he said.
For reprint and licensing requests for this article, CLICK HERE.