Questions Arise for Disney
Iger departure brings uncertainty
Friday, February 28, 2020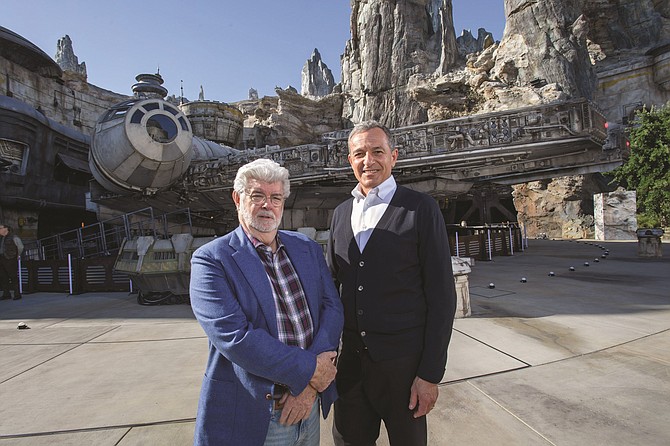 The day after Bob Iger's surprise announcement of his departure as chief executive of Walt Disney Co., Iger and his replacement, Disney veteran Bob Chapek, conducted a town hall for employees.
At the Feb. 26 event in Burbank, the two Bobs reportedly assured team members that there would be no big changes in the game plan that has led Disney to a market cap of more than $221 billion, making it one of the world's largest media companies and the biggest public company by far in Los Angeles.
Although the CEO change is effective immediately, the 69-year-old Iger, who had served as chief executive since 2005, plans to remain with Disney in the role of Executive Chairman through the end of his contract on Dec. 31, 2021.
During that time, Iger will oversee "creative endeavors" in order to "ensure a smooth transition," according to Disney. Iger also will continue to lead Disney's board.
The 60-year-old Chapek, who joined Disney in 1993 and spent the last two years as chairman of Disney's Parks Experiences and Products division, will report to Iger.
Despite those reassurances, entertainment industry watchers in Los Angeles say content creators with an interest in Disney's next steps are worried the new Bob won't be the same as the old Bob when it comes to the company's most important revenue segments: media networks and movies, particularly the new streaming venture Disney Plus.

"Bob (Iger) transformed Disney, even more than Michael Eisner," television producer Scott Stone, who also serves as an adjunct professor in USC's John H. Mitchell Business of Cinematic Arts program, said in an email. "Those are big shoes to fill."
Stone pointed out that Iger's rise through Disney's ranks began in television and said the executive "ascended at a time when TV has been essential to Disney's success."
Iger began his career at ABC in 1974, becoming chairman by 1996, the year Disney bought the television network and renamed it the ABC Group.
"If he has to leave, this seems like as good a time as any because he has put so many giant pieces into place, and they now need to be fully integrated," Stone said. "The real question is, can a 'theme parks person' navigate the complicated creative partnerships needed for the movie and TV businesses?"
Caught by surprise
Tom Nunan, founder and partner of independent film and TV production company Bull's Eye Entertainment in Westwood and a lecturer at the UCLA School of Theater Film and Television, said he was baffled by the surprise announcement.
"Wall Street doesn't like provocative. The entertainment industry doesn't like provocative," he said. "As creative and arty as we all are, we also like smooth management transitions, and this is the opposite of that."
"The second most provocative thing is why this guy," Nunan said, "when Disney's media companies are by far the biggest part of its portfolio, much larger than the parks? Why hand over the CEO position to someone who has no media experience?"
Disney's media networks and studio entertainment units accounted for a combined $10 billion in 2019 operating profits, compared to $7 billion from "parks, experiences and products," and $9 billion from its direct-to-consumer and international segment, the company has reported.
Nunan, Stone and others say that entertainment and media knowledge are crucial, considering the recent launch of Disney+. The family-friendly service entered the streaming wars in November, going up against more established competitors, including Netflix Inc. and Amazon.com Inc.
While Disney+ has surprised analysts by racking up nearly 30 million subscribers so far, Nunan said Netflix is in "a class all its own." The streaming giant spent a reported $15 billion on content creation in 2019.
"They clearly want to compete (in the streaming wars) … it's a really crowded field," Nunan said. "I'm sure Disney is going to get it right, but the guy (Chapek), to put it politely, is an interesting choice. With no background in streaming or media, it's a tough business to be in."
However, Nunan remains willing to put some trust in Iger's decision, given his track record of Disney success. "I think it's a smart bet, I just don't think it's an obvious one. It carries risk with it, which Iger's not known for," he said.
Successful acquisitions
A content producer who asked not to be named questioned not only Chapek's new role, but Iger's ill-defined new oversight of creative endeavors. The producer said that over the years, Iger has been more successful with engineering acquisitions, including Disney's purchase of Fox, than shepherding specific movies or TV shows.
The producer suggested Iger's new "creative" job description may have been devised with the idea of allowing him to put his imprint on Disney+, which is rumored to be in disarray when it comes to leadership.
Paul Dergarabedian, senior analyst for media measurement company Comscore Inc., is among those who said now is the perfect time for Iger to step down. "Obviously, 2019 was a massive, unprecedented year even for a studio like Disney," he said. "All of those years of big acquisitions like Marvel and Lucasfilm, obviously Pixar under their wing. … They are just a powerhouse, and a big part of that was the vision under Bob Iger's watch."
With so many major deals and acquisitions having already occurred for Disney, will Chapek's job be simply to help the company digest the purchases and maintain the status quo?
The jury is out on that, said Dergarabedian. "There certainly will be changes," he said. "Not every leader of a company has the same style or the same vision or business strategy. You could think, just put it on autopilot and keep going, but you can see how from year to year, companies change, the slate of movies might change, opening of new theme parks can certainly have an impact. … In other words, it's not as easy as it may seem."
For reprint and licensing requests for this article, CLICK HERE.