Parsons Opens Satellite Facility Near Torrance
Labs will help fullfill $100M contract
Friday, February 28, 2020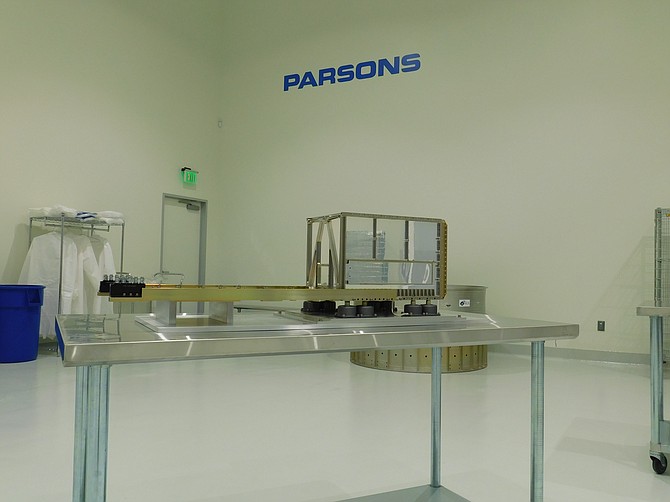 Parsons Corp., the multibillion-dollar engineering and infrastructure firm, is opening a new facility in Los Angeles County to pursue the rapidly expanding space satellite business.
Parsons, which moved its headquarters from Pasadena to Centreville, Va., a year ago, formally opened Feb. 27 a 12,500-square-foot office and lab facility at 19426 Normandie Ave. on a small strip of unincorporated L.A. County just east of Torrance. The soft opening was in September shortly after the lease took effect, according to Richard Waterman, Parsons' vice president of space systems integration.
Parsons has signed a five-year lease with building owner IDI Logistics, an Atlanta-based investor and developer of logistics real estate.
About half of the space is for offices, and half is for labs. About 30 persons work in the entire facility.
Waterman said Parsons made the move following the announcement in February 2019 by the Air Force's Space and Missile Systems Center of a contract, potentially reaching $100 million over 5 years, to develop and deliver small satellite payloads for large rocket launches.
The contract, now administered by the newly formed U.S. Space Force, is being run out of Los Angeles Air Force Base in nearby El Segundo.
"We are creating systems to put together lots of small satellites and get them onto single launches," Waterman said. "This both uses up the available payload capacity of rocket launches and gives small satellite operators a cost-effective way to get their satellites into orbit."
For example, Hawthorne-based Space Exploration Technologies Corp., or SpaceX, in May launched 60 small satellites — known as cubesats — into orbit from a single Falcon 9 launch craft.
Waterman said Parsons plans to use the new facility to pursue other space satellite business.
"We have a lot of interest in expanding in both government and commercial work for launch service providers and spacecraft suppliers," Waterman said. "Much of that industry is centered in the South Bay region, extending into northern Orange County, so this office serves as a good central base for that work."
Two of the largest players in the space satellite industry have operations within 5 miles of the new Parsons facility — SpaceX and the Boeing Co.'s satellite development center, which is in El Segundo. Boeing is based in Chicago.
Publicly traded Parsons reported revenue for the first three quarters of 2019 of $2.9 billion. Full-year 2018 revenue was $3.6 billion.
When Parsons announced its headquarters move from Pasadena to Northern Virginia in February 2019, a company spokeswoman said there were no plans to reduce the staff of approximately 500 people at its Pasadena office. Parsons also has an office of about 30 persons next to the Los Angeles Air Force Base.
The company now has about 550 employees in Los Angeles County, an increase of about 4% for the year since Parsons moved its headquarters, it said.
Included is a team of Parsons employees temporarily assigned to facilities near Los Angeles International Airport to aid in the design and construction of the $2 billion automated people mover project as well as other ground access improvements to airport facilities.
Waterman said most of the staffers at the new facility near Torrance are new hires. "As we grow that business, we intend to keep hiring," he said.
For reprint and licensing requests for this article, CLICK HERE.