Is Musk Considering Tesla-SpaceX Project?
Combined tech could drive profits
Friday, February 28, 2020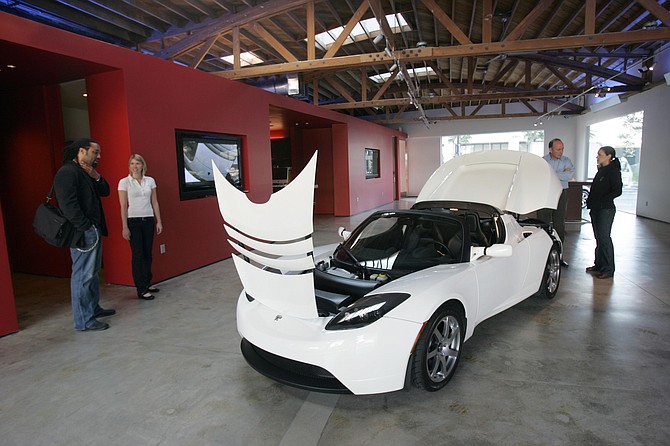 When reports surfaced recently that Hawthorne-based Space Exploration Technologies Corp. was looking to raise another $250 million, initial reaction focused on the funding round itself.
But as industry experts looked closer at how that money might be used, they began to speculate that SpaceX founder Elon Musk could tap his aerospace company's communications technology to support a key element of his automotive company, Tesla Inc.
The additional funding, observers said, could help integrate SpaceX's Starlink satellite system with the internet connections that are essential to Tesla vehicles. That combination, experts added, could lead Musk in a profitable new direction.
"He is going to drive the business into a world where it's billing customers and it's taking cash flow," said George Ferguson, a Bloomberg Intelligence aerospace analyst.
Tesla's internet connections are currently supplied by AT&T Inc. A faster, proprietary connection would mesh with Tesla's autopilot system, bringing the vehicles closer to fully autonomous driving and increasing the potential for revenue.
The $250 million in funding, first reported by CNBC on Feb. 21, would be priced at $220 per share and increase the valuation of SpaceX to $36 billion. The new round was expected to close after the second week of March.
Tesla's current driver-assist system relies heavily on AT&T LTE cellular connections to access software applications, including Google Maps. If Musk is able to provide high-speed internet connections to his Tesla vehicles through Starlink satellites, he would be able to improve Tesla's autopilot system, Ferguson said.
"Starlink is almost in a class of its own," he said, adding that there are barely any competitors except for some telecom companies that deliver 5G services.
Ferguson predicted that Starlink would be the next project to bring cash flow to SpaceX.
In addition to Starlink, the new funding was also reported to be allocated to Crew Dragon, a major initiative that could generate revenue from space tourism, as well as for Starship, Musk's ambitious plan to take humans to Mars.
The Crew Dragon spacecraft is built to fly tourists as well as astronauts to the International Space Station. NASA recently confirmed that the SpaceX rocket will be the first from a private company to launch a manned mission to the space station.
The commercial spacecraft arrived at the launch site Feb. 13 for its first crewed launch from American soil. It is undergoing final testing and prelaunch processing in a SpaceX facility on Cape Canaveral Air Force Station, according to NASA.
Musk's Starship, meanwhile, is expected to be a fully reusable rocket that can carry both passengers and cargo to Earth orbit, the moon, Mars and beyond.
The Mars mission excited many in Los Angeles in 2018 when SpaceX closed a deal with the Port of Los Angeles to build part of the spaceship at a 19-acre site on the Terminal Island.
Despite the agreement, Tesla initially moved the work to Texas in January 2019, but a year later, the company again sought a leasing agreement with the port, and the L.A. City Council approved a permit for the site on Feb. 25.
The downside of the project is that Starship could be Musk's priciest venture yet.
At least for the near term, Bloomberg's Ferguson said, SpaceX needs to focus on projects that are more likely to generate cash flow, such as Starlink.
For reprint and licensing requests for this article, CLICK HERE.