Downtown's Boom Expected to Continue
Area's housing inventory hit record high last year
Friday, February 28, 2020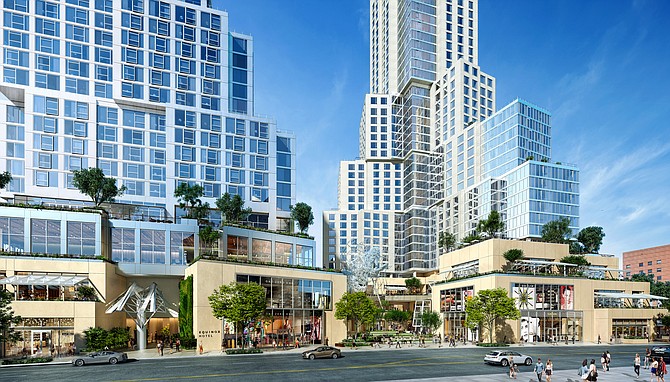 Nearly 4,500 units were added to downtown's residential market in 2019, including more than 2,000 in the fourth quarter.
That's a 35% increase in rental and condominium inventory from 2018 and a record amount for the area, according to data from the Downtown Center Business Improvement District.
"We continue to be a region where demand for housing is far outpacing supply," said Nick Griffin, executive director of DCBID. "Downtown as a place to live keeps improving and becoming more desirable. There is an ever-increasing interest in moving down here. That's what's driving the growth."
Effective rent per unit during the fourth quarter was $2,686, up from $2,648 the previous year.
"We've been effective at keeping the growth of the rents fairly modest because we are delivering enough new inventory," Griffin said.
Rents are likely to remain stable in the near term, Griffin said, but could rise slightly in future years when less new inventory is created.
Meanwhile, the area's occupancy rate fell to 85.7% in the fourth quarter, down from 88.3% the previous year.
"On the first day that a building opens, it's 100% vacant, and it's going to take 12 months or so to fill it up," Griffin said. "When we deliver over 2,000 new units in a quarter, the immediate effect is that the vacancy rate will go up a bit."
Mature properties — buildings that have been open for a year or more — had a 95% occupancy rate in the area, Griffin said.
Meanwhile, downtown's condo market posted mixed results in the fourth quarter. During the period, 81 units sold for $685 a square foot, compared with 76 for $697 a square foot the previous year, according to DCBID data.
"The story in the condo market has been consistent for the last several years — a lack of inventory for the main part of the market," Griffin said. "The only big new condo development to open in the last couple of years was Metropolis, and that's an outlier because it's priced a good bit higher."
Griffin added that the supply of condos downtown has been relatively low, but that will change when Perla on Broadway, a large-scale development near Pershing Square, hits the market soon.
The project, Griffin said, has well-priced units and has seen strong demand for presales.
"If it succeeds, it's going to harbinger of more condo product coming to the market," Griffin said.
He added that long-term renters downtown may be interested in purchasing condos. "At the rents they are paying, they can afford to own a condo," he said.
A number of additional large projects are under construction throughout downtown. One of the largest is the $1 billion The Grand project on Bunker Hill.
The project is designed by Frank Gehry and is being developed by Related Cos. Once completed, The Grand will have more than 400 residential units, an Equinox hotel and retail space.
The office market has been booming as well. During the fourth quarter, 116,000 square feet of office space was under construction, according to data from Jones Lang LaSalle Inc. Asking rates for Class A office space was $3.86 a square foot, up 16 cents in a year.
For reprint and licensing requests for this article, CLICK HERE.