Float Shuttle Receives DOT Approval
Air commuter service ready to launch routes between La Verne, Hawthorne and Camarillo
Originally published February 14, 2020 at 2 p.m., updated February 20, 2020 at 9:59 a.m.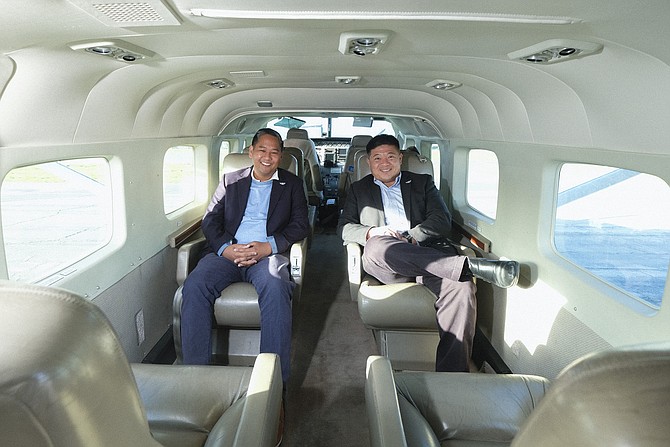 After months of delays, L.A.'s first air shuttle service for local commuters is getting off the ground.
Pomona-headquartered Float Shuttle Inc. received federal approval on Feb. 19 to launch its subscription-based air shuttle service, according to Float Shuttle Chief Executive Arnel Guiang. The service will run between general aviation airfields around Southern California for "super-commuters" who travel more than 50 miles or 90 minutes to work.
The U.S. Department of Transportation approved Float Shuttle's charter prospectus in compliance with Part 380 of the department's 14 CFR 380 regulations.
Upon receiving the go-ahead from the DOT, two nine-seat Cessna Grand Caravan aircraft from Wichita, Kan.-based Textron Aviation will begin service between Brackett Field near the Los Angeles County fairgrounds and Hawthorne Municipal Airport.
Upcoming routes will include La Verne to Hawthorne and Camarillo to Hawthorne, according to Guiang. They're the first of what Float Shuttle executives hope will be multiple routes crisscrossing the region between more than 20 general aviation airports.
Under a partnership announced in November, Float Shuttle's aircraft will be operated by Pompano Beach, Fla.-based Southern Airways Express, which will supply the pilots.
Float Shuttle's plan calls for commuter passengers to pay monthly subscription fees — starting at $1,250 per month — for roundtrip flights each workday between the same two general aviation fields, with each flight lasting about 30 minutes.
That may sound expensive, but someone traveling at least 50 miles one way to work likely spends more than $350 in gas each month, plus higher vehicle maintenance costs due to the wear and tear of such long daily commutes — not to mention the extra two hours of commute time each workday.
"We're really building a business that caters to super-commuters with affordable subscription levels — not for the highly paid, top-level executives who can afford to buy their own plane," said Guiang.
Early interest
Through Feb. 10, Float Shuttle had received more than 4,000 inquiries from potential super-commuter customers, Guiang said.
In November, the company announced it had received about 1,000 $1,250 deposits; Guiang said on Feb. 10 that it would not provide an updated figure on depositors until it receives federal approval to begin service.
Guiang also would not provide figures for the amount raised by Float Shuttle in a round last summer and fall. He did say "more than 20 angel investors" had put in money, enough for Float Shuttle to hire staff, begin marketing and reach a deal with Southern Airways.
While it has been awaiting the federal approval, Float Shuttle has been offering occasional charter flights (where a single customer essentially rents the entire plane for a flight), which don't require the same level of federal approval as a commuter air service.
Now that it has federal approval, the key going forward will be its ability to build upon the initial level of interest.
"The fundamental issue going forward is whether Float Shuttle can get enough people to continue paying these subscription fees," said Ed Story, a local general aviation activist who sits on the boards of the California Pilots Association and the Santa Monica Airport Association.
Story said that, to his knowledge, there is no other subscription-based commuter air service confined to Southern California. Santa Monica-based Surf Air Inc., which started operation in 2013, offers a subscription service, but on longer-range flights, such as from Los Angeles to San Francisco.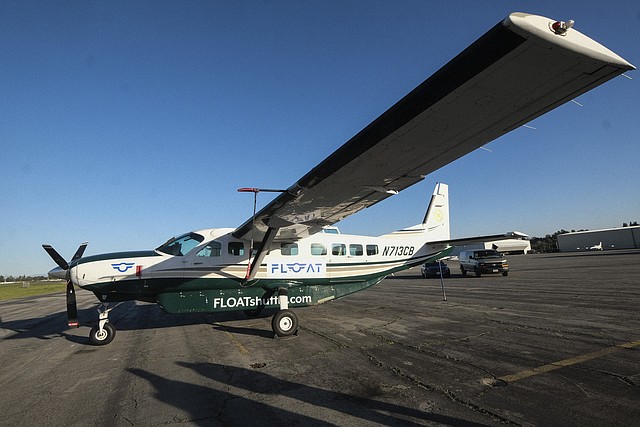 Limited competition
One other company is trying to start service for the short-range air commuter market: Walnut-based Skyryde Inc., which also was founded in 2018. Skyryde, though, has undergone a retooling: It launched a commuter plane shuttle service briefly in 2018 before the federal government halted the service, saying it needed Federal Aviation Administration approval.
In hopes of making that process easier, Skyryde switched to helicopter service. But founder JB Adkins said in an email on Feb. 11 that approval from the FAA could take several more months.
Adkins said his application is now facing greater scrutiny in the wake of the Jan. 26 helicopter crash that claimed the lives of Kobe Bryant and eight others.
And then there is San Francisco-based Uber Technologies Inc., which has selected Los Angeles, Dallas and Melbourne as the first three test markets for its planned Uber Elevate air ride-share service.
On its website, Uber Elevate says it plans to launch demonstration flights of its small, electric "vertical takeoff and landing" aircraft this year and begin full service in these cities in 2023.
But Uber Elevate's concept of electric air taxis is quite different than Float Shuttle, which plans to offer scheduled service.
Float Shuttle's longer-term plans call for eight aircraft serving 20 or more Southern California airports; several thousand subscriptions would be needed to sustain that level of service.
One additional selling point could be the advent of electric aircraft for short flights. Several are under development, including at Hawthorne-based Ampaire Inc.
"If you combine the time savings of air travel with the lower costs and environmental benefits of electric air travel, that is what is generating the interest from the venture community," general aviation activist Story said. "That's why companies like Float Shuttle are getting funded only now, even though the idea of regional air commuter air travel has been around for decades."
Healthcare/biomed, energy, engineering/construction and infrastructure reporter Howard Fine can be reached at hfine@labusinessjournal.com. Follow him on Twitter @howardafine.
For reprint and licensing requests for this article, CLICK HERE.