Book of Lists Profile: Greycroft Reaps Rewards of a Remote Culture
Monday, December 28, 2020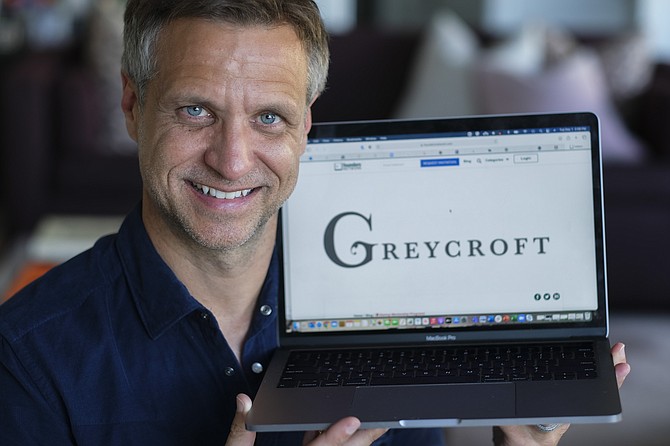 Greycroft has had a standout year amid some of the greatest economic turmoil in decades.

Despite a global pandemic that put a protracted drag on much of the venture capital space, the firm continued to invest and raise funds at a brisk pace. 

Dual-headquartered in downtown and New York City, Greycroft was the fifth most active venture capital firm in the United States during the first half of this year, according to Crunchbase Inc. It also closed two new major funds this fall, totaling more than $675 million in committed capital.

Greycroft's local leadership said a number of the firm's atypical features helped propel this success. Among these are a longstanding culture of working and investing practices that are geography-agnostic and a long-term investing approach.

Greycroft was founded in 2006 by Dana Settle in Los Angeles and Alan Patricof and Ian Sigalow in New York City. 

"The notion was that talent was going to be moving to those other areas of the world, and we would be in a position to work with those companies," said Mark Terbeek, a Los Angeles-based partner at Greycroft. 

"(Los Angeles and New York City) have great transportation infrastructures, so we were almost always one flight away from any of these companies wherever they were in the world," he said.

Greycroft's early focus was largely on early stage companies, according to Terbeek, although the firm has since expanded and raised growth funds to invest in later-stage businesses. 

Focus on tech
The firm invests primarily in internet and software companies, spanning a wide range of subsectors including fintech, advertising technology, commerce, gaming, health care systems, and data and artificial intelligence-driven platforms.

Today, Greycroft's portfolio includes companies from across the globe in locations such as India, China, Germany, the United Kingdom, Israel and more. 

The approach has given the firm access to breakout foreign companies that are relatively unknown in the U.S. market, such as Shenzhen, China-based Yeahka Ltd. The Chinese mobile payments provider went public on the Hong Kong stock exchange earlier this year and currently boasts a market cap of more than $2 billion.
"We were (based) in L.A. and New York, but we were always remote," Terbeek said. "We always had our meetings where at least half the team was in a different location."

Terbeek said that having this distributed working ethos baked into the firm's DNA proved to be a major boon to Greycroft during the Covid-19 pandemic. When asked about the effects of Covid on the firm's working practices, he said simply that "this was literally no change for us."

"We feel incredibly fortunate because we were already well equipped for remote since we've always been half remote," he added.

Limited impact
Because Greycroft largely focuses on software and internet technology companies, the pandemic's effects on its portfolio companies were also relatively limited, according to Terbeek. Like most venture firms, Greycroft did a Covid business impact review on its entire portfolio in the early days of the pandemic, Terbeek said.

"We have many companies that we saw would actually benefit from this," he said. "We also had some that would have a minor impact, and then we had a very small pool of companies that would really be challenged by (the pandemic)."

Among the worst hit was Santa Monica-based Bird Rides Inc., which was forced to lay off one-third of its workforce in late March in the face of Covid uncertainty. Terbeek said Greycroft worked with Bird and other hard-hit portfolio companies to determine the best route to surviving Covid and eventually regaining their footing in the marketplace.

For much of Greycroft's portfolio, however, Terbeek said the main focus was on figuring out how to benefit from Covid tailwinds to the businesses — and considering if the firm wanted to invest more money.

"Almost every cloud computing business, (software-as-a-service) business, gaming, ecommerce (and) delivery business did well," he said. "Fortunately, that's most of our portfolio."

'An amazing relationship'
Continual follow-on investing is also an important part of Greycroft's strategy. Terbeek said it is common for the firm to hold a position in a company for 10 years or more. The firm is still invested in several companies from its first 2006 fund, according to Terbeek, and maintains positions in many companies from its second fund onwards.
One prime example of this strategy is breakout mobile games developer and publisher Scopely Inc. 

Greycroft first invested in the Culver City-based company's seed round in 2012 and has invested in nearly every subsequent funding round. This included the company's $340 million Series E raise in November, which boosted its valuation to a reported $3.3 billion.

"We have an amazing relationship with the (Scopely)
 team," Terbeek said. "It's been an amazing returns generator for our investors."

Despite the tumultuous year for the broader markets, Terbeek is optimistic on the outlook of the venture capital space. He compared the situation to a line graph showing seesawing results in the near term but with an overall upward trend in longer term.

"There are clearly going to be some ups and downs," he said. "If you zoom out though, I think that choppiness is going to smooth out."

Terbeek said part of this optimism stems from a belief that venture-backed entrepreneurs will help solve some of the big problems currently facing society. He pointed to Moderna Inc., which just last month boosted global markets with reports that its Covid-19 vaccine was 94.5% effective in phase 3 trials. That company, set to potentially save lives and enable the world to return to some sense of normalcy, got its start a decade ago as a venture-backed startup.

"When I read all the crazy headlines, I keep remembering back to our mission to find these crazy dreamers and to help them, and that's incredibly empowering," Terbeek said. "I don't think you can be a venture capitalist without being a massive optimist."
Read more in the 2021 Book of Lists.
For reprint and licensing requests for this article, CLICK HERE.