Book of Lists Profile: Fulgent Genetics Rises to the Covid Testing Challenge
Monday, December 28, 2020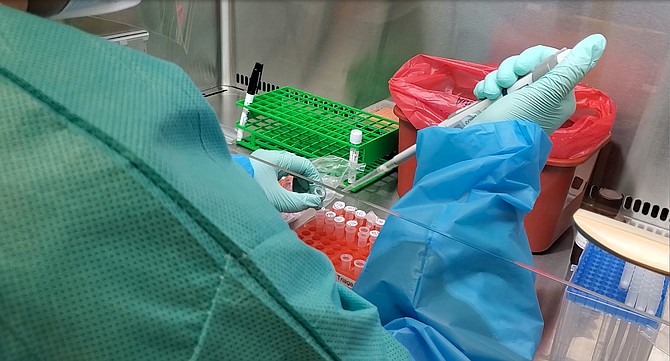 Temple City-based Fulgent Genetics Inc. entered 2020 as a small, niche genetic testing company that was poised for significant growth. 

In late 2019, the company had entered the direct-to-consumer market with its home genetic testing platform, known as Picture Genetics. And it had expanded the range of genetic tests it offered to include prospective parent and newborn screenings, among many others.

"Our test volume was accelerating, as we had launched thousands of new genetic tests and launched into new markets," said Brandon Perthuis, Fulgent's chief commercial officer. 

But then the Covid-19 pandemic hit — and almost overnight Fulgent transformed itself into a Covid testing juggernaut. 

Test volumes exploded, topping 1 million in 2020's third quarter, more than 50 times the volume for the same quarter in 2019. The company's revenue for that quarter jumped nearly nine-fold to top $100 million. 

To keep up with all the new test orders, the company opened a huge new lab in Houston in just 60 days and tripled its staff to more than 500.

And the growth looks to be continuing. In November, Fulgent raised its guidance for full-year 2020 revenue to $300 million — six times its initial 2020 revenue forecast issued in late 2019.

"We're now on a completely different path than we predicted," Perthuis said.

Investors cheered the increases in testing volume and revenue, sending the share price up more than three times in value, from a 2020 beginning price of $12.80 a share to a Dec. 4 close of $43.55.

So, how has Fulgent accomplished such astronomical growth? In one word, speed.

The company's testing platform that was hitting its stride as the year began delivered test results for a wide range of genetic tests within 24 hours of receiving samples. 

This gave Fulgent a huge advantage during the initial Covid outbreak in the spring when testing giants such as Secaucus, N.J.-based Quest Diagnostics Inc. were taking several days to return Covid test results. Even as of mid-November, Quest's average test processing turnaround time was just over two days.

Seizing the opportunity
Of course, just having speedier test processing wasn't enough.

Fulgent also had to seize the opportunity that presented itself when company founder and Chief Executive Ming Hsieh decided on a lark in early May to walk over to a Los Angeles County Public Health Department Covid testing site near Fulgent's Temple City headquarters.

According to Perthuis, Hsieh observed that officials at the test site were not pleased with the test results' turnaround times — often several days and in some cases almost a week. 

This wait time was devastating for trying to contain the pandemic. Because a substantial proportion of those infected showed no symptoms, they often didn't self-quarantine while waiting for test results and were therefore passing along the infection to others.

Fulgent followed up with L.A. County Public Health officials, letting them know the company had the ability to deliver test results in 24 hours. Within a couple weeks, Fulgent had a contract with the department to run three drive-through test sites.

From there, it was off to the races as word spread that Fulgent could process Covid tests in 24 hours, compared to the 2- to 5-day average of other testing companies. Fulgent soon became L.A. County's main test processor, and contracts poured in from all across the nation, including New York City's public school system, Miami-Dade County and the state of Utah.

In the second quarter, revenue doubled compared to the same period in 2019, while testing volume rose 10-fold.

"From day one, our 24-hour turnaround time was a key standout," Perthuis said. "And we showed we could deliver on that promise."

New Houston lab
Handling this surge in testing strained Fulgent's space resources. The company bought the building that housed its headquarters and expanded to take up the entire building. It also set up mobile offices and turned half of an airplane hangar near its El Monte lab into a warehouse, according to Perthuis.

But that still wasn't enough. In June, Fulgent decided to open a lab in Houston, near Texas Medical Center, one of the largest hospital complexes in the nation. That allowed the company to tap into a huge talent pool as it raced to staff up.

"We had to hire fast and hire big," Perthuis said.

With the new lab opening just 60 days later in August, Fulgent now had the capacity to process 60,000 Covid tests per day. That's still less than Quest Diagnostics' 215,000 Covid tests per day capacity as of late October, but Quest has 47,000 employees and dozens of labs compared to Fulgent's two labs and roughly 500 employees.

Through November, Fulgent had not encountered significant problems as it scaled up, a significant achievement given the pace of expansion.

"Fulgent's performance in 2020 to date demonstrated that it could handle the scalability of its platform and, in a very short period, effectively address the fast-growing demand for its Covid-19 testing services," said Ahmed Enany, chief executive of the Southern California Biomedical Council, a downtown-based industry association.

Unexpected bonus
The huge surge in Covid testing has also helped grow the company's core pre-Covid testing business.

In the third quarter, Fulgent reported that its non-Covid test revenue increased 57% compared to the same period in 2019.

"The core genetic testing business is better positioned than ever with the addition of new customers, deepened relationships with payors and significantly increased brand recognition, including the Picture Genetics platform," Sung Ji Nam, life science and diagnostic tools analyst for New York-based financial services firm BTIG, said in a Nov. 23 research note on the company.

That boost offers some hope for Fulgent once the Covid testing market cools down, as it inevitably will. 

In the third quarter, Covid testing accounted for roughly 86% of Fulgent's total revenue. But what happens to the company's revenue picture after the pandemic crisis passes is a crucial question.

Nam said she expects a significant portion of the company's Covid testing business will endure beyond the crisis, but how much is uncertain. 

For that portion of the Covid testing business that does dry up, Nam said, "We are not certain to what extent Fulgent's Covid testing business can be redeployed beyond the pandemic."

Hsieh himself said in the company's third-quarter earnings conference call with analysts in early November that he expects Covid-19 to be around for several years to come, and with it, the need for testing. He said there will likely be additional requirements for faster, cheaper and more accurate Covid-19 tests to track who has the disease and who does not, which he said will create new opportunities for Fulgent.

"I do not believe that Covid-19 will go away easily," Hsieh said.
Read more in the 2021 Book of Lists.
For reprint and licensing requests for this article, CLICK HERE.