Canoo Makes Nasdaq Debut
.
Tuesday, December 22, 2020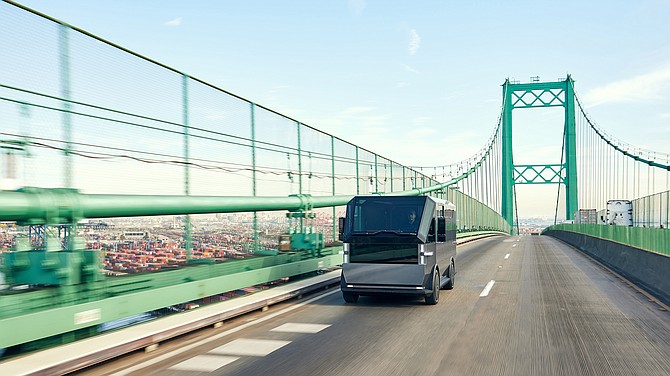 Electric vehicle maker Canoo Inc. 
made its debut as a publicly 
traded company
 Dec. 2
2, following the completion of
a 
reverse merger 
with Hennessy Capital Acquisition Corp. IV
. 
The company is now trading on the Nasdaq under the ticker symbol GOEV. 
Canoo stock began trading at $22.75 per share and quickly shot up to $24.32, before dropping off and closing out the day at $18.89 per share.
Canoo Executive Chairman Tony Aquila said the company's public debut represents the "next chapter" for Canoo, which has not yet brought a vehicle to market. Using capital raised through the merger, the company plans to begin limited production of its first electric vehicles in 2022. 
"On behalf of all of us at Canoo, we are committed and excited about our go-to-market opportunities and to bring both consumers and businesses the benefits of our platform," Aquila said in a statement. 
The company has gained early attention for the design of its signature vehicle chassis, or platform. The company compares the flat platform to a skateboard and says its structure will maximize the amount of available cargo space in its vehicles. 
Earlier this year, Canoo announced a partnership with Hyundai Motor Co. under which the platform will be incorporated into the design of future Hyundai and Kia electric vehicles. 
Canoo is the latest company to make its 2020 market debut via a reverse merger with a special purpose acquisition company, or SPAC. This process, in which a private company agrees to combine with a publicly traded company that has no business purpose other than acquisition, has become a popular means of sidestepping the complicated traditional initial public offering process. 
Hennessy Capital stockholders approved the transaction Dec. 21, clearing the way for Canoo common stock and warrants to begin trading on the Nasdaq. 
In advance of the public offering, Canoo last week debuted a new electric delivery vehicle which it plans to begin mass producing in 2023, following a limited market debut in 2022. 
The multi-purpose vehicle will be offered for direct purchase, while a planned passenger vehicle also set for a 2022 release will be offered to customers via a subscription payment model that includes insurance and maintenance costs. 
For reprint and licensing requests for this article, CLICK HERE.