Rexford Industrial Riding High After More Than $1.1 Billion in Deals During 2020
Monday, December 21, 2020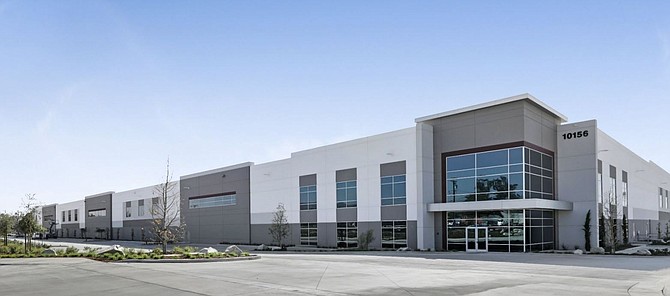 While many companies have struggled in the face of strong economic headwinds during 2020, Rexford Industrial Realty Inc. has enjoyed a banner year.

The Brentwood-based company, which exclusively owns industrial properties in Southern California, recently passed the $1.1 billion mark for total acquisitions this year.

Rexford credits its success to a focus on off-market transactions, sale leasebacks and UPREITS, along with a surge in demand for industrial space in the region. 

Howard Schwimmer, the company's co-chief executive, said the deals Rexford made this year "are a result of all the hard work we do year in and year out to create opportunities to acquire assets."

Michael Frankel, also a co-chief executive, added that nearly 80% of the Rexford's acquisitions this year were off-market deals.

"What's really unique about that is those are opportunities that are not generally available to the rest of the buying public," he said. "It's a unique approach to originating investments."

Roughly 25% of the acquisitions Rexford made this year were UPREIT transactions. 

In an UPREIT, a property owner exchanges their property for a share in a company, like Rexford, which would then own the property. The seller does not pay interest on the sale in a traditional way. Instead the seller rolls that interest into the other company.

Frankel said UPREITS can be desirable for longtime property owners who are essentially selling the property in exchange for stock. 

They can then sell that stock to make money. But unlike with a building sale, the seller can sell just part of their stock instead of having to sell the entire asset all at once.

And when Rexford grows, the value of their shares grows, too.

"It's an incredible value opportunity for these families who have been longtime owners," Frankel said. "It's a really important trend and opportunity."

Unlike other companies with a national or international presence, Rexford takes a regional approach, strictly buying and owning properties that are located in Southern California. 

Most of that portfolio is in Los Angeles and Orange counties, and the Inland Empire-West regions, but the company also has some holdings in San Diego and Ventura counties.

"We are singular market focused. We look at every nook and cranny to create opportunities," Schwimmer said.

One of those opportunities came in November when Rexford purchased a four-building industrial park in Whittier, dubbed the Gateway Pointe Industrial Campus, for $296.6 million.

It sits on more than 45 acres on Workman Mill Road, and the buildings were priced 21% below market value.

Infill opportunity
"There's a huge opportunity in these infill markets to create value in the existing product," Schwimmer said in reference to some of the company's recent purchases.

Half of the industrial properties in Southern California were built before 1980, he added, resulting in "a lot of functional obsolescence. And there's opportunity to go in and fix the issues and unlock the true rental value."

Rexford also recently purchased a four-building industrial portfolio in the Inland Empire for $129.4 million. The 30-acre property has roughly 632,000 square feet of industrial space.

Schwimmer said the company was very interested in the western portion of the Inland Empire.

"We do have a sizable portfolio in the Inland Empire-West, and we will continue to buy there. We like the market, and it is performing exceptionally well," he said.

Jeff Bellitti, an industrial expert at Jones Lang LaSalle Inc., said leasing activity in the Inland Empire "has been brisk," making it a desirable area for investors.

"The market is extremely active right now," he said. "The Inland Empire is continuing to grow and grow and grow."

Bellitti added that the growth of ecommerce sales has increased demand. And companies want large amounts of parking and trailer storage as well as high ceilings and a large amount of dock loading.

Chase MacLeod of Stream Realty Partners said demand for properties in the area was "absolutely through the roof."

A lot of companies, Bellitti added, may start with a smaller building in L.A. and move to the Inland Empire to get more space as they grow. MacLeod added that some companies that may have previously used third-party shipping companies were looking for their own distribution warehouses.

As far as buyers go, Bellitti said there was extensive demand, especially because interest rates are low, but not a lot of product is for sale. 

Although Rexford is keen on the Inland Empire-West market, Schwimmer said, the company is not interested in the Inland Empire-East. Although that market has more land available, it doesn't offer infill opportunities.

"We see a distinct difference. Our business model has chosen to focus on the infill areas," Schwimmer said.

The Covid-19 pandemic has affected most businesses, but Frankel said it "really hasn't impacted our strategy."

While the team is now working remotely, the company's plans have not been greatly altered.

Leasing, Frankel added, has gone well despite the pandemic.

"Today our portfolio is at higher occupancy than before the pandemic," he said.

Schwimmer said "industrial product in the market has been helping people get through Covid" as more consumers use ecommerce to buy essential and nonessential goods.

Frankel added that collections have been strong, but ordinances allowing tenants to postpone rent payments presented some difficulties for the company.

"Covid was a big problem, a big challenge. Arguably the bigger challenge was when ... municipalities issued ordinances that allowed tenants to not pay their rent," he said.

Still, Frankel said, Rexford's rent collections have returned to pre-Covid levels, and most rent that was deferred has already been paid back.

"Covid itself has not had much impact on collections. The state and local government had a greater impact on collections," he said.

Although Rexford may not have a specific dollar amount it is targeting for acquisitions next year, Frankel and Schwimmer agreed that 2021 would likely be another big year for the company.

"Despite the pandemic, the company has never been as well positioned as it is today," Frankel said.

He added that Rexford only has small amounts of leverage — roughly 10% of its total balance sheet.

Sale leaseback focus
Looking at 2021, Rexford anticipates an increase in sale leaseback transactions. 

In these deals, an owner-user sells the property and signs a long-term lease to continue occupying the building. The seller gets a cash infusion without having to search for a new home, and the buyer gets a valuable property with a quality tenant already in place.

Schwimmer said the company closed some sale leasebacks the year. "Going into next year, we expect to do more sale leasebacks. It's a great opportunity for a business," he said.

MacLeod also expects to see more of these deals next year.

"You buy an asset that is immediately cash flowing," he said. "You will see a ton of that in 2021."

But as for big-box retail to industrial conversions, Rexford is less optimistic.

Frankel said these conversions "don't generally work well in these infill markets" 
where the value of land is high and multifamily conversions might make more sense.

JLL's Bellitti said he expects strong rent growth and absorption from the industrial market next year, but a lack of supply could affect overall numbers in areas like L.A. 

"They are seeing some lease rates that were unimaginable a few years ago due to limited inventory," he said, adding that this is why some companies move to the Inland Empire. 

MacLeod agreed, adding that industrial demand "is only going to continue."

"The demand for it is still remaining, and it is going to go up. It's very difficult to buy land and develop in California, which will only further demand," he said.

Rexford has been hiring. The company has added roughly 45 people this year and is looking to hire more.

"We see ongoing growth and high-quality growth," Frankel said.
For reprint and licensing requests for this article, CLICK HERE.