Local Schools Receive Gifts from Philanthropist MacKenzie Scott
Originally published December 16, 2020 at 6:18 p.m., updated December 18, 2020 at 9:24 a.m.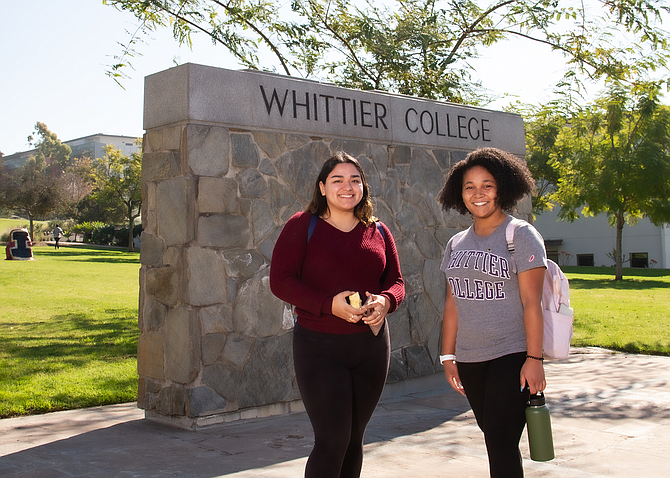 Whittier College and Mount Saint Mary's University have received multimillion donations from author and philanthropist MacKenzie Scott, the schools announced this week. Both gifts are the largest each school has received from a single donor.
Whittier College, in the city of Whittier, announced Dec. 15 that it had received a $12 million unrestricted gift from MacKenzie Scott, meaning it can be apportioned wherever the college administrators deem appropriate.
Mount Saint Mary's University, with its main campus near the Getty Center in the hills above Brentwood and a satellite campus southwest of downtown, also announced Dec. 15 that it had received a $15 million donation.
MacKenzie Scott is the ex-wife of Amazon.com Inc. founder Jeff Bezos, who is ranked as the world's richest person with a net worth estimated by Forbes in mid-November at $193.4 billion. As part of her divorce settlement, she received one-fourth of Bezos' Amazon shares; according to the Bloomberg Billionaires Index, as of Dec. 15, her net worth was $60.7 billion.
Scott's gifts to the two local schools were part a larger $4.2 billion tranche of donations to 384 nonprofit organizations she made in the last four months that she announced on the website Medium on Dec. 15. Last year, she signed on to the Giving Pledge initiative launched by Warren Buffet and Bill and Melinda Gates; the program encourages very wealthy individuals and families to donate major portions of their fortunes to charitable institutions and other nonprofit organizations.
According to the Whittier College announcement, Scott chose that school because it aligned with her vision to promote racial, LGBTQ, and gender equity, economic mobility, functional democracy, public health, global development, and climate change solutions.
Whittier College, founded in 1887, is a national liberal arts college with 1,776 students enrolled from 35 states and 27 countries and more than 140 faculty members. Students of color comprise more than 70% of the student body; more than 40% are also the first in their families to attend college. As of June 30, the school's endowment was $110.5 million.
Scott's $12 million gift — which is not restricted to the endowment — will be applied to several areas, including providing need-based scholarships, the creation of new curriculum programs, environmental justice work and support for the college's diversity programs.
"Whittier prides itself on being a national model for providing access to higher education to students from all backgrounds. This transformative gift…allows the College to further invest in this mission," college President Linda Oubré said in the announcement. "It is also an affirmation that the innovative work we are doing at Whittier College is having an impact and being recognized beyond our campus."
Mount Saint Mary's University, which was founded in 1925, has 3,028-enrolled students, all women. The university attributed its selection for Scott's gift in part to the fact that 82% of its students are women of color.
"Mount Saint Mary's has a long tradition of being at the forefront of women's education and leadership development," university President Ann McElaney-Johnson said in the announcement. "This donation will allow us to grow programs to help our students succeed, especially during these difficult times."
The university is launching a new five-year strategic plan; one of its aims is to promote diversity and inclusion. The $15 million in funds from Scott's gift will be used to create new academic programs, expand women's leadership initiatives with a focus on social justice issues, establish new learning technologies and educational spaces, and invest in experiential learning.
"The vast majority of our students come to us from vulnerable communities, and their lives are transformed at Mount Saint Mary's," Linda McMurdock, vice president for student affairs, said in the announcement. "This gift is a testament to the hard work and determination of our entire community. It will make an immediate difference in our students' lives."
For reprint and licensing requests for this article, CLICK HERE.