Platinum to Acquire Ingram Micro in $7.2 Billion Deal
Monday, December 14, 2020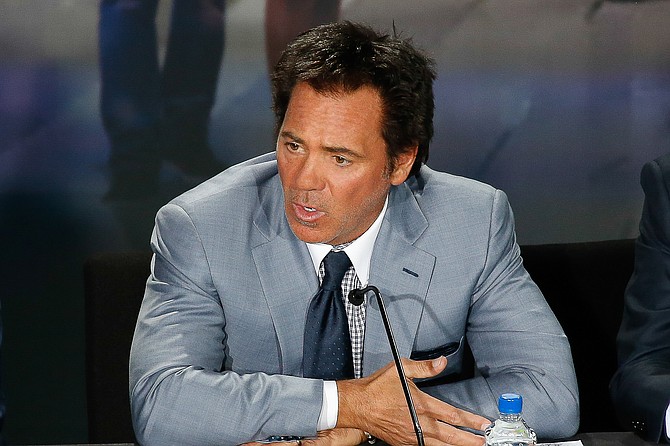 Beverly Hills-based Platinum Equity has announced plans to acquire Irvine-based Ingram Micro Inc. in a deal valued at $7.2 billion. 

The private equity giant will purchase Ingram — a major electronics distributor — from a subsidiary of Chinese aviation and shipping conglomerate HNA Group Co. Ltd. The deal is expected to close sometime in the first six months of 2021, according to Platinum Equity.

Founded in 1979, Ingram is a key player in its sector with operations in more than 60 countries and more than 35,000 employees worldwide. 

Ingram's services are used by many of the world's largest technology companies such as Apple Inc., Cisco Systems Inc., Hewlett-Packard Co., IBM Corp., Microsoft Corp. and Samsung Electronics Co. Ltd. 

Ingram reported more than $47 billion in annual revenue last year.

"As the largest technology distributor in the world, Ingram Micro is a powerful platform with multiple ways to grow," Platinum Chairman and Chief Executive Tom Gores said in a statement to the Business Journal.

He added that Ingram would be a cornerstone of Platinum's portfolio and would position the firm for growth in the lucrative cloud computing sector.

"The cloud market is on the threshold of a major expansion," Gores said, "and Ingram will be a vital partner in helping companies respond to high demand for public cloud infrastructure and new technologies like managed services and hybrid cloud."

Covid-19 has accelerated demand for cloud computing and related infrastructure as businesses increasingly shift to remote and virtual operations. 

A report by Synergy Research Group Inc. found that spending on cloud infrastructure grew by 37% year over year in the first quarter of 2020 alone. Gartner Inc. estimates that end-user spending on cloud services will grow 18% in 2021, reaching nearly $305 billion by the end of the year.

"Coming out of the pandemic, next year will be crucial for companies adapting to these new technologies," Gores said. "We're excited to be a part of that important transformation, and to leverage our operations and M&A toolkits to help Ingram navigate these especially fluid times."

In a separate statement, Platinum Managing Director Matthew Louie said, "Ingram Micro's scale, diverse customer and vendor relationships and track record for innovation, create the perfect platform for us to help accelerate growth, both organically and through additional M&A."

Ingram Chief Executive Alain Monié told the Orange County Business Journal that Platinum's backing would allow his company to fast-track expansion in sectors experiencing Covid-19 tailwinds.

"This year, we've seen particularly robust growth in markets supporting work- and learn-from-home solutions," Monié said. "Our ecommerce logistics and fulfillment business has also been growing strongly given the sustained growth of online shopping and our cloud business continues to grow exponentially."

HNA Group acquired Ingram in 2016 for $6 billion. Originally an airline, HNA's holdings have ballooned to encompass a range of sectors over the last decade. The Ingram purchase was part of a spate of leveraged purchases by the Chinese conglomerate that have left it in a financially precarious position. 

The government of Hainan, the Chinese province where HNA is based, took over HNA earlier this year as Covid-driven hits to travel worsened the struggling company's financial situation.

HNA is in the process of shedding many of its assets, including Ingram, in a bid to improve liquidity. The sale marks the single-largest divestiture by a Chinese company to a foreign buyer this year, according to Bloomberg.

Chinese ownership of Ingram was always a sensitive issue. Some expressed concerns about Chinese government influence over an American company with access to such critical technology, but Ingram and HNA always asserted it operated as a fully independent business. Ingram's Monié said the return to U.S. ownership could be a boon for his company.

"HNA was a good partner, but I think we will see benefits from having a prominent, U.S.-based company as our parent," he said.

The Ingram deal comes closely on the heels of another significant investment by Platinum. Earlier this month, the private equity firm announced it had partnered with former portfolio company Nesco Holdings Inc. in that company's $1.5 billion acquisition of specialized truck and heavy equipment company Custom Truck One Source.

As part of the deal, Platinum will buy more than $850 million worth of newly issued Nesco stock at $5 per share. On that transaction's closing, Platinum said it also plans to make an additional equity investment in Nesco of up to $200 million. All told, the companies estimate that the investments will net Platinum roughly 57% of Nesco's common stock, returning majority ownership to the local private equity firm. Platinum last owned Nesco between 2011 and 2014.

In addition to Platinum's investment, the Custom Truck acquisition will be financed with a $750 million asset-based loan and $900 million in high-yield notes, according to the companies. The combined business is projected to be left with an approximate $1.3 billion in net debt on the transaction's close.

"We know these companies and the industry extremely well, and we have a well-defined playbook for creating value in this space," said Platinum Partner Louis Samson in a statement on the deal. "We also have a deep bench of operations professionals specialized in merger integration and business transformation who will help bring Nesco and (Custom Truck) together, building on the best attributes of each."

For reprint and licensing requests for this article, CLICK HERE.