Claremont Graduate University Receives $14 Million Gift
Friday, December 4, 2020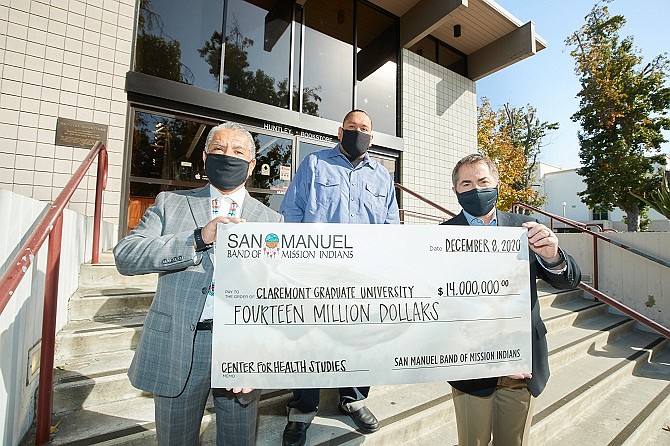 Claremont Graduate University is set to announce on Dec. 8 that it has received a $14 million gift from the San Manuel Band of Mission Indians to purchase a campus bookstore building and convert it to a study center to address health challenges in the Inland Empire.

The gift, one of the largest in CGU's 95-year history, will facilitate the purchase of the 23,000-square-foot Huntley Bookstore building at the center of the combined campuses of the Claremont Colleges. 
The building will be remodeled to house the Yuhaaviatam Center for Health Studies, a multi-disciplinary health research center. The bookstore will be relocated, though a decision on where has yet to be made.

The center will facilitate collaboration among CGU researchers, scientists, and outside partners to address health and well-being challenges that are especially prevalent in underserved, vulnerable populations of the Inland Empire and native American tribes within that region.

A CGU spokesman said the

health center

has an opening target date of

 late 2021

, depending on progress with fundraising for the renovations.

The San Manuel Band of Mission Indians, whose ancestors inhabited the Inland Empire area, is now headquartered near Highland in San Bernardino County. The tribal band's business and administrative operations employ more than 4,000.

Claremont Graduate School was founded in 1925 to house the graduate programs for the five colleges that make up the Claremont Colleges. It comprises seven schools offering 76 degree and certificate programs, including the Peter F. Drucker & Masatoshi Ito Graduate School of Management.

CGU and the San Manuel Band of Mission Indians have had a partnership since 2006. Discussions between two parties about creating the health studies center began in 2019 as part of CGU's new initiative focusing on health and well-being studies. Those discussions were delayed several months by the Covid-19 pandemic.

CGU President Len Jessup said in the announcement that the partnership between CGU and the tribe will make it possible to create "powerful new collaborations on preventive and proactive responses to the kinds of chronic illness affecting so many today."

Future research at the center, Jessup added, will address "many of the 'underlying conditions' we've been hearing about during the pandemic. It's our hope to eventually produce the kinds of research at this center that will help prepare everyone, especially our most vulnerable populations, for the challenges of another global crisis."

San Manuel Tribal Chair Ken Ramirez said in the announcement that the $14 million gift is part of the tribe's tradition of supporting neighboring communities.

"For generations, low-income communities and underserved populations have needed quality health care," Ramirez said. "Our gift is an investment in future healthier communities."
For reprint and licensing requests for this article, CLICK HERE.