Broadway Financial Forms Country's Largest Black-Led Bank
Thursday, August 27, 2020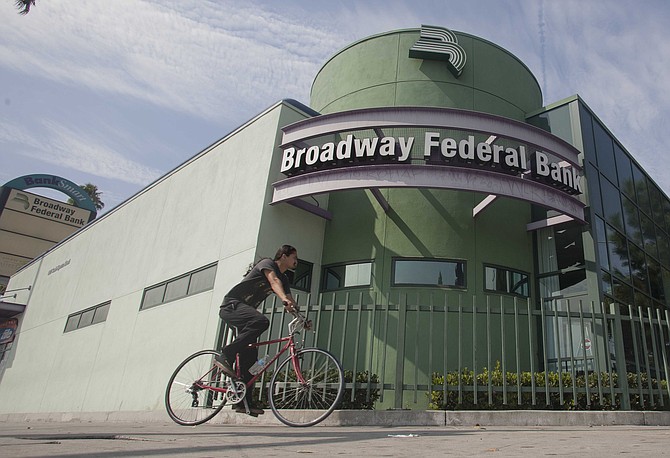 Hancock Park-based Broadway Financial Corp., the holding company for Broadway Federal Bank, and Washington D.C.-based CFBanc Corp. have announced plans to merge.
The deal will create the largest federally insured, Black-led commercial lending institution in the United States. It will have assets under management of more than $1 billion, according to the banks.
The new company will be dual-headquartered in Los Angeles and Washington, D.C., the banks said.
It will retain Broadway Financial Corp.'s branding as the title of the combined holding company, while aligning its banking subsidiaries under the City First Bank brand.
The merged entity will also keep Broadway's Nasdaq listing under the ticker BYFC.
Both Broadway and City First are registered community development financial institutions, or CDFIs, required to allocate at least 60% of their lending capital to moderate- to low-income communities.
The new institution will also be a registered CDFI and, the banks say, continue their missions to drive economic development in underserved communities, now boosted by an increased lending capacity.
"Given the compounding factors of a global pandemic, unprecedented unemployment and social unrest resulting from centuries of inequities, the work of CDFIs has never been more urgent and necessary," said Brian Argrett, president and chief executive of City First Bank and vice chair and CEO of the combined institution.
"As part of this historic merger, we are demonstrating that thriving urban neighborhoods are viable markets that require a dedicated focus, long-term commitment and critical access to capital," he added.
The banks say they plan on completing the merger in the first quarter of 2021. Current Broadway stockholders will control 52.5% of the new institution, with City First shareholders holding the remaining 47.5%.
Broadway Financial Corp.'s stock had climbed 14.7% at market close the day following the announcement.
For reprint and licensing requests for this article, CLICK HERE.