TrueCar Gains on Earnings, ALG Sale
Monday, August 17, 2020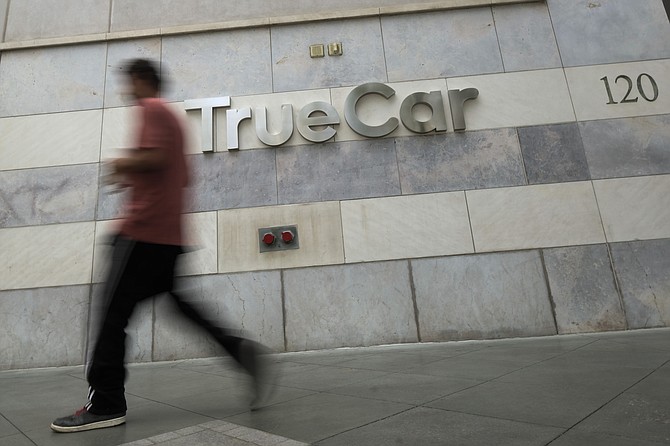 TrueCar Inc., the Santa Monica-based online car-buying marketplace, has managed to gain investors' trust even as it adjusts to the market under Covid-19.
The company's stock price jumped more than 30% on Aug. 7 and held steady in the following week after it reported better-than-expected earnings results for the second quarter.
Its announcement of a deal to sell its residual values data and analytics subsidiary ALG Inc. for $135 million also generated positive reaction from investors, with analysts pointing out that the excess cash provides an extra cushion amid the pandemic.
TrueCar runs an automotive pricing and information app and website for new and used car buyers and dealers. It charges dealerships for potential buyers' contact information.
The company reported revenue of $62.7 million for the second quarter ended June 30, down 28.8% from the same period in 2019. The net loss was $11.2 million, compared to $24.1 million a year ago.
The revenue decline, which is not surprising given the downward trend of automobile sales during the coronavirus pandemic, was smaller than Wall Street had expected.
Dealer count on the TrueCar marketplace, including franchise dealers and independent dealers, was 15,398 as of June 30, down 9.7% from the first quarter.
The company announced on Aug. 6 that it had entered into an agreement with J.D. Power, the Troy, Mich.- based data analytics company, to sell its ALG subsidiary with a total consideration of an upfront cash payment of $112.5 million at closing and total deferred payments of up to $22.5 million.
TrueCar President and Chief Executive Mike Darrow said in a statement that the sale is "a tremendous outcome both in terms of the value delivered to our shareholders and the potential ALG has with its new owner."
The company announced simultaneously that its board had authorized a share repurchase program of up to $75 million. It said it intends to begin repurchasing shares in the near term with available cash as well as the proceeds from the ALG divestiture.
"This sale of ALG represents a very good outcome for TrueCar. The ALG asset was underappreciated and undervalued as part of TrueCar … and the stock's reaction in response to the sale reflects that. The sale will effectively have zero impact on the company's operations going forward. It was noncore, and TrueCar secured access to the ALG data via a licensing agreement," said D.A. Davidson & Co. analyst Tom White.
Moving forward, White added, a pickup in new car production would benefit TrueCar as the company's revenue primarily comes from new car sales or leads generated for new car sales.
But TrueCar faces a huge challenge, according to White, in its efforts to offset the termination of its partnership with USAA Federal Savings Bank, scheduled for Sept. 30.
TrueCar laid off 219 employees, or more than 30% of its workforce during the second quarter in anticipation of USAA's departure.
"USAA accounted for about one-third of units generated by the TrueCar platform and is a key reason that many dealers partner up with TrueCar," said White, who has a neutral rating on the TrueCar stock. "The sale of ALG provides a timely cash infusion, but it remains unclear exactly how the company will be able to replace its lost high-value USAA leads."
Analysts expect the company's 2020 annual revenue to reach $288 million, down 18.7% compared with 2019. TrueCar did not provide a financial forecast for the rest of the year, citing uncertainty caused by the coronavirus pandemic.
For reprint and licensing requests for this article, CLICK HERE.