LA Office Market Takes a Hit
Monday, August 3, 2020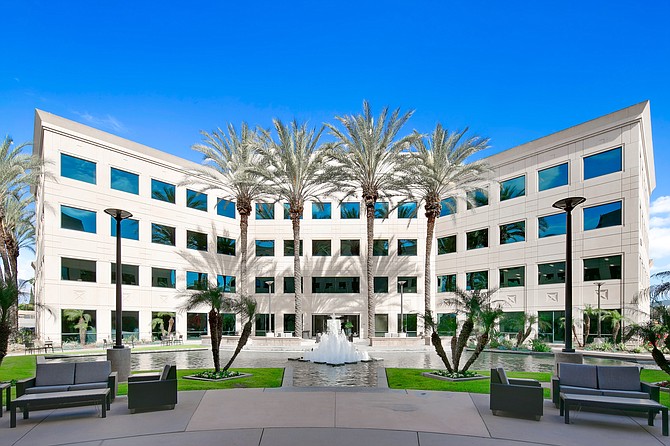 L.A.'s previously strong office market was hit hard in the second quarter, but it isn't necessarily apparent in the numbers.
The office vacancy rate during the quarter was 13.3%, a slight downtick from the previous year. The average asking rate for Class A space reached $4.01 a square foot, up 10 cents from the previous year, but down 4 cents from the first quarter, according to data from Jones Lang LaSalle Inc.
"The reason why it hasn't been hit as hard is long leases," UCLA Anderson economist David Shulman said. "And firms are still making money even though people are not in the office."

But the market did see a negative 755,000 square feet of net absorption.
"We see a slight weakening in the office market" CBRE Group Inc.'s Eric Willett said. "The numbers to date are fairly small. While there's some unease and potentially more on the horizon, the impact to date has been relatively minor."
Leasing numbers, however, were abysmal. Leasing activity in the second quarter fell 52% over the previous quarter, hitting the lowest levels since the Great Recession, according to Savills Inc.
Jaclyn Ward, a managing director at JLL, said year-to-date leasing is down 54% in L.A., and sublease space was up 6% quarter over quarter.
"Our sublease availability, despite being up 6% quarter over quarter, is still relatively low as a percentage of overall inventory," she said, adding that the average sublease space was small, not big blocks of space.
"The real issue is longer term," Shulman said. "My sense is that every major office user in the country right now is in the process of revaluing their spaces largely because work from home has succeeded far better than anyone would have guessed last March. That is going to be a long-term drag on the market."
Chris Rising, chief executive of downtown-based Rising Realty Partners, had a different take.
"The short-term picture for office real estate — over the next several months — is a hard pill to swallow and will likely be worse than the (global financial crisis of 2007-2008). We expect to see some major tech firms give back large blocks of space and test the limits of work from home. We also expect white-
collar service firms to block off space in the New York, Chicago, Denver, Dallas, Houston, San Francisco and Los Angeles commercial real estate markets," Rising wrote in a paper about the office sector.
He added that the market would likely bounce back faster than after the last recession.
"There is still a tremendous amount of money in the system, and it will continue coming in as the election approaches," he added.
Still collecting rents
Currently, landlords are focused on two things: collecting rent and making buildings safe for tenants.
John Drachman, a co-founder of Newport Beach-based Waterford Property Co., which has 1.5 million square feet of office space in Southern California, said the company has been collecting more than 95% of rent. He added that not all retail tenants are paying, but office tenants largely are.
"The rent relief requests have really not been that high over the last two months," he said. "We've been happy with how our rent collections have gone. We are still hopefully optimistic that they continue to go well."
Drachman said there has not been a lot of leasing since the Covid-19 pandemic started but he has seen it improving as some leases were signed in June with rents in line with what they were before. Concessions, or perks for signing leases, were a bit higher, however.
Brokers agree that leasing has been slow.
"The demand on the leasing side has been very quiet," Newmark Knight Frank's Bill Bloodgood said. "So much of the office demand in Los Angeles is through the entertainment and technology industry, which have merged with the content development that is going on, with production basically being shut down for the last few months."
But L.A.'s entertainment focus could benefit the county.
"Historically, Los Angeles has always done fairly well in times of economic recession," CBRE's Jeff Pion said. "That's largely due to the diversity of the tenant mix and the fact that we're a global hub for entertainment and content creation."
Investing in properties
Bloodgood said that while occupancy is low, many landlords are making capital improvements to buildings, such as updating restrooms, outdoor areas and hallways.
"The stronger owners are investing in their properties right now. When demand picks up, we think tenants are going to be focused on the properties that have taken the time to invest and improve," he said.
One of the big questions now is whether companies will de-densify to get all their tenants back in the workspace or have some continue to work from home.
The other question is where people will want to work.
"We anticipate when things do come back, they will come back in the suburbs and in low-rise products first," Drachman said. "There's a belief that they are going to be more economical; they can be healthier because they have windows offering fresh air from the outside. You don't have to ride an elevator, and there's surface parking."
Shulman said the "suburban office will do better" as tenants move away from large buildings in major cities.
"There's all kinds of issues going on," he added. "If you think for the workforce, you don't have to be in a central business district. You can live almost anywhere, and I think the office spaces will reflect that."
NKF's Bloodgood expects more demand for low-rise buildings in the short-term but doesn't expect it to be a permanent shift.
Bloodgood said that right now, tenants are "committing to short-term leases to bridge a gap between a Covid era and a post-Covid era" instead of committing to long-term leases.
And for now, asking rents are holding steady.
"There's a ton of factors, but we're still in wait-and-see mode," JLL's Ward said. "Landlords that are driving asking rates on vacancies are waiting to see what the world looks like."
Asking rates for sublease space, however, she said, are down 3.7%. For the rest of the year, Ward expects to see more short-term renewals and more sublease space hitting the market, but not an excessive amount.
"The L.A. office market at least appears to be well-positioned to weather this storm," Ward said. "We've got a modest development pipeline, so oversupply is not an issue for us like it is for some other low markets. Our sublease percentage of overall space is low, and we have a diverse economy."
Rising thinks there is opportunity now.
"Central business district offices will not be mothballed, and the role of the office will continue to evolve to meet the needs of business," he wrote. "We believe that many office properties will be mispriced and undervalued in the near term, making 2020 a time for opportunistic investments."
Keep reading the Q2 2020 Real Estate Quarterly Special Report.
For reprint and licensing requests for this article, CLICK HERE.