Special Deliveries
Ghosts kitchens offer restaurant brands fresh opportunities and reduced costs
Monday, April 27, 2020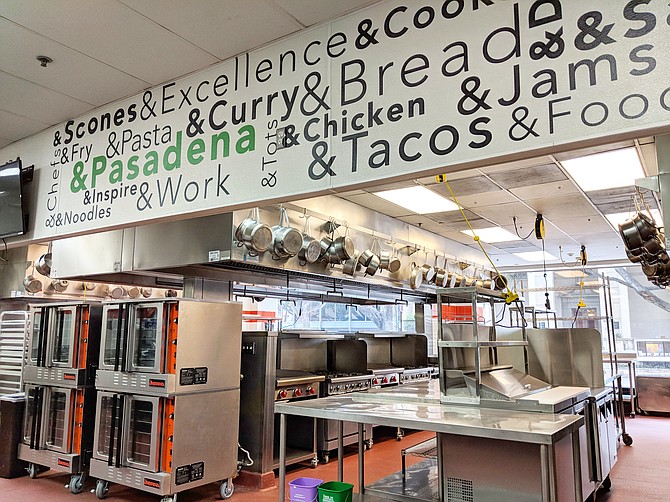 In a Pasadena building that once housed a cooking school, a Google-backed ghost kitchen called Kitchen United Inc. is home to a range of restaurant brands churning out meals.
The front room has tables and chairs. In the back, there are stations where restaurants, ranging from Halal Guys to fast-food chain Wendy's Co., make meals that are then picked up by delivery services. (Pre-Covid, customers could also enjoy food in the front-room seating area.)
In addition to meal prep areas, there are refrigerator and freezer storage spaces.
"It gives restaurants an opportunity to expand their footprint," said Atul Sood, chief business officer at Kitchen United.
"We've been fortunate. We were the first player in the industry, and we've had some time to understand the business," Sood added.
Even before the coronavirus pandemic hit, so-called ghost kitchens were rapidly growing in popularity as more people turned to delivery, which is expected to be a nearly $76 billion industry by the end of 2022, according to a Cowen & Co. report.
"Ghost kitchens are delivery-only restaurants that typically operate in industrial or secondary retail space for cost reasons," CBRE Group Inc.'s Jim Crocenzi said. "They are exactly as the term describes: They are virtual restaurants."
In early April C3, the brainchild of Beverly Hills-based SBEEG Holdings Licensing, better known as SBE; mall giant Simon Property Group Inc.; and hospitality company Accor, launched a joint venture to focus on ghost kitchens and deliveries.
Earlier this month, SBE announced that C3 would hire for more than 500 positions in the greater L.A. area.
By the end of the year, C3 says it expects to operate more than 142 ghost kitchens. It plans to have more than 250 in service by 2022.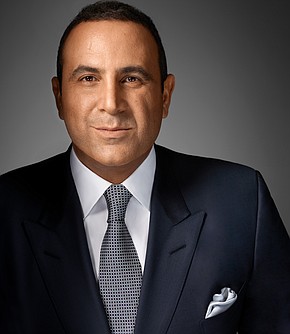 "This is a completely new vertical in the restaurant space. We have started already leasing spaces, even during the time of the lockdown because we are an essential part of the workforce. We have started and continue to accelerate our leasing platform," said Sam Nazarian, founder and chief executive of SBE.
Kitchen United is backed by Alphabet Inc.'s Google Ventures arm and has expansion plans as well.
So far, Pasadena is the group's only L.A. location. But Sood said he could envision more than five locations around the city in the next five years and more than 19 across Southern California.
"Ghost kitchens are around because of the need. Food and beverage is what's driving it. Ghost kitchens serve the need to facilitate the 30% growth from Grubhub and online delivery services," Kien Tsoi, a vice president at Jones Lang LaSalle Inc., said of the industry's recent growth. "It's great because you are able to increase your sales volume and also your brand to attract a larger crowd using the ghost kitchen and delivery services."
Jake Radeski of Beta Agency Inc. agreed. "The delivery service industry has really grown pretty rapidly over the last four years. ... The proliferation of ghost kitchens has been a response to the rising demand for delivery," he said.
Adding locations
Kitchen United's first location in Pasadena was adapted from the cooking school setup. Additional locations have since been built as ghost kitchens instead of being converted from other uses.
The company works to make things easier for delivery drivers, including offering parking and coffee for drivers waiting for orders.
C3 has taken a different approach to housing ghost kitchens.
Nazarian said the company was looking at "dark kitchens" to support SBE's brands, which include Katsuya, Umami Burger, Cleo and Hyde Lounge.
Dark kitchens are kitchens at restaurants that have gone out of business. Instead of leasing a storefront for one brand, SBE will put roughly six of its brands into one kitchen. "We're trying to solve a problem that I think will be heightened with corona," Nazarian said.
In addition to converting restaurants into ghost kitchens, the company is rebooting old food courts and unused hotel kitchens.
C3 is also considering parking areas and hard-to-lease retail spots owned by investor Simon Properties. On the hotel side, it is looking at sites owned by Accor.
"They have great hotels in great markets with great accessibility," Nazarian said.
Some SBE properties that are already home to ghost kitchens for other SBE brands include Katsuya Glendale, Katsuya Hollywood and Hyde on Sunset.
These are not short-term kitchens, to be used only while stay-at-home orders are in effect. Rather, the company considers these facilities in under-utilized hotel restaurants and elsewhere to be long-term options.
"There's a lot of excess space at hotels," Nazarian said. "Sometimes you will find that there isn't the same need or demand with the infrastructure that they currently have."
The company has even converted some of its nightclub kitchens into ghost kitchens. Some of its restaurants, like Umami, now also house other brands' delivery operations.
"We are adapting and reusing real estate," Nazarian said.
Lower expenses
One of the major benefits to ghost kitchens for eateries, industry executives agree, is the reduced cost to restaurateurs.
CloudKitchens, which has a location in the Pico-Union area, estimates that it costs more than $1 million for a restaurant to build a new location, whereas it can get started at a Cloud Kitchen with a small deposit.
Colony Inc., a ghost kitchen on the Westside, touts that people can be up and running in their location in two weeks while a brick-and-mortar location can take a year to get off the ground.
"We're helping restaurants open faster and more cost effectively," Sood said of Kitchen United. He added that his company is in a prime location that would be difficult for others to find.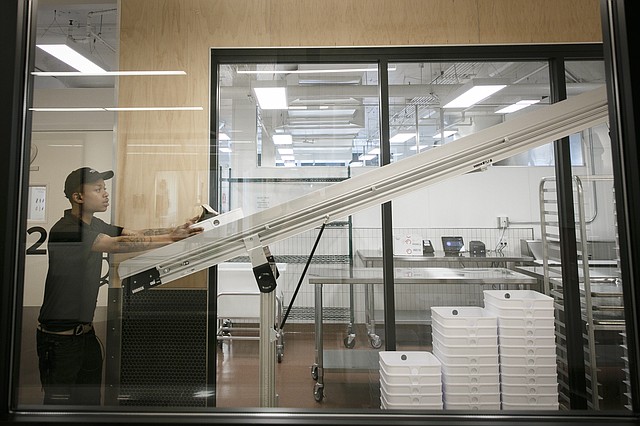 The ghost kitchen also has a master permit — an overarching permit for the site. Restaurateurs still need a permit but can get started much faster. Kitchen United covers utilities, has back-of-house staff who handle inventory, and a team to run the front of the house that does handoffs to delivery drivers, tech support and more.
The company also provides standard kitchen equipment. Restaurants are responsible, though, for any specialty equipment they wish to purchase.
Bryan Leong, founder of acai bowl and smoothie company Amazebowls, has space in Kitchen United's Pasadena location, which, he says, has saved him money while expanding his business.
He isn't using the space as a delivery hub. Instead, Leong relies on the Kitchen United area to expand his company's offerings.
Amazebowls makes its own granola at Kitchen United, controlling the sweeteners used in the product. The company also uses the location to freeze fruit and for catering.
"It's a great way to integrate everything without spending a lot of money," Leong said.
To add an area to make granola at existing Amazebowls shops, Leong said, his company would have to add hoods and grease traps, which can be expensive. "It's not worth it for me to invest in that purely to make granola. In a ghost kitchen, I am able to do that."
Leong said the company, which has been at Kitchen United for more than a year, would likely expand to ghost kitchens in other cities and states.
Reduced staffing
Robert Ury, a senior managing director at Newmark Knight Frank, said traditional restaurants are expensive to staff and build.
"You're looking at construction costs that have increased, labor costs that have increased and customers' propensity to order food delivery has increased," Ury said of the growth in ghost kitchens.
He represents clients looking into the facilities. He said using a ghost kitchen costs about one-tenth to one-eighth of what a traditional kitchen buildout would run, and it only needs three people, as opposed to 15 to 20 for a regular restaurant.
Ury said his clients are also willing to be in a ghost kitchen in areas with lower-earning demographics than they would be for a brick-and-mortar location.
"In a lot of cases in the ghost kitchen world, there will be turnkey deals," Beta Agency's Radeski said. "Your upfront cost is really almost zero."
Lease terms at ghost kitchens, Ury added, are often less than at traditional restaurants, which makes them appealing when restaurants don't yet know what demand will be.
"The investment is smaller, and the commitment is much smaller," Ury said.
Crocenzi added that take-out orders can clog restaurants and disrupt dining experiences. Ghost kitchens allow restaurants to prevent that from happening while still cashing in on delivery orders.
"These virtual kitchens were originally developed to take the pressure off restaurant kitchens, but now what happened is it's created a whole new business model," Crocenzi said. "It's considerably less expensive — you are not building a dining room, you are building a kitchen, and you have considerably lower labor costs because you don't have servers."
Rent for a ghost kitchen, Crocenzi added, can range from $5,000 to $7,000 a month. By comparison, rent for a restaurant location can be five to 10 times that amount in a high-profile area in L.A.
"It reduces risk and reduces cost," he said.
Tsoi added that, for developers, there is some cost involved. Building owners, he said, like ghost kitchens where you rent to one tenant instead of having to rent to many smaller tenants, similar to why the coworking model has proved popular with building owners.
Covid-19 considerations
While consumers may not be able to sit down and eat at their favorite restaurants right now, delivery and pickups are still allowed.
Radeski said 20% to 30% of sales at restaurants were previously from delivery, and he expects that to increase.
Sood said Kitchen United has seen a "slight uptick in delivery business coming into our stores."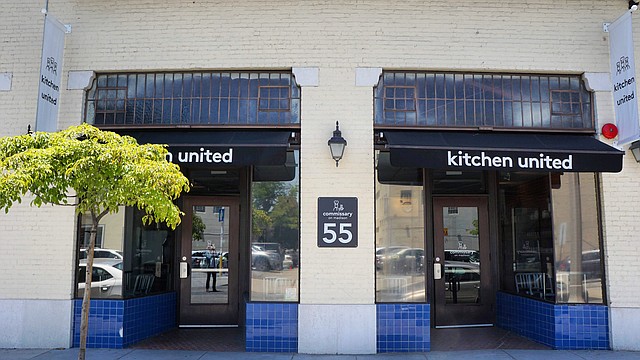 The company has worked on sanitation and contactless delivery. He said that while the Pasadena location is full, Kitchen United has seen interest from restaurants looking to lease space in a ghost kitchen.
"A lot of those conversations started before the crisis came upon us, and those are continuing," Sood said. "We've had a few more exploratory conversations as well. At this time, the restaurant industry is more focused on figuring out how to deal with existing businesses, existing customers and existing staff."
Crocenzi said that despite the growth of ghost kitchens, they had not slowed demand for traditional brick-and-mortar space.
"The ghost kitchens are probably acting as an incubator for new and aspiring chefs and people in the food-service businesses. It gives them a chance to showcase their talents," he said.
He added that he expects ghost kitchens to continue growing. "We're going to see continual growth driven by the growth of the delivery business. Restaurants are increasingly generating more and more sales from takeout and delivery, and there are no signs of that slowing down," Crocenzi said.
For reprint and licensing requests for this article, CLICK HERE.