Boost Connects Buyers With Sellers
Startup helps complete transactions through texts
Monday, April 27, 2020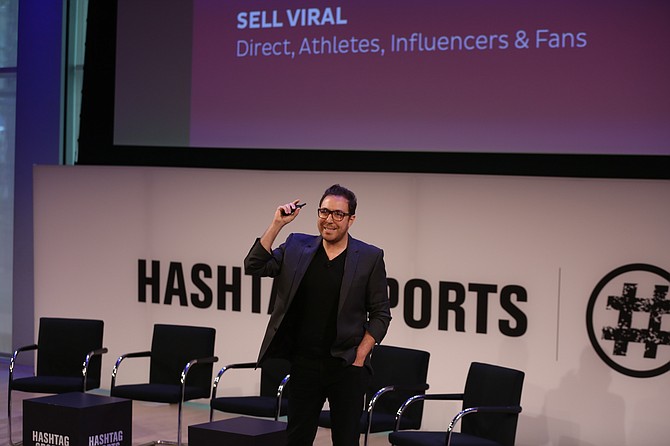 Boost Inc., a Calabasas-based ecommerce startup, is trying to reach modern shoppers using a new approach that employs some familiar technology.
Boost's platform helps buyers and sellers complete remote transactions through text messages. But unlike most ecommerce companies, Boost doesn't host a website or a mobile app where products are listed for customers to browse.
Instead, sellers create a hashtag with a short code, like #boost019, for their product and promote the hashtag through online and offline channels. Consumers might spot the product on Instagram, a billboard or inside a fashion magazine.
Then they can text the short code with a hashtag to Boost to check out the item.
Boost's clients include retailers as large as Anschutz Entertainment Group, selling Los Angeles Lakers apparel, and Roc Nation, selling D'Ussé VSOP Cognac over the platform, to individual sellers, such as Instagram influencers. Boost said its platform can also be used for selling single-priced tickets for small events, such as art performances.
"I think this is one of the easiest ways to take your physical store and put it into digital space," said Boost founder and Chief Executive Daniel Abas. "And if you have a community, or if you have already built an audience, you can sell directly to your people. It's as simple as a hashtag and a text message."
Boost officially launched on April 15, but the company has been developing the tech tools for remote transactions since its formation in 2015, Abas said.
First-timers who text with Boost get a web link to enter their mailing address and credit card information. Transactions are completed exclusively through texts in following purchases, Abas said.
Boost takes 4.5% of the purchase price, plus 30 cents from each sale. It also charges sellers a $29 monthly subscription fee for the service, according to its website.
"The majority of our business is coming from word-of-mouth referrals — artists, musicians, influencers telling their friends, 'Well, this is how I'm selling.' Also, the selling is done on social media, or across content, so people learn about us just by the very nature of them seeing other people using it," Abas said.
He said Boost helps sellers monetize where customers' purchase intent is at its highest. A global survey by Statista in 2018 showed an online shopping cart abandonment rate of 75% across industries. Abas said the order abandonment rate on the Boost platform is as low as 28%. He declined to disclose the transaction volume on the platform.
Boost partnered in 2018 with Blue October, a band managed by Rainmaker Entertainment Group, to launch beta sales for the band's physical CDs. The hashtag created by the band attracted more than $10,000 worth of orders in the first week, according to Boost.
"The way people buy things is changing. We're browsing everywhere. We are browsing videos and Instagram every day. But that has not turned into a ubiquitous commerce opportunity," Abas said. "What I'm trying to propose is that the whole world can become your store, so that when people are browsing, they can have the fastest way to get something that they want."
For reprint and licensing requests for this article, CLICK HERE.