SpaceX Sets Date for First Manned Launch
Friday, April 17, 2020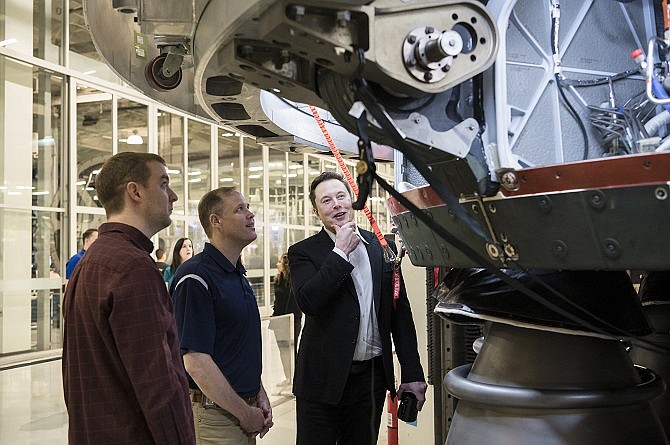 NASA and SpaceX plan to launch astronauts to the International Space Station on May 27, the agency announced April 17.
It will be the first manned launch for Hawthorne-based Space Exploration Technologies Corp., which was founded in 2002. The mission from Florida will also mark the first for astronauts from U.S. soil since 2011, when the space shuttle made its final flight.
A SpaceX Crew Dragon spacecraft will carry NASA astronauts Robert Behnken and Douglas Hurley to the International Space Station from the Kennedy Space Center in Cape Canaveral, Fla.
The spacecraft is scheduled to lift off from Launch Complex 39A on a Falcon 9 rocket at 4:32 p.m. Eastern Time on May 27, according to NASA.
SpaceX founder Elon Musk greeted the news with mixed emotions.
"Good progress, but 18 years to launch our first humans is a long time. Technology must advance faster, or there will be no city on the red planet in our lifetime," he said in a tweet.
This will be the final flight test for SpaceX's Crew Dragon project, which aims to send astronauts as well as space tourists into Earth's orbit.
NASA astronauts will test the company's crew transportation system, including the launch pad, rocket, spacecraft and operational capabilities, according to the announcement.
For the past nine years, Russia's Soyuz rocket, launching from Kazakhstan, has been the only vehicle carrying NASA astronauts to and from the International Space Station.
NASA reportedly pays $80 million per seat on the Soyuz rocket. SpaceX said its focus on bringing critical parts of its rockets back to Earth for reuse will reduce costs considerably for human spaceflight missions.
SpaceX has gone through setbacks and delays with the Crew Dragon project since it was awarded the contract by NASA in 2014.
The crewed demonstration mission to the International Space Station was initially planned for 2019. But it was delayed to 2020 after a Dragon capsule exploded on the launchpad due to what SpaceX and NASA called "an anomaly" during a test of its boosters in April 2019.
The Crew Dragon being used for this flight test can stay in orbit for about 110 days. The specific mission duration has yet to be determined, according to NASA.
Upon conclusion of the mission, Crew Dragon will autonomously undock with the two astronauts on board, depart the space station and reenter the Earth's atmosphere.
Following splashdown just off Florida's Atlantic Coast, the crew will be picked up at sea by SpaceX's Go Navigator recovery vessel and returned to Cape Canaveral, according to NASA.
For reprint and licensing requests for this article, CLICK HERE.