Sanitizer Production Boosts Local Distillers
Businesses race to keep up with demand
Monday, April 6, 2020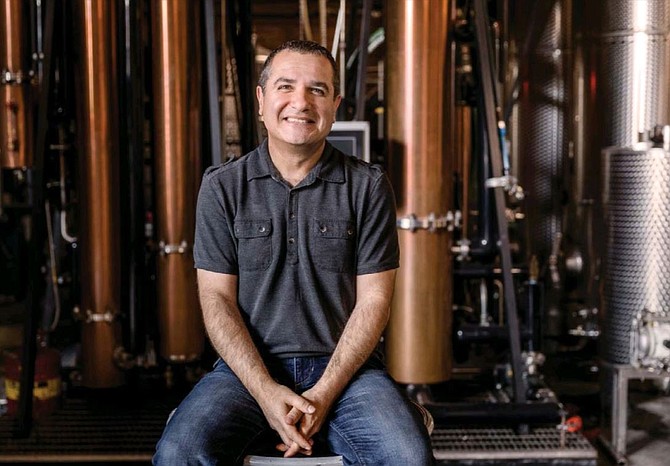 When Los Angeles Mayor Eric Garcetti ordered bars to close and forced restaurants to halt dine-in service due to Covid-19 last month, business dropped off immediately for local distillers.
For many of these distillers, a quick pivot to producing hand sanitizer instead of crafting small-batch spirits made civic and, they hope, business sense.
Among the 14 distilleries in Los Angeles County, several say they have added sanitizer production to their list of offerings. That includes downtown-based Modern Spirits, known as Greenbar Distillery; Spirit Guild, also based downtown; Pasadena-based Stark Spirits; Burbank-based Urban Press Spirits; Long Beach-based Portuguese Bend Distilling; and El Segundo-based Hemilane Inc., which operates R6 Distillery.
While demand has fallen for L.A.'s distillers, who have stockpiles of fine rums and whiskeys on hand, their sanitizer business is growing quickly.
Melkon Khosrovian, co-founder and owner of Greenbar Distillery, said he donated about 800 liters of hand sanitizer to local government agencies during the first week of the lockdown.
He said Greenbar has received orders for about 38,000 liters of hand sanitizer, primarily for the California Grocers Association, a trade association representing food store owners across the state.
The profit margin is thin, according to Khosrovian. But making hand sanitizers is helping to keep Greenbar open, he said.
Khosrovian said he already used up Greenbar's inventory of ethanol, a key ingredient for hand sanitizers, as well as the base for vodka and gin. He had to purchase more from suppliers and process the ethanol according to the formula provided by the World Health Organization.
"We can only produce bulk packaging. We don't have the machinery to do small fillings," Khosrovian said.
Demand for sanitizer is so high that 16 ounce bottles and other containers are hard to find, according to Miller Duvall, president Spirit Guild.
"We are lucky to have the 16 ounce plastic bottles. They are now just as valuable as hand sanitizer," Duvall said. While the company has bottles, it's waiting on ethanol to be delivered before starting sanitizer production, according to Duvall.
Rob Rubens, owner of R6 Distillery, is also experiencing an ethanol shortage. Rubens said his team started to produce hand sanitizer in mid-March but had to pause last week when they ran out of ethanol.
The virus outbreak led Rubens to reduce hours of operation due to the state-mandated closures of bars and taprooms, which also led to lower sales of popular liquors such as R6 Straight Bourbon and Carmela Caramel Flavored Whiskey, he said.
Rubens added that revenue from sanitizer made it possible for him to keep paying salaries to his eight employees.
"We get dozens of inquires (for sanitizer) through phone calls and emails every day," Rubens said. "It's definitely helping. We are able to give back to the community and keep the business viable at the same time," he said.
In addition to selling bulk packages to local organizations, some distillers are using small bottles of hand sanitizer to entice customers to buy their liquor and food. Portuguese Bend Distilling said customers get a free bottle of sanitizer with delivery purchases of $30 or more.
Lewis Harsanyi, owner of Los Angeles Distillery in Culver City and his distiller Blake Belluschi said they decided to provide free hand sanitizers to local institutions and companies.
"We are doing this just to help the community stay safe," Belluschi said. "The sooner (the lockdown) is over, the sooner we can focus on what we do, which is making whiskey and rum."
For reprint and licensing requests for this article, CLICK HERE.