Tight Times
Region's industrial lease market faces limited supply and surging prices
Friday, September 27, 2019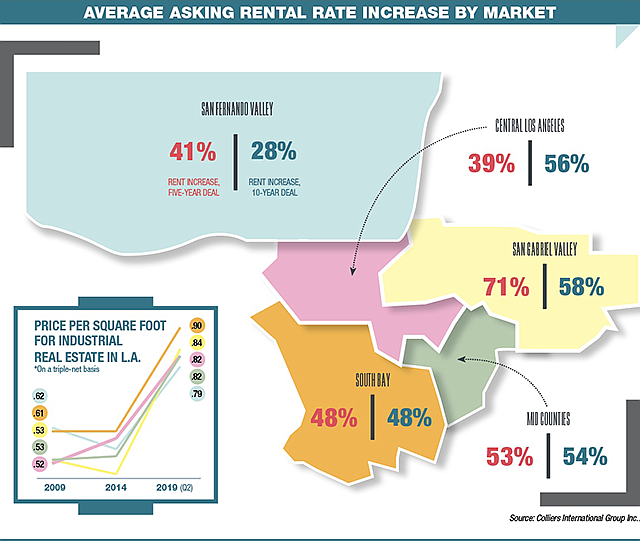 Ecommerce, Amazon.com Inc. and fast delivery promises have led to an increasingly tight industrial market.
In the second quarter, vacancy in industrial properties was only 1.9%, according to data from Jones Lang LaSalle Inc. It was a mere 1.6% in the South Bay.
And in the next three years, more than 65 million square feet of leases will expire, according to JLL. More than one-third of that will be in the South Bay, an area where industrial space is in high demand due to its proximity to the ports and urban centers.
Barry Hill, a managing director at JLL, said a "higher than normal" number of leases would be expiring at the same time.
But brokers agree it isn't cause for concern.
"Even when you look at some of these leases that are going to be rolling coming up, we always have leases rolling," said Colliers International Group Inc. Executive Managing Director Mark Zorn. "Most of those tenants continue to occupy and renew where they are. Very little becomes vacant."
'Sticker shock'
John McMillan, a vice chairman at Newmark Knight Frank, said tenants looking to renew now "should expect rents to be significantly higher" and might experience some "sticker shock."
Tenants in the South Bay seeking to renew a five-year lease could face rents 48% higher than their previous leases, whereas tenants in the San Gabriel Valley should expect to see a whopping 71% increase, according to Colliers data.
Despite all the construction going on, Zorn said, there have been roughly 30 consecutive quarters of positive net absorption and continually low vacancy rates.
According to Hill, many lessees have the option to renew but at a fair market value. "More often than not, if tenants do renew, they renew outside of the confines of a renewal option," he said.
Costly construction
Developers are looking to take advantage of the tight market and high prices.
"It's a great window of time to be developing," Hill said.
In 2018, 5.2 million square feet of industrial product was completed in L.A., according to Colliers.
McMillan added that the L.A. industrial market was more than 1.1 billion square feet, so the ongoing construction was not huge and would likely not affect vacancy rates.
Experts agree that building in Los Angeles can be tricky. Land must be zoned for industrial usage; the entitlement process is slow; and land, materials and construction are expensive.
Zorn added that a lot of construction was going on outside of L.A., particularly in the Inland Empire. Lower rates, bigger lots and newer buildings have driven some companies to the area.
"You've got a lot of older space, older functional buildings in the L.A. region, and you get the companies that are growing and need additional space and something that is a little more efficient for them," Zorn said. "You get that out of the Inland Empire. It's an upgrade on the quality of space, and they're getting more bang for their buck."
There is also strong demand to buy even though "it's extremely challenging right now to find buildings for sale," according to McMillan.
For reprint and licensing requests for this article, CLICK HERE.