Wealthiest Angelenos: Leader of the Pack
Musk moves into top spot on 2019's Wealthiest list
Friday, September 20, 2019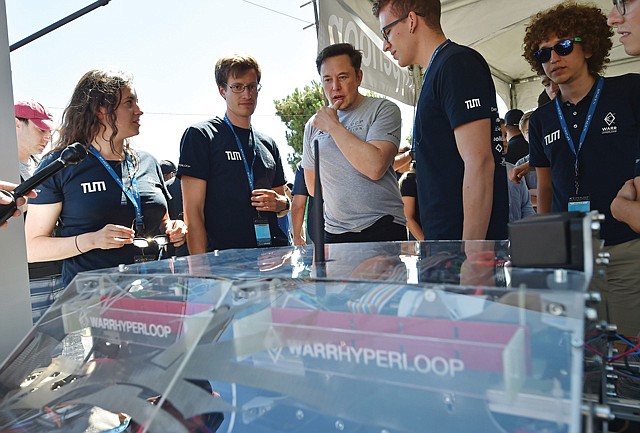 With the stock market reaching record highs through the first eight months of the year, savvy investors have taken advantage of the gains and padded their portfolios.
And that's been especially true for many of the billionaires on the Business Journal's 2019 list of Wealthiest Angelenos.
Relying on a mix of private equity, venture capital, family wealth offices run by small staffs of accountants, individual investors with deep pockets, and money managers, this year's group amassed wealth at a head-spinning clip.
The 2019 list is limited to the city's top 50 billionaires, featuring those with a fortune of at least $1.5 billion. This exclusive group boasts a cumulative estimated wealth of $221 billion.
In 2018, by comparison, the Business Journal featured a group of 56 billionaires and used $1.1 billion as the barrier. The wealth of the members on that list totaled $219 billion.
This year's gains are attributed to strong runs by equities, real estate and other asset classes as well as bullish performances for a number of operating companies that count members of the list as owners or as significant investors.
Richard Jones, managing director and private wealth adviser with Merrill Private
Wealth Management's Jones Zafari Group, isn't surprised by the huge jolt in wealth creation locally.
"This has been a very good year in the markets," said Jones, who manages the fortunes of at least a dozen entertainment and tech billionaires in Los Angeles. "It's been one of those years in the markets where most asset classes have done quite well."
From Jan. 2 through Aug. 30, the major stock indexes have risen at a torrid pace. The Dow Jones Industrial Average increased 12.9% in that period while the Nasdaq climbed 19.5% and the Standard & Poor's 500 index gained 16.6%.
"Any American who got into the stock market in the late 1970s, early '80s, has had a run of wealth creation that no generation has seen before," said Jim Glassman, head economist with JPMorgan Chase & Co. "On top of that, California is on the leading edge of this wealth because this is where a lot of the tech innovation is taking place."
Our list this year includes 46 individuals and four couples listed as joint entries.
Most noteworthy is Elon Musk, who moved into the top spot for the 2019 Wealthiest list with a net worth of $22.6 billion. That's a 15% gain from 2018, when he ranked second with a value of $19.6 billion.
The founder of Hawthorne-based Space Exploration Technologies Corp. and electric car company Tesla Inc., Musk passed Patrick Soon-Shiong, whose estimated net worth came in at $19.1 billion.
For Soon-Shiong that's a drop of 12% from 2018, when he topped the list with $21.6 billion. The decline caused him to slip into the No. 2 position in the Wealthiest ranking.
Musk's net worth rode the coattails of his successful SpaceX rocket business. He owns more than half the company, giving him a stake worth $17.4 billion.

Pharmaceutical and biotech billionaire Soon-Shiong made his fortune starting, building and selling drug companies: APP Pharmaceuticals for $4.6 billion in 2008, and Abraxis BioScience for $2.9 billion in 2010. The trained surgeon now runs the Culver City-based NantWorks empire, which is comprised of a number of health care, technology and communications companies established as part of Soon-Shiong's goal to cure cancer.
Soon-Shiong's wealth declined due to the poor stock performance of his public companies, including NantKwest Inc. and NantHealth Inc.
Last year, Soon-Shiong made headlines with his $500 million purchase of the Los Angeles Times and San Diego Tribune from Tronc. His net worth figure has been mildly depressed by acquiring the newspapers for more than their market value.
Top gainers
Leading this year's list of gainers is In-N-Out Burgers heiress Lynsi Snyder. Her fortune more than doubled in the past year, hitting $2.9 billion as the hamburger chain embarked on a rapid expansion.
Richard Alan "Ric" Kayne, who heads Kayne Anderson Capital Advisors in Century City, also saw strong gains in his portfolio, with his wealth surging to $1.8 billion, up from $1.3 billion in 2018.
The newcomers
There are three newcomers on this year's list and one returning member. The highest ranked is Travis Kalanick, a native Angeleno who has returned home with the $4.9 billion fortune he amassed as the founder of Uber Technologies Inc.
Robert Addison Day, the grandson of Superior Oil Co. founder William Myron Keck, is back on the list after an absence of several years with a fortune of $2.2 billion.
Day began his career at the New York firm White Weld and Co. before founding investment management company Trust Co. of the West in 1971 with just $2 million under management. By 1998, the company managed more than $50 billion in 50 investment products and was the largest independent trust company in the United States.
Married couple Arthur Levine and Lauren Leichtman also join the list this year with an estimated $2 billion in net worth.
Levine and Leichtman are Beverly Hills investors who've run private equity firm Levine Leichtman Capital Partners since 1984. The company has $6.4 billion assets under management.
Declining fortunes
Not all members of the 2019 list saw their fortunes improve.
David Murdock, chairman of Dole Food Co. Inc. and Castle & Cooke Inc., saw his net worth tumble 33% to $2.7 billion amid challenges for Dole and the food distribution industry at large.
Entertainment mogul Haim Saban's wealth slipped 16% to $3.7 billion. Saban, who recently sold off his Power Rangers empire, has committed $500 million of his wealth to launch a world music label.
Off the list
There were a handful of names from 2018's list who didn't make a return appearance. Some were affected by the higher entry point of $1.5 billion.
Others, like Thomas Tull, who made last year's list with an estimated net worth of $1.8 billion, sold his Thousand Oaks home and moved his family to the Pittsburgh area to make venture investments. Tull tracked his fortune primarily to the $3.5 billion sale of his Legendary Entertainment to Dalian Wanda Group Co. Ltd. in 2016.
Do Won "Don" and Jin Sook Chang, owners of troubled retailer Forever 21 Inc., fell off the list this year. Their once white-hot fast-fashion chain is reportedly close to filing for Chapter 11 bankruptcy protection.
About the list
As in past years, when compiling the Wealthiest Angelenos list, every effort is made to ensure that the information is as accurate as possible.
The Business Journal team of editors and reporters conducts extensive research into the individual holdings of each candidate before determining exactly which billionaires qualify and where they rank.
Some information comes directly from the individuals or their teams. Data is also collected through public filings and documents as well as conversations with experts in relevant fields. All members of the list must reside in L.A. County.
One change to note with this year's list is that ties in wealth calculations are now factored into our rankings. That's why, for instance, three members are ranked at No. 19. Previously, ties were not accounted for. There are still entries for 50 billionaires on the list.
For reprint and licensing requests for this article, CLICK HERE.