Wealthiest Angelenos: The Gifts of Giving
Wealthy donors are shifting focus to social, environmental causes
Friday, September 20, 2019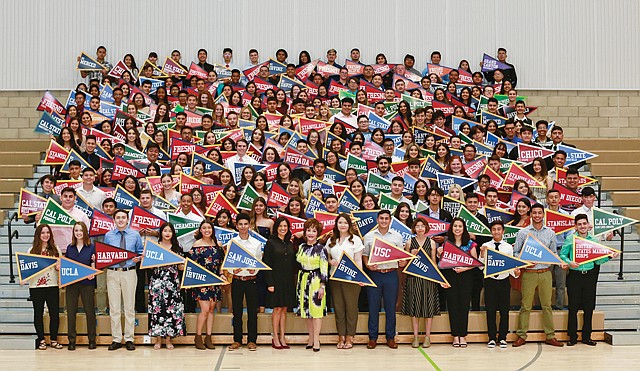 Earlier this year, philanthropist Eli Broad — who ranks No. 6 on the Business Journal's 2019 Wealthiest Angelenos list with a net worth of $7.4 billion — wrote an op-ed essay for the New York Times announcing his support for a wealth tax for Americans in the top 1%, including himself.
"The enormous challenges we face as a nation — the climate crisis, the shrinking middle class, skyrocketing housing and health care costs, and many more — are a stark call to action," Broad wrote.
Eli and Edythe Broad's foundations recently celebrated 50 years of grant-making totaling just over $4 billion, concentrating on public education, scientific and medical research, as well as visual and performing arts. The Broads continued their tradition of supporting medical innovation in 2019 with a $30 million commitment to the Eli and Edythe Broad Stem Cell Centers at UCLA, USC and UC San Francisco.
Still, Broad's op-ed piece reflects what some among L.A.'s business leaders seem to be recognizing in 2019: a need for the wealthiest to look beyond traditional foundation grants, seek new partnerships, and find new avenues for channeling wealth into solutions for pressing social and environmental issues.
Profit for good
Recent socially conscious efforts on the part of the business community include for-profit investment in technology that addresses sustainability and environmental concerns, said Trevor Neilson, co-founder of Global Philanthropy Group, a Sawtelle-based consulting firm, and chief executive of i(x) Investments, which is based in Los Angeles and New York and is described as a permanently capitalized holding company for investors seeking to combine long-term economic growth with social impact.
Neilson cites Elon Musk (No.1 with $22.6 billion), biotech mogul Patrick Soon-Shiong (No. 2, $19.1 billion) and Participant Media Chairman Jeffrey Skoll (No. 18, $4 billion) as examples of wealthy Angelenos whose business investments reflect social and environmental concerns.
Neilson praised Skoll for his efforts to encourage and invest in "social entrepreneurs" and Soon-Shiong's commitment to address critical health issues through new biotechnology.
Of Musk, he added, "Elon Musk is the single most admirable business leader in L.A. as it relates to social impact," for harnessing the power of entrepreneurship to address the climate emergency through the development of the Tesla and proposals for rapid transportation options. "Does he give to LACMA? Who cares?"

Marc Nathanson (No. 38 at $2 billion), chairman of Mapleton Investments in Beverly Hills, and his wife Jane did gift $50 million in modern and contemporary art to LACMA in 2015, but he also has espoused the profit-for-good philosophy in launching Falcon Waterfree Technologies, which produces water-free urinals, in 2000. Skoll is a major investor in the company. While Falcon is a for-profit enterprise, Nathanson said the company has donated its technology to hospitals and other nonprofit institutions and efforts.
Prev Next
For reprint and licensing requests for this article, CLICK HERE.