A Rare Bird
Hawke Ventures offers funding and media support to help startups take wing
Friday, September 13, 2019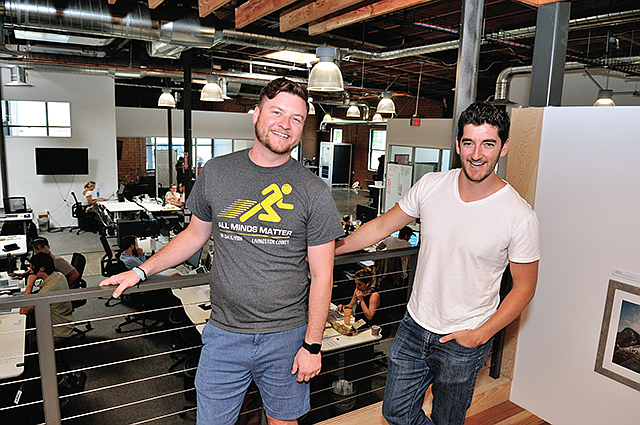 When it comes to backing startups, Hawke Ventures offers more than just funding.
An offshoot of prominent marketing agency Hawke Media, the venture capital firm was launched by Chief Executive Erik Huberman and Managing Partner Drew Leahy in September 2018 with the goal of blending early stage capital and media strategy knowhow.
Although Hawke Ventures has yet to secure the massive exits of more established Silicon Beach VCs, the firm is gaining attention by providing a suite of advertising tools to some of the area's most active media, marketing and technology startups.
Its roster includes the subscription box service FabFitFun Inc., Tapcart Inc., Brandable Inc. and Rebelmail Inc., which sold to Salesforce.com Inc. in October. Hawke Ventures also recently funded Steereo Inc., a downtown-based technology startup that operates a music-sharing application for rideshare drivers and customers. 
Huberman and Leahy sat down in Hawke's West Los Angeles office to talk about why their unique approach is already paying dividends.
What are some of the synergies between having a media company and having an investment arm?
Erik Huberman: There's kind of a double-positive where we can be a totally unfair advantage for our investments and give them an outsized chance of success because of the knowledge we have on growth marketing and our network, which most funds can't do.
Where does Hawke Ventures fit into the funding equation?
Huberman: We're not trying to cut out other funds. Let them cut the big checks. We'll come in as a partner and be the one that's actually strategic. When everybody's arguing over trying to be the other check, we come with a differentiation that most others can't.
Drew Leahy: Founders need to be focusing on big expectations, growth and sales, and we're able to help founders refocus and take care of some of the core marketing services.
How did you decide to spin off a venture arm from your advertising company?
Huberman: Drew joined us a year ago. We were doing a decent amount of angel investments along with sweat equity — free work for equity. We were doing marketing and just taking the equity in a company. Drew said, "Objectively, we're getting better returns on the checks you're writing than the sweat equity, so we should just either stop or do way less sweat equity and look at doubling down on investing."
When did you know you were on the right track?
Huberman: We invested in eight companies off the balance sheet. All had done well with investments between $10,000 and $100,000. (We thought) why don't we scale it up to $250,000?
What was your primary approach?
Huberman: The thesis of the fund was that most of the investments will be in software and services that complement what we do because we're signing 50 to 60 new customers a month (at Hawke Media) and working with about 400 different brands at a time. Is there a software that can work with all of those brands that our team on the services side believes in?
How do you decide which companies to fund?
Huberman: There are times we get a unique look into an amazing consumer idea that's already gaining some traction, and we know the metrics almost better than anyone, so we can jump in early. For example, we were one of the first investors in FabFitFun. And Brandable we helped incubate. These are all companies that are now high-flyers that we own pieces of. And that's the other side of the thesis: What unique things can we get into?
What are some of the qualities you're seeking in an investment?
Leahy: What I'm looking for is companies that are doing between $20,000 to $100,000 in monthly revenue; they are already in markets selling and have a growth engine driving them that is profitable or very near profitable.
What makes your investments unique?
Huberman: The thing that makes us unique is we only invest where we think we can be a strategic partner. There are deals we've looked at that are great companies that are going to do well, like (Santa Monica-based retail consulting app) Boulevard, but we pass on them. Not because we doubt the company in any way — we're not a signal to another investor when we pass — it's can we as a company be a strategic partner for them?
Can you give an example of how Hawke's synergy works?
Huberman: We invested in a business intelligence tool called Yaguara because our team thought it was exactly what every client we have needs to measure their marketing success properly. Our team liked it. We invested a small check, started seeing more progress, and invested a bigger check. Now they're raising a bigger round, and we're probably going to go in again. We also get to do the ecosystem play, which is a big part of our business because we share clients.
Who have you worked with in the L.A. venture capital space?
Huberman: We co-invest with Amplify, Upfront and Greycroft.
Leahy: Luma Launch and Quake Capital.
Huberman: And Kleiner Perkins now, who (invested in) FabFitFun. We value them, and when we talk about our advantage, we don't want to alienate other funds; we want to bring that to the financial capabilities they have. I'd rather be that small check now and stick to what we're really good at and get a ticket in the race, so to speak.
Leahy: And venture funds are starting to reach out to us when they see a great deal that they think will be great for Hawke.
Do you still consider Hawke to be a startup?
Huberman: I never did. The word startup always bugged me because I feel it connotates a lack of profitability. We never raised money, and we always said we're a business, not a startup. From day one we were making money. Also just this year, ThinkLA said, "How old are you? We want to nominate you for startup agency of the year." And when we told them five and half years, they said, "Oh, you don't qualify anymore." So apparently, we are officially cut off.
For reprint and licensing requests for this article, CLICK HERE.