AUTO MOTIVES
Peter Mullin I Mullin Barens Sanford Financial
Friday, September 13, 2019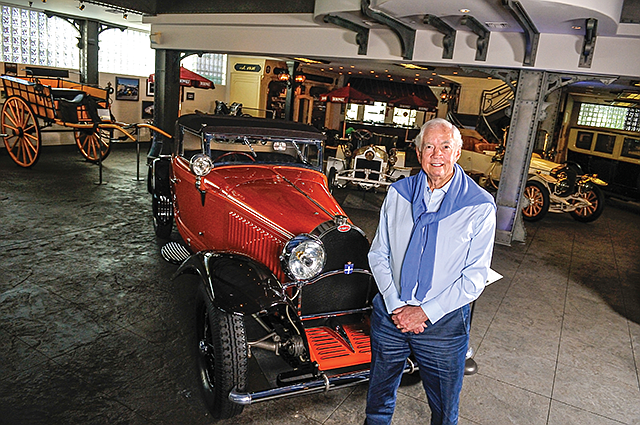 It's nearly impossible to settle on just one title for Peter Mullin. The founding chairman of Mullin Barens Sanford Financial is also a founder and chairman of M Financial Holdings Inc., and founder and chairman of the Mullin Automotive Museum in Oxnard, home to historical French automobiles, from the Bugatti to the Voisin, as well as art deco treasures from the 1920s and 1930s.
Mullin races some of his vintage cars and is president of the American Bugatti Club.
And here's a little secret: Mullin also owns a smaller, 15,000-square-foot private auto museum with a similar French/deco focus at an unmarked location in L.A.'s Sawtelle district. The facility, site of a recent visit from the Business Journal, opened in 2008 and is used for private car collectors' meetings and charitable events.
The mini museum also serves as a workspace, with offices and a large meeting room at the top of a curving staircase.
A longtime philanthropist in arts, education and medicine, the Brentwood resident and his wife, Merle, also produce olive oil, wine and honey, and raise pigs for prosciutto at their home in Italy.
Mullin bought and recently reopened Big Sur Coast Gallery, a Highway 1 landmark since 1958, as Coast Big Sur Gallery and Café.
"Formally, theoretically, I retired at age 65," said Mullin, 78. "Except that I didn't really retire from anything, I just changed my focus."
Mullin likes to borrow a concept from a friend to describe his attitude: "Retired actually has the word 'tired' in it, and I don't like to think of being either tired or retired. Somebody else has coined the phrase 'rewired' — yeah, that's me. My life has not slowed down at all. I just focus on different things."
Mullin grew up in South Pasadena, and one of his first jobs was at a San Marino nursery hauling fertilizer. The experience led to a lifelong passion for gardens and landscaping, and he has funded public gardens at Occidental College and St. John's Medical Center in Santa Monica
It also helped to mold an entrepreneur who isn't afraid to get his hands dirty and who likes to surround himself with people who do the same. "It has always bothered me when people say: 'Why don't they do something about this?'… Change comes from people who are committed, not people who are complaining," Mullin said.
Still, he's glad that his hard-driving style — pun intended — no longer requires a suit and tie.
"I wore a suit every day for 40 years. I was in the financial world, and I dressed the part," Mullin said with a characteristically sunny smile. "Now I say, why would I wear a jacket?"
For reprint and licensing requests for this article, CLICK HERE.