LA Museums Line Up for Makeovers
La Brea Tar Pits complex is the latest to join the queue of upcoming culture projects
Friday, September 6, 2019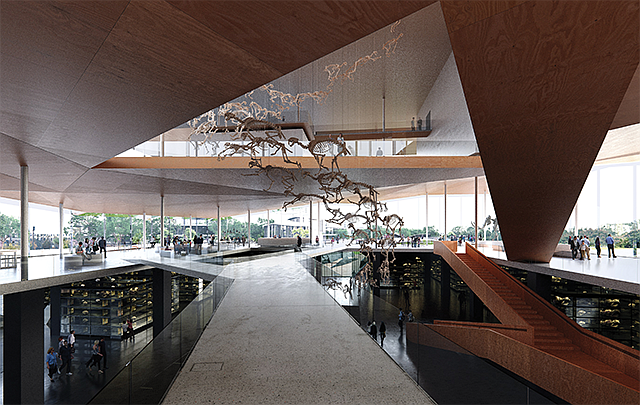 L.A.'s development boom has affected all types of property, even museums.
The La Brea Tar Pits and the Page Museum, which hasn't had a large-scale improvement since it opened 40 years ago, is the latest institution to be teed up for a makeover.
In August, the Natural History Museums of Los Angeles County unveiled three conceptual approaches for a redesign of the 12-acre, Mid-Wilshire site.
Lori Bettison-Varga¸ president and director of the Natural History Museums of Los Angeles County, said in a statement that the redesign would make the site "more visible to the public" and add amenities.
The three proposals come from Copenhagen-based architecture firm Dorte Mandrup, design firm Diller Scofidio and Renfro and architecture group Weiss/Manfredi, both based in New York.
The Dorte Mandrup plan includes an expansion to the existing Page Museum, a research core at the center of the building and a roof garden.
Diller Scofidio and Renfro's plan would replace the existing museum's structure with four overlapping plates and be surrounded by glass. Surface parking would be removed.
The Weiss/Manfredi plan includes a bridge across the lake pit, site walls, a new garden and an expansion of the Page Museum.
The winning design will be selected by the Natural History Museums of Los Angeles County and a jury whose members include Milton Curry, dean of USC's School of Architecture; Kirk Johnson, director of the Smithsonian Institution's National Museum of Natural History; and Christopher Hawthorne, the city's chief design officer.
Next door, the Los Angeles County Museum of Art will soon undergo a $600 million redesign by Swiss architect Peter Zumthor. Plans call for an additional building that will bridge Wilshire Boulevard, connecting the museum to an outdoor plaza.
Down the street, the Academy Museum of Motion Pictures is adding a dome-structure theater next to the 1930s-era May Co. department store building.
Kerry Brougher, the director of the Academy Museum of Motion Pictures, stepped down earlier this summer. The $400 million project, which is scheduled to open in 2020, has been burdened by delays.
Further east, in Exposition Park, the new $1 billion Lucas Museum of Narrative Art is under construction. The museum was designed by famous Chinese architect Ma Yansong.
It will feature paintings, photos, comic art and filmmaking expositions. In addition to the museum building, the plans include 11 acres of green space. The project is expected to create 1,400 jobs.
For reprint and licensing requests for this article, CLICK HERE.