Grand Stand
Downtown's next mega-project, the $1B Grand, targets a 2021 opening
Friday, September 6, 2019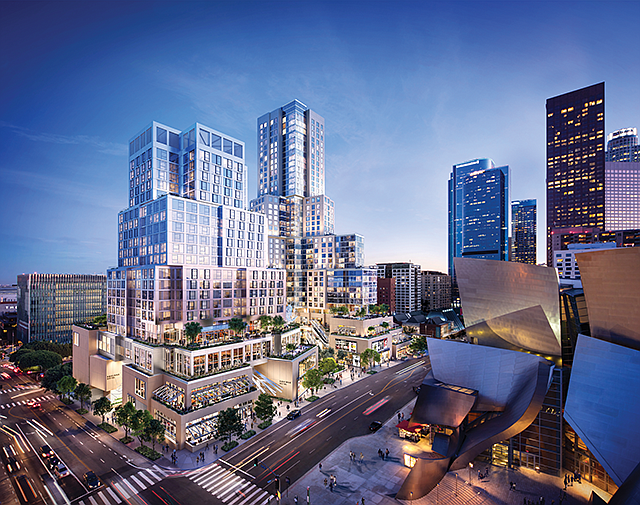 he Grand, a $1 billion mega-project across from Walt Disney Concert Hall, finished its second mat foundation pour of 10,200 cubic yards of concrete in August.
That effort marked a significant milestone for the Frank Gehry-designed complex — one of the most anticipated additions to downtown's ongoing revitalization.
The successful concrete pour will allow construction crews at The Grand to step up their efforts to open the development by the end of 2021.
The Grand has been more than a decade in the making. When completed, it will house a 39-story residential tower with more than 400 units, with 20% designated as affordable housing. It will also include 176,000 square feet of retail space, a movie theater complex and an Equinox Hotel.
Two tower cranes were recently installed and have begun work on the site. Parking decks are also being formed and poured, and mechanical, electrical, and plumbing work is underway.
The project, which broke ground in February, is being developed by Related Cos. and Core USA.
For reprint and licensing requests for this article, CLICK HERE.