WeWork Woes Could Hit LA
REAL ESTATE: Company holds 30% of local market
Friday, October 25, 2019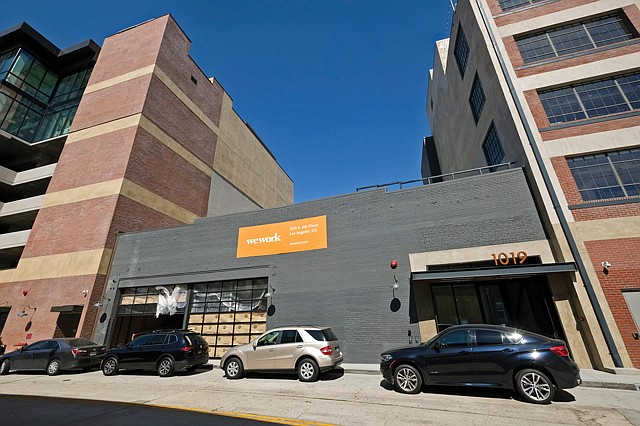 WeWork Cos. Inc. has been a hotter-than-usual topic in recent weeks, and often not for positive reasons.
The coworking giant canceled plans for an initial public offering at the end of September, triggering alarm bells about the company.
That was followed in short order by the departure of controversial co-founder and Chief Executive Adam Neumann, news of a takeover by longtime backer SoftBank Group Corp. and reports that new WeWork management would lay off up to 4,000 employees.
All of which is raising questions among businesses and developers in Los Angeles about the potential impact on the local market. Although WeWork is headquartered in New York, it has a massive footprint in Los Angeles.
The company has signed more than 30 leases in L.A. and holds more than 30% of the flexible space market here. As of August, the company had more than 2 million square feet in L.A.
"WeWork is among, if not the largest, occupiers of space in the United States," said Adam Tischer, a senior vice president at Colliers International Group Inc. "If there exists a possibility of WeWork potentially not fulfilling its lease obligations because of insufficient funding or capital, if that impacts their ability to pay rent, it could be destabilizing to landlords."
Tischer added that the situation could "spell disaster" for landlords that are not well capitalized and count WeWork as one of their only tenants.
"If 95% of (your real estate) is leased to WeWork," Tischer said, "you aren't sleeping too well."
So far, though, there doesn't seem to be a direct impact on the local market.
"The WeWork (locations) that have signed and are yet to open are still fully under way," said Jerome Fried, a managing director at Savills Inc. "Even with this news, they haven't slowed down building out their space. They are confident this deal with SoftBank is going to go through."
But that doesn't mean there aren't concerns about how WeWork's financial woes could affect businesses across Los Angeles.
A big point of worry among experts is WeWork's reported use of special purpose entities to sign leases.
One of these entities can go bankrupt and shutter without affecting the whole company. WeWork usually only backs these entities for a specific time frame.
Fried said he expects landlords to "stop accepting single entity LLCs or be much stricter about the type of collateral and type of securitization they accept" going forward.
Prev Next
For reprint and licensing requests for this article, CLICK HERE.