WeWork Woes Could Hit LA
REAL ESTATE: Company holds 30% of local market
Friday, October 25, 2019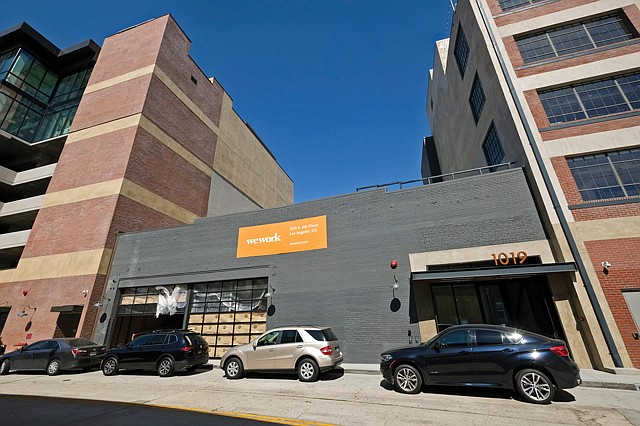 WeWork Cos. Inc. has been a hotter-than-usual topic in recent weeks, and often not for positive reasons.
The coworking giant canceled plans for an initial public offering at the end of September, triggering alarm bells about the company.
That was followed in short order by the departure of controversial co-founder and Chief Executive Adam Neumann, news of a takeover by longtime backer SoftBank Group Corp. and reports that new WeWork management would lay off up to 4,000 employees.
All of which is raising questions among businesses and developers in Los Angeles about the potential impact on the local market. Although WeWork is headquartered in New York, it has a massive footprint in Los Angeles.
The company has signed more than 30 leases in L.A. and holds more than 30% of the flexible space market here. As of August, the company had more than 2 million square feet in L.A.
"WeWork is among, if not the largest, occupiers of space in the United States," said Adam Tischer, a senior vice president at Colliers International Group Inc. "If there exists a possibility of WeWork potentially not fulfilling its lease obligations because of insufficient funding or capital, if that impacts their ability to pay rent, it could be destabilizing to landlords."
Tischer added that the situation could "spell disaster" for landlords that are not well capitalized and count WeWork as one of their only tenants.
"If 95% of (your real estate) is leased to WeWork," Tischer said, "you aren't sleeping too well."
So far, though, there doesn't seem to be a direct impact on the local market.
"The WeWork (locations) that have signed and are yet to open are still fully under way," said Jerome Fried, a managing director at Savills Inc. "Even with this news, they haven't slowed down building out their space. They are confident this deal with SoftBank is going to go through."
But that doesn't mean there aren't concerns about how WeWork's financial woes could affect businesses across Los Angeles.
A big point of worry among experts is WeWork's reported use of special purpose entities to sign leases.
One of these entities can go bankrupt and shutter without affecting the whole company. WeWork usually only backs these entities for a specific time frame.
Fried said he expects landlords to "stop accepting single entity LLCs or be much stricter about the type of collateral and type of securitization they accept" going forward.
WeWork declined to comment for this article.
Lasting impact
Since the recession, coworking companies have gobbled up large amounts of space.
"I think our vacancy rate is artificially low because of how many coworking companies have signed leases," Fried said.
Low vacancy rates have allowed landlords to push up rents.
"It's possible that if WeWork does default that there will be a substantial amount of available office space on the market that does not exist today, which will warp the supply-demand fundamentals at play in the market in favor of tenants," Tischer said.
Still, experts agree that there are unlikely to be big changes anytime soon. Instead, they anticipate a series of smaller changes occurring over a longer time frame.
WeWork locations in prime areas, they added, are still doing well. "WeWork overextended themselves in L.A.," Fried said. "I think some of these lesser locations will shutter before their lease expirations."
One of the biggest potential changes is that more coworking providers could be moving toward management contracts with landlords.
"Landlords themselves are starting to directly offer WeWork-style spaces that aren't subject to the burden with long-term obligations," Tischer said.
In May, Tishman Speyer Properties launched its coworking concept, dubbed Studio, in Beverly Hills. Industrious has partnered with landlords including Granite Properties Inc. and Coretrust Capital Partners. IWG-owned Spaces is shifting its focus to management and partnerships with property owners. And in 2017, Brookfield Property Partners announced a partnership with flex office space provider Convene.
"It's almost like they saw this coming," Fried said.
Top WeWork Properties in LA
Ranked by square footage
1. West Hollywood
Address: 8687 Melrose Ave.
Square feet: 150,000
Date signed: Jan. 1, 2016
2. Mid-Wilshire
Address: 5750 Wilshire Blvd.
Square feet: roughly 135,000
Date signed: NA
3. Santa Monica
Address: 3000 W Olympic Blvd.
Square feet: 116,000
Date signed: Feb. 15, 2019 
4. Hollywood
Address: 1601 Vine St.
Square feet: 115,591
Date signed: April 1, 2017
5. West Hollywood 
Address: 750 N. San Vincente Blvd.
Square feet: 99,534
Date signed: July 1, 2018
6. Downtown's Gas Company Tower
Address: 555 W. 5th St.
Square feet: 93,464
Date signed: Aug. 19, 2015
*Source: Jones Lang LaSalle Inc. data. The Santa Monica and Mid-Wilshire locations have not yet opened. This data represents leasing activity. 
For reprint and licensing requests for this article, CLICK HERE.