Good to Grow: Downtown's Booming Arts District Shows No Signs of Slowing
Friday, October 18, 2019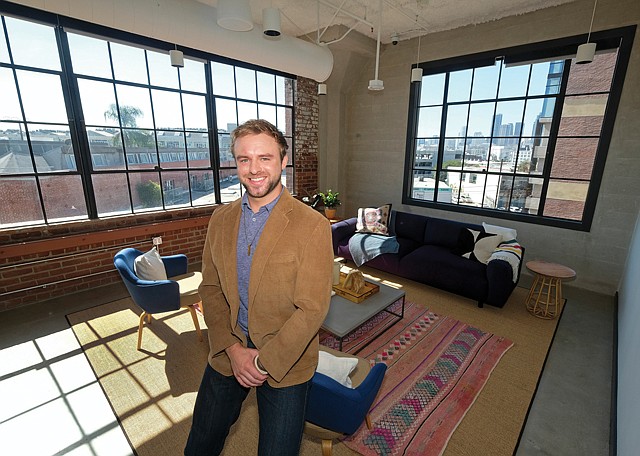 Once the site of warehouses and cheap studio space for artists, downtown's Arts District has transformed into a mecca for music labels, tech companies and even social clubs.
The latest opening in the area is Soho Warehouse, a highly anticipated membership club at 1000 S. Santa Fe Ave. that opened to "founder members" Sept. 30.
It's the third California outpost for London-based Soho House Group and comes complete with a rooftop pool, workspaces, bedrooms and a gym.
The property was developed by BLVD Hospitality, which is known for other downtown hotspots including Ace Hotel and the recently opened Hoxton hotel.
BLVD co-founder and Chief Executive Jon Blanchard said his team started the process in 2015 and secured Soho House Group as a tenant for the project.
"We really love what they have brought to the communities that they have opened up in," he said. "They really have started trends."
Blanchard anticipates that the opening of Soho Warehouse will "drive that block and complement the Arts District area." He also expects to see retail fill up along Santa Fe Avenue.
Nearby, WeWork Cos. Inc. recently opened its first Arts District location at The Maxwell, a project by Hudson Pacific Properties Inc. Roughly 60,000 square feet is now open with an additional 30,000 square feet scheduled to be available in November.
Kley Sippel, general manager for WeWork in Southern California, said the company was drawn to the area's transformation along with the fact that it had "some of the most fantastic old building revitalizations."
"A lot of energy is going into the Arts District," he said, adding that WeWork expected the space to draw a lot of creative tenants.
First to the market
One of the other major tenants to recently move to the area is Warner Music Group, owned by New York-based Access Industries Inc. The company bought its Arts District headquarters for $195 million from Shorenstein Properties shortly after moving into the space with a lease. The deal closed at the end of March.
The building at 777 S. Santa Fe Ave. was formerly a factory for Ford Motor Co. Warner Music Group moved into the building in phases: publishing arm Warner/Chappell Music moved in Feb. 25, and Warner Bros. Records moved in March 18. Prior to the move, Warner Music Group leased in Burbank.
"Warner Music is essentially a first move-in in the market," said Amber Schiada, senior director of research at Jones Lang LaSalle Inc. "They are a significant company. It establishes a place."
Jonah Sonnenborn, head of real estate and managing director at Access Industries, said the Arts District move would "attract the best talent pool."
Sonnenborn added that Access saw great residential and commercial development in the area, which made buying "an easy choice."
In the Arts District, there were more than 300 multifamily units, roughly 1.4 million square feet of office space and more than 200,000 square feet of retail space under construction during the second quarter, according to the Downtown Center Business Improvement District.
According to the group, there are also thousands of additional multifamily units, more than 2 million square feet of office space and more than 800,000 square feet of retail under development in the area.
Nick Griffin, executive director at the DCBID called Warner Music the "big fish that really kicked things off. They were the perfect anchor tenant to really spur the growth of office in that area."
Lots of leasing activity
Some of the biggest leases signed in the area are with online coupon company Honey, Weedmaps owner Ghost Management Group, WeWork, video adtech startup TubeScience and streaming music service Spotify Technology.
"It's creating more interest," said Ryan Harding, executive managing director at Newmark Knight Frank. "The Arts District has had a nice run of PR for the last three years. The reality is until Honey, Spotify and Warner Music signed, there weren't a bunch of huge signings."
Honey signed a lease for 130,000 square feet at 963 E. 4th St. Spotify initially signed a lease for 109,706 square feet at 551 to 581 Mateo St. It later signed a lease for an additional 45,000 square feet.
Ghost Management signed a lease at ROW DTLA at 767 Alameda St. for 115,000 square feet earlier this year. And TubeScience has leased nearly 104,000 square feet at 655 S. Santa Fe Ave. The flex space is being turned into creative office and production space for the company.
"The Arts District has slowly been evolving into a really interesting creative cluster," Schiada said. "Everything east of Alameda 100 years ago was manufacturing space, industrial space, warehouse space — it was really the industrial core for Los Angeles. Over time those buildings became obsolete and manufacturing moved elsewhere. It created an opportunity for developers to repurpose that space and make cool, creative space."
Big projects
Some of the bigger projects thus far have been ROW DTLA, At Mateo, The Maxwell, and Fourth & Traction.
ROW DTLA at 777 S. Alameda St. is made up of six buildings and includes 65 retail and restaurant locations and 1.3 million square feet of creative office space. Companies that have moved into the complex include Adidas, Gimbal Inc., co-working company Spaces, and advertising and graphic design studio Williams Corsi & Associates.
At Mateo, at 10250 Constellation Blvd., has 130,000 square feet of retail and up to 100,000 square feet of office space. It is home to the USC Roski School of Art & Design's new MFA Design Campus, and Soylent Co. has also moved in.
"The critical mass of employees in that area is going to increase exponentially and will be really good for businesses — all the restaurants, all the small shops that have been popping up," said Chris Penrose, a first vice president at CBRE Group Inc.
Lots of Warner Music employees have already been going to ROW DTLA, he said.
Jack Livingston, a research analyst at Avison Young Inc., said big tenants like Warner, Spotify and WeWork "opened the floodgates" to attract other tenants to the area.
'Never been hotter'
One of the reasons the Arts District has been so enticing to large companies, brokers say, is the availability of large floorplates that are difficult to find in other part of L.A.
Most of these spaces come from old industrial buildings, but "turning industrial buildings into office buildings is not an easy task," said Josh Gorin, vice chairman and branch manager at Savills Inc.
Penrose said that while there are certainly large blocks of space available in the Arts District, there is only one 100,000-square-foot-plus spot left. Some buildings, he said, will start construction later this year and add to the square footage.
Griffin anticipates more large tech and media companies coming to the area.
Experts agree that the Arts District is showing no signs of slowing down.
"It's never been hotter," Penrose said. "The main buildings in the Arts District have been leased up. More and more tenants are going to be coming to the area. I think the ROW is going to be extremely successful in the next couple quarters, and we are going to see more retail pop up to serve all the new employees that are going to be coming to the area."
For reprint and licensing requests for this article, CLICK HERE.