Above Board
Betsy Berkhemer-Credaire I 2020 Women on Boards
Friday, October 18, 2019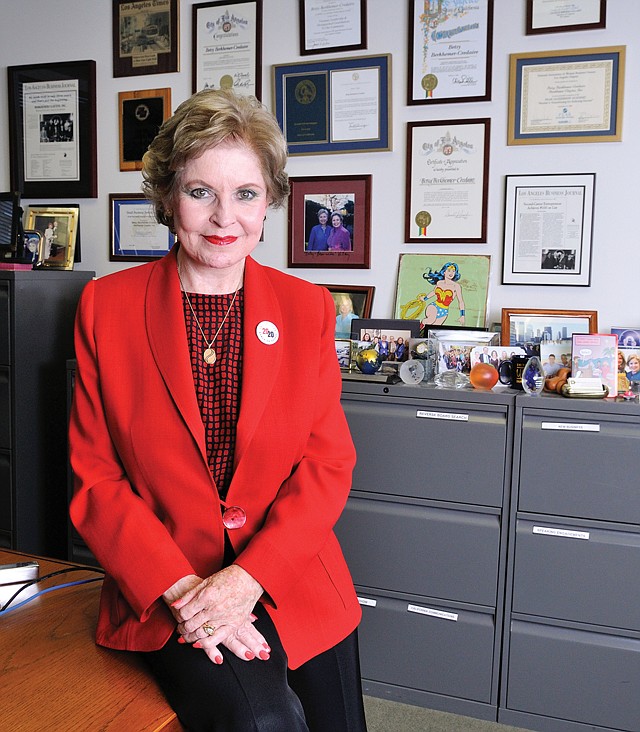 "We don't have any style; we have too much work to do," Betsy Berkhemer-Credaire joked during a brisk tour of the downtown offices that serve as headquarters for executive search firm Berkhemer Clayton Inc.
Berkhemer-Credaire's office also houses 2020 Women on Boards, a nonprofit organization established in 2010. The organization is dedicated to filling 20% of all publicly held corporate board seats in the United States with women directors by 2020, the 100th anniversary of the 19th amendment, which guaranteed women's right to vote.
Berkhemer-Credaire serves as chief executive of both entities.
Despite a policy of not expending too much energy on fashion and office design, Berkhemer-Credaire greets the Business Journal dressed in red and black, the official colors of 2020 Women on Boards.
The organization supported the drive to pass California Senate Bill 826 (sponsored by the National Association of Women Business Owners - California), requiring all publicly traded California-based companies to have at least one woman on their boards by the end of 2019 and two to three women by the end of 2021, depending on the board's size.
Berkhemer-Credaire said California passed the goal of 20% women on company boards a year early, reaching 21.3% as of June. "It has nothing to do with equal rights and all to do with running a business," Berkhemer-Credaire said. "All of the upper half of Russell 3000 companies benefit from having women on boards."
Berkhemer-Credaire said today's large public companies have three issues at the top of their lists: digital marketing, cybersecurity and board diversity. "The shareholders are demanding it," she said.
Berkhemer-Credaire believes that women think differently from men, including being stronger in intuitive and personal networking skills. "That's why I believe both men and women should be on corporate boards together," she said.
One major difference, in her opinion: "(Men) don't value the long term, and women start businesses for the long term," she said. "I'm going to make (the company) money and get out — that's the mentality of the guys. It's not necessarily good for building a business."
Berkhemer-Credaire said expanding the number of women on boards is helping change the stereotype of women competing against each other.
"It's not the old days where there was only one seat on the board or anywhere," she said. "(There's) the whole timeliness of all these women who have been in business for 40 years, and they bring wisdom and value and smarts to the boards."
Despite promoting a new gender balance on boards, Berkhemer remains old school when it comes to office attire for women seeking their place in the boardroom. "When women don't wear classic professional wardrobes, they aren't considered equals," she said. She added that the businesswoman looking to advance should dress up even on company-approved casual Fridays.
"I believe there's wardrobe for the boardroom. The men are very well dressed; the women have to be very well dressed," Berkhemer-Credaire said. "It is a new world, but when dealing with advancing in business, I think no matter what, the woman is not going to be thought of the same way when she's wearing jeans and tennis shoes as when she's wearing a classic suit."
For reprint and licensing requests for this article, CLICK HERE.