Jakks Pacific Stirs Deal Talk
MANUFACTURING: Toy company remains a top target
Friday, October 11, 2019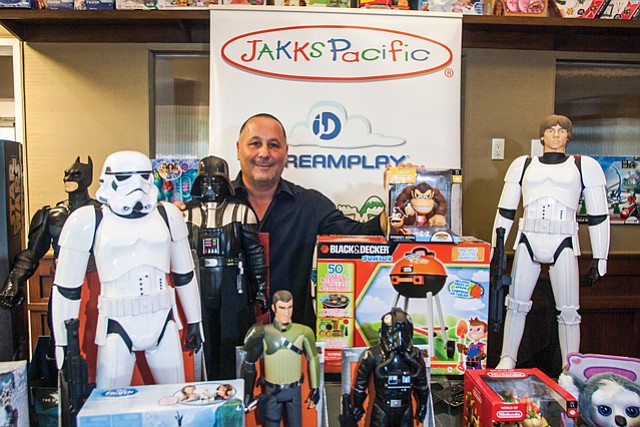 This holiday season could be bright for Jakks Pacific Inc., provided the struggling toymaker remains independent.
The Santa Monica-based company, which creates toys and collectibles for media companies such as Walt Disney Co., figures to get a big boost from "Frozen 2," which arrives in theaters Nov. 22.
It remains to be seen, though, if all those Elsa dolls landing under Christmas trees this year will come from a stand-alone Jakks.
Analysts and industry observers believe the toymaker, the ninth largest in the United States, is on the cusp of being purchased. 
"Jakks will survive. The question is will they remain independent," said Jefferies Financial Group Inc. equity analyst Stephanie Wissink.
Bloomberg reported Oct. 8 that New York-based private equity firm Centerbridge Partners was backing a deal by Florida-based Just Play to buy Jakks. Neither Jakks nor Just Play would confirm the report.
It would be the third buyout offer this year for Jakks. In September, Bloomberg reported an attempt by Jazwares owner Alleghany Corp. to acquire Jakks for 85 cents a share. That offer reportedly fell through. 
Recent Securities and Exchange Commission filings on Jakks' debt offerings indicate any sale of Jakks' must be announced by Oct. 15 and close by the end of the year. 
Heavily indebted Jakks has reported annual revenue declines for six consecutive years, and earlier this year it was on the brink of being delisted by Nasdaq.
But in August, the company struck a deal to recapitalize $140 million in debt due next year, allowing it to fend off a takeover bid by Hong Kong-based Meisheng Cultural Co. Ltd. Meisheng, a subsidiary of a Chinese toymaker and children's entertainment company, already held a stake in Jakks.
"While they have a lot of great products, their stock has been beaten up over the last couple of years," said Stephen Pasierb, chief executive of the Toy Association. "They are an acquisition prospect."
Jakks' strategy has long been to focus on acquiring licenses of well-known brands, such as Disney's princess line, Harry Potter and Nickelodeon titles. About half of Jakks' products are part of a licensing deal with Disney. 
But Jakks' heavy dependence on movie tie-in products means uneven sales with a good season are often followed by a down period. 
Aside from unreliable revenue, license-transfer issues could complicate any sale. 
Jakks' executives have tried to bolster the company's product line with evergreen items such as kids' furniture and Halloween costumes, but its core business remains other companies' intellectual property. 
The model is tricky and unique for a midsized toymaker that competes for licenses against larger, deep-pocketed competitors. That plays out in Jakks' offerings of products like the "Frozen" dolls. Jakks will produce the larger dolls intended for toddlers while Hasbro Inc. produces the smaller, more popular toy figures. 
That leaves Jakks with a sliver of the market where it has to thrive to be successful. 
"Can they compete effectively as a small company in a big marketplace? Can they find enough value to support their business architecture?" Wissnick said. "It's a question that's starting to surface because of their dependence on this highly dynamic model."
Sale talk around Jakks comes amid a wave of consolidation in the $21.6 billion U.S. toy industry as competition for licensed merchandise intensifies and fallout continues to be felt from the 2018 closure of Toys R Us. 
The shutdown of the giant retailer, along with closings by other chains makes it tougher for smaller toy companies to get their products onto shelves. 
Jazwares, which produces a line of Fortnite products, earlier this month gobbled up Wicked Cool Toys, the Pennsylvania-based brand that produces Cabbage Patch Kids, bulking up the midsized company. 
In August, Tonka producer Hasbro acquired Canadian studio Entertainment One as part of a $4 billion all-cash transaction in August. The deal added a slate of brands, including Peppa Pig, to one of the world's biggest toymakers. 
Adding to these pressures are tariffs on Chinese-made toys. The industry depends heavily on China for production, and U.S. toy companies are on edge. In December, a 15% tariff on toys from China is expected to take hold. 
"It's a really challenging time," Pasierb said.
For reprint and licensing requests for this article, CLICK HERE.