Westlake Building Sells for $273 Million
Wednesday, October 9, 2019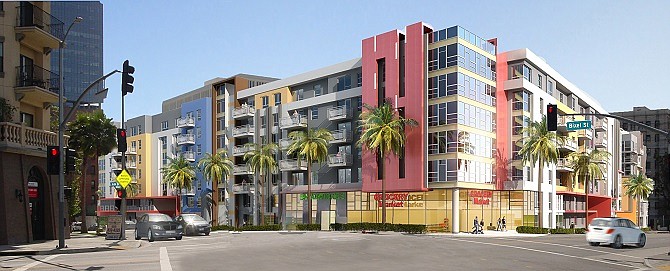 Sales of multifamily buildings continue to surge in Los Angeles.
The latest is Sofia Los Angeles, a 606-unit property in Westlake that sold for $272.5 million, records show. It's the second-largest multifamily sale in the market this year, according to CoStar data.
The largest sale so far in 2019 is The Glendon, a 350-unit apartment building in Westwood that sold for $365 million in June.
Carlyle Group purchased the Sofia from Holland Partner Group.
The property, at 1120 W. 6th St., was built in 2017. It contains two buildings and has 27 affordable units, according to data from CoStar Group Inc.
The building also has retail, with Grocery Outlet and Starbucks as tenants.
It's been a busy period for Holland.
In August, the developer acquired the site of Taix French restaurant in Echo Park. It plans to build a 170-unit residential complex with roughly 13,000 square feet of retail at the site.
Holland has been involved in some of the biggest multifamily sales in the county so far this year.
In July, it sold the 275-unit Griffin on Spring and the 300-unit Grace on Spring, both in downtown, as part of a $403 million sale to Daydream Apartments. Also in July, Holland sold the 236-unit STOA Apartments building in downtown to Equity Residential for $105.2 million.
In June, Holland brought in Pacific Life Insurance Co. as a joint venture partner for a 210-unit building at 1111 Wilshire Blvd. Its previous partner was UBS Realty Investors.
It's not unusual for a developer like Holland to build, stabilize and then sell a building. Money from the sale can be used for future development projects, experts say.
Commercial real estate reporter Hannah Madans can be reached at hmadans@labusinessjournal.com. Follow her on Twitter @HannahMadans
For reprint and licensing requests for this article, CLICK HERE.