Office: No Sign of Cooling in Sizzling Submarkets
Special Report: Who's Who in Real Estate
Friday, October 4, 2019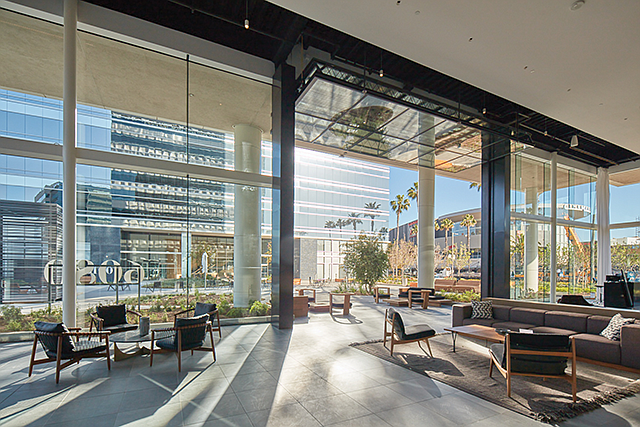 Kevin Shannon
Co-Head of U.S. Capital Markets, Newmark Knight Frank
Shannon's 35-member team focuses on investment properties. In more than 35 years in the business, Shannon has been involved in more than $65 billion worth of deals.
What's the biggest trend in office properties now?
The biggest trend continues to be amenity-
laden office projects with many offering hotel-like services along with all the normal creative office bells and whistles. Attracting and retaining the best talent is paramount to employers who will pay up for these types of environments, especially the (Facebook, Apple, Amazon, Netflix and Google) FAANG-type tenants in the most popular submarkets.
What's the next big trend?
The West Los Angeles market needs more new Class A office product because we are out of large-block space. I expect to see a much stronger pace for new speculative office developments in the most attractive West Los Angeles markets.
What is your favorite deal so far this year?
My favorite deal was the sale of 101 Continental in El Segundo. It clearly demonstrates the tremendous amount of capital being raised for value-add strategies with 73 tours and 37 offers. The asset had great bones and represented about 350,000 square feet of prime large-block space once renovated in the highly desirable El Segundo market. The asset was ultimately purchased by a Japanese buyer doing their first "restore to core" strategy transaction in the United States.
What is your outlook on real estate for the next 6-12 months?
I predict there will be no recession in the next year and rents in the best West L.A. markets will grow another 5-10%. There is also going to be a halo effect in adjacent markets.
•••
Carl Muhlstein
International Director, Jones Lang LaSalle Inc.
The industry veteran focuses on creative office space. His clients include entertainment and media companies.
What's the biggest trend in office properties now?
Greater Los Angeles commercial real estate is over-retailed and under-officed for the foreseeable future. Former department stores and freestanding mid-sized stores offer creative
office adaptive reuse, abundant parking, nearby amenities and larger floor plates.
What's the next big trend?
We will see an amenities war between competing landlords, especially for 1970s and '80s vintage projects undergoing transformation. Playa District LA is a great example of repositioning leading to hundreds of thousands (of) square feet of new and renewal leases.
What do buyers want now?
Buyers are attracted to preleasing. The greater Westside has seen several million square feet that will create 12,000 new jobs in a low-
single-digit vacancy apartment market. Additionally, buyers want locations with housing opportunities since that is a major concern for prospective tenants. 
What is your outlook on real estate for the next 6-12 months?
Most office submarkets are approaching single-digit vacancies with little new office development relief for several years. Renewals are under pressure as rental rates have escalated by a third to nearly double upon expiration.
•••
Mark Sullivan
Vice Chairman, Savills Inc.
Sullivan sets the strategic goals for Savills' seven West Coast offices. He was appointed to the firm's national board of directors in 2003.
What's the biggest trend in office properties?
Preleasing is among the biggest trends currently. Office buildings are being leased in the construction phase and, in some cases, even in the planning stage. This has never occurred in our marketplace before. Entertainment companies charged with content creation are competing for space (as well as talent) and are making defensive moves so as not to be beaten to the punch.
What submarkets are hot?
Century City is extremely desirable, with less than 10 full floors currently available for lease in the entire submarket. Another hot submarket is El Segundo, which is gaining favor as some companies are being priced out of Westside properties.
What is your favorite deal so far this year?
All3Media. On behalf of this prominent production and distribution company, we executed an expansion and early lease restructure for an 85,000-square-foot, $50 million transaction in West Los Angeles. They contemplated a wholesale relocation and/or satellite operation in Burbank or Hollywood before deciding to expand by a full floor at their current location.
•••
Jaime Lee
CEO, Jamison Realty Inc.
Lee overseas the leasing and brokerage arm of Koreatown-based Jamison, a family-run business.
What submarkets are hot?
West L.A. and Culver City continue to be strong for both office and multifamily. We are still thrilled by the strong absorption and steady rates in our new Koreatown multifamily projects, and we are excited about East Hollywood as the next hot spot.
What is the most interesting project you are working on now?
In tandem with our multifamily development projects, we are working to refresh the face of Koreatown with capital improvement projects across our commercial portfolio spanning Wilshire Boulevard from Crenshaw to Vermont. This includes lobby, plaza, and open-space renovations, along with a drive to bring more notable and exciting retailers to the area.
What is your outlook on real estate for the next 6-12 months?
Despite the fact that we have been counting the "innings" of this cycle for the last couple of years now, all indicators are pointing to the continuation of a stable and strong market in Los Angeles. Low interest rates, strong tenant demand, rising rents, and new foreign investment from Asian countries outside of mainland China are buoying commercial and multifamily markets.
•••
Chris Rising
CEO/Co-Founder, Rising Realty Partners
Rising runs the downtown-based company, which owns a handful of iconic properties in the area including 1 California Plaza, the CalEdison Building and the Trust Building.
What's the biggest trend in office properties?
Amenities. We view our property management as a customer service business, and our tenants are our No. 1 customers. Whether it's providing concierge service, bicycle storage, or trendy dining, landlords are creating lifestyle spaces where tenants feel like their office is a second home and not just work.
What do you look for in a development opportunity?
Impact. Our approach to real estate investing and operating focuses on three fundamental areas of impact that we have proven to create value: environmental, technological and social. We look for under-loved and under-utilized buildings that aren't operating at their most efficient where our impact investment strategy can reap value-add opportunities.
What is the most interesting project you are working on now?
The Trust Building — a landmark historic office building on Spring Street originally opened in 1928 and designed by famed architectural duo of Parkinson and Parkinson. We have restored and upgraded this gem into a technologically advanced, highly amenitized, 21st century building.
What's the next big trend?
In the past, offices needed lots of space for file cabinets, and desks needed to fit tower computers and bulky, oversized monitors. As these features became obsolete, modern offices adapted to better utilize the freed-up space. As technology becomes smaller, thinner, and lighter, and as we conduct more work on mobile devices, we'll see a reduction in personalized desk space, fewer keyboards, and new spaces better configured for collaboration.
For reprint and licensing requests for this article, CLICK HERE.