Office: No Sign of Cooling in Sizzling Submarkets
Special Report: Who's Who in Real Estate
Friday, October 4, 2019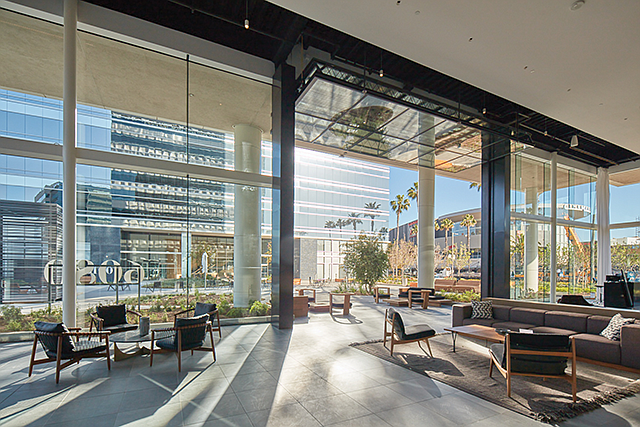 Kevin Shannon
Co-Head of U.S. Capital Markets, Newmark Knight Frank
Shannon's 35-member team focuses on investment properties. In more than 35 years in the business, Shannon has been involved in more than $65 billion worth of deals.
What's the biggest trend in office properties now?
The biggest trend continues to be amenity-
laden office projects with many offering hotel-like services along with all the normal creative office bells and whistles. Attracting and retaining the best talent is paramount to employers who will pay up for these types of environments, especially the (Facebook, Apple, Amazon, Netflix and Google) FAANG-type tenants in the most popular submarkets.
What's the next big trend?
The West Los Angeles market needs more new Class A office product because we are out of large-block space. I expect to see a much stronger pace for new speculative office developments in the most attractive West Los Angeles markets.
What is your favorite deal so far this year?
My favorite deal was the sale of 101 Continental in El Segundo. It clearly demonstrates the tremendous amount of capital being raised for value-add strategies with 73 tours and 37 offers. The asset had great bones and represented about 350,000 square feet of prime large-block space once renovated in the highly desirable El Segundo market. The asset was ultimately purchased by a Japanese buyer doing their first "restore to core" strategy transaction in the United States.
What is your outlook on real estate for the next 6-12 months?
I predict there will be no recession in the next year and rents in the best West L.A. markets will grow another 5-10%. There is also going to be a halo effect in adjacent markets.
•••
Carl Muhlstein
International Director, Jones Lang LaSalle Inc.
The industry veteran focuses on creative office space. His clients include entertainment and media companies.
What's the biggest trend in office properties now?
Greater Los Angeles commercial real estate is over-retailed and under-officed for the foreseeable future. Former department stores and freestanding mid-sized stores offer creative
office adaptive reuse, abundant parking, nearby amenities and larger floor plates.
What's the next big trend?
We will see an amenities war between competing landlords, especially for 1970s and '80s vintage projects undergoing transformation. Playa District LA is a great example of repositioning leading to hundreds of thousands (of) square feet of new and renewal leases.
What do buyers want now?
Buyers are attracted to preleasing. The greater Westside has seen several million square feet that will create 12,000 new jobs in a low-
Prev Next
For reprint and licensing requests for this article, CLICK HERE.